Lake Mead marks Park Week with free entry to recreation area, activities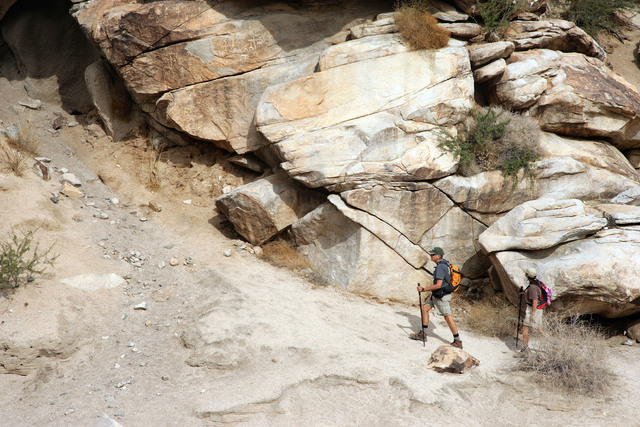 This weekend kicks off National Park Week as Lake Mead National Recreation Area, like parks around the country, celebrates the National Park Service's centennial anniversary with zero entrance fees and a cornucopia of events.
"We have an amazing variety of special events taking place during the centennial," said National Park Service Director Jonathan B. Jarvis. "Some commemorate our first 100 years, but many others look to the future, and will help connect with the next generation of park visitors, supporters and advocates."
National Park Week begins Saturday with Junior Ranger Day at the Alan Bible Visitor Center. From 10 a.m. to 2 p.m. children will have the opportunity to learn about the land, water and wildlife at the park, as well as paleontology resources at Tule Springs Fossil Beds National Monument in Las Vegas.
When they finish their activities they will be sworn in as junior rangers and receive a centennial badge and certificate. In an effort to engage young people and encourage their excitement in national parks, fourth-graders also will receive free passes valid for entry to parks, forests and wildlife refuges until the start of the next school year, as part of the Park Service's Every Kid in a Park initiative.
Also Saturday, Lake Mead will host the Rage Triathlon, which will feature approximately 1,300 athletes competing in an Olympic-distance course that begins at dawn and leads up to the River Mountains Loop Trail.
Throughout the week Lake Mead and Southern Nevada's parks will take center stage on the media canopy above the Fremont Street experience in Las Vegas with a short film that will screen between 8 p.m. and midnight. Featuring an Elvis impersonator and a showgirl, the video will explore the area's various outdoor adventures.
National Park Week's big finale will be Find Your Park Day on April 23 with an array of activities, including a dog hike led by a park ranger, art activities at the water safety center and fishing lessons.
Lake Mead spokeswoman Christie Vanover, who can usually be found at the visitor center in downtown Boulder City, will host a campfire cooking class that day at the Boulder Beach amphitheater, teaching visitors to grill Korean short ribs and gourmet "bacon-jalapeno macaroni and cheese."
"With park week being fee free, I think it is a great opportunity to introduce a lot of new people to our national parks," Vanover said. "So for those who maybe weren't sure what was beyond the entrance stations this is the perfect time to experience what our parks have to offer."
For more information on National Park Week activities, visit www.nps.gov/lake/getinvolved/centennial-at-lake-mead.htm and www.FindYourPark.com or call Vanover at 702-293-8691.
Contact reporter Hunter Terry at hterry@bouldercityreview.com or call 702-586-6711. Follow him on Twitter @HunterBCReview.