September 3, 2014 - 12:26 pm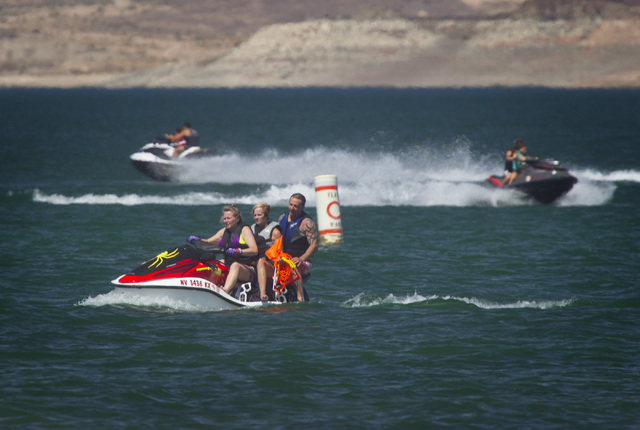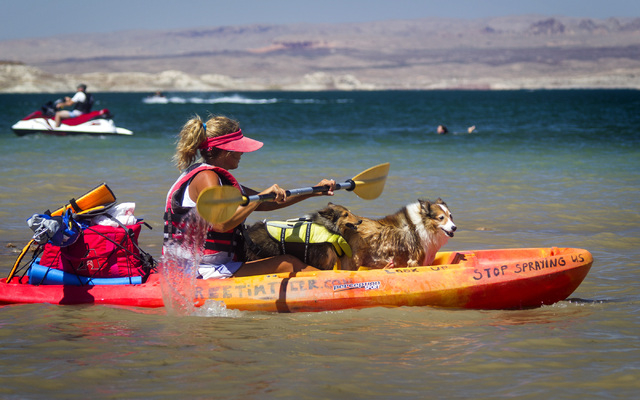 Tourism numbers at Lake Mead have dropped dramatically since last year, and park officials are attributing it to the decrease in the nation's largest man-made reservoir.
According to National Park Service spokeswoman Christie Vanover, from January through July 3,957,549 visited Lake Mead National Recreation Area compared with 4,243,138 visitors in the same period last year, a drop-off of more than a quarter million people.
Lake Mead was at 1,108.75 feet in January and dropped 7 feet by March, according to the Bureau of Reclamation. The three-month span saw an increase of nearly 25,000 visitors from the year before with only minimal drops in lake elevation. But those numbers from April though June took a nosedive as the lake lost an additional 14 feet, bottoming out at 1,080 feet by July.
"As elevations began to drop dramatically, visitation also dropped," Vanover said. "They think the lake is dried up or shriveling. And for those who don't live in the area, they assume there's no water."
Vanover said 363,000 fewer people visited Lake Mead from April to June than during the same span in 2013.
From 2002 to 2012, the Park Service spent $36 million to deal with low water levels, Vanover said. An additional $5 million is expected to be spent in the next three to five years to extend launch ramps. The amount of money spent will depend on the bureau's two-year study that forecasts what Lake Mead's elevation will be.
But public perception is also driving tourism numbers down, and clearing the air about how much water the lake really has needs to be addressed to bring the numbers back up, Vanover said.
"We need to educate people that there is still plenty of water out here," she said. "When people say that we're not full, it's not true."
Lake Mead is at 39 percent capacity, the bureau said. But according to Vanover, that shouldn't be a concern for people who still want to come out and enjoy the lake.
"If you take a Big Gulp and say it's 39 percent full, you still have two cans of soda," she said. "We're still larger than a majority of the lakes in the U.S."
About 920,000 people visited Lake Mead in July, about 55,000 more than it did in July 2013.
Coincidentally, the lake only dropped 2 feet in July, its lowest monthly loss since February. August numbers won't be available until mid-September, Vanover said.
Lake Mead is expected to receive about 2 feet of water this year after a favorable winter, a minimal gain from the devastating drought the lake suffered the past two years.
But Vanover remains encouraged by the surplus, albeit a small one. She said she wants people to know that the lake still has plenty of water, about 10 million acre-feet.
Mayor Roger Tobler also is confident about the 2-foot gain. He said it isn't just for the tourism factor, because several elements are influenced by the lake's water level, including power at Hoover Dam.
"Anything that you can do to keep it from dropping (is good)," he said. "The long-term projection is still what scares me."
The bureau's current study predicts Lake Mead will drop to 1,065 feet by July 2016, a 15-foot decline from its current level. But Vanover said despite the decrease, there is still a reason to be optimistic.
"We are still one of the largest reservoirs in the United States, and the premier inland water recreation area in the desert Southwest," she said.
Contact reporter Steven Slivka at sslivka@bouldercityreview.com or at 702-586-9401. Follow @StevenSlivka on Twitter.