Boaters at Echo Bay advised to use low water launch ramp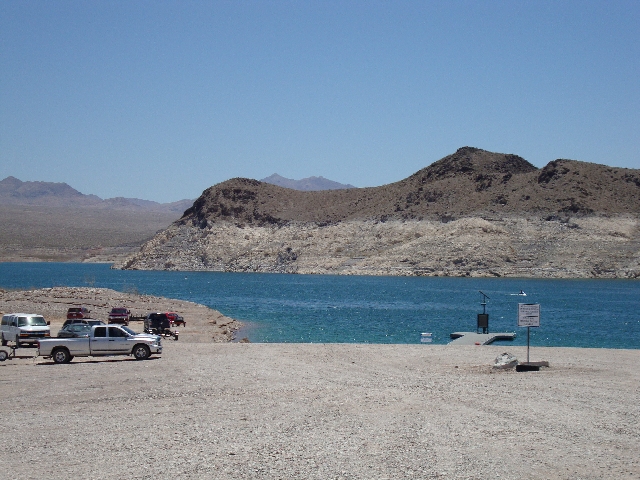 Lake Mead National Recreation Area officials are encouraging boaters at Echo Bay to use a low water launch ramp because of a narrow channel near the main launch ramp.
The main launch ramp remains open, but navigation is difficult because docks and anchors from the former marina have shifted with fluctuating water levels, creating a very narrow channel. Boaters who launch from the low water area will have an easier time navigating into the Overton Arm.
The courtesy dock at the main ramp has been relocated to the low water area for boater safety and convenience. Signs are posted in the area to help direct visitors to the alternate ramp.
No toxins found in fish deaths
Park officials lifted a no-swim advisory last week for the Overton Arm of Lake Mead after lab results showed no toxin producers in the water where fish had been found dead near a mysterious white foam.
Park officials issued the precautionary advisory June 8 after a foamy substance and around 25 dead carp were observed across an 8-mile stretch of the northern part of the lake.
"While we haven't received anything definitive as to the cause, we have reasonably evaluated the situation," said Christie Vanover, park spokeswoman. "Through all the scientific investigation, nothing dangerous to humans has been found."
The National Park Service worked with the Southern Nevada Water Authority, Nevada Department of Wildlife and the Nevada Division of Environmental Protection to test the water and conduct field observations.
Along with issuing a swimming advisory, the National Park Service and SNWA increased monitoring at water intake and treatment facilities. There were no noted concerns with incoming water quality.
Water temperature, specific conductance, pH and dissolved oxygen values were all within the usual values for this region of the lake. Water samples were free of microcystis algae, and no toxins were found. Foam samples contained non-toxic, common freshwater algae, especially diatoms. Most of the diatoms were dead, and the foam appeared to be made up of proteins released from the dead algae.
"It is unclear if the fish die-off was related to the foam," Vanover said. "The foam does seem to be dissipating, and no recently dead fish have been found. We will continue to observe the area with routine patrols."
If people see patches of foam that haven't yet dissipated, it is best to avoid them.
"We apologize for any inconvenience this may have caused our visitors. Our first priority is always visitor safety," Vanover said.