Artist awarded $1.3 million for dam sculpture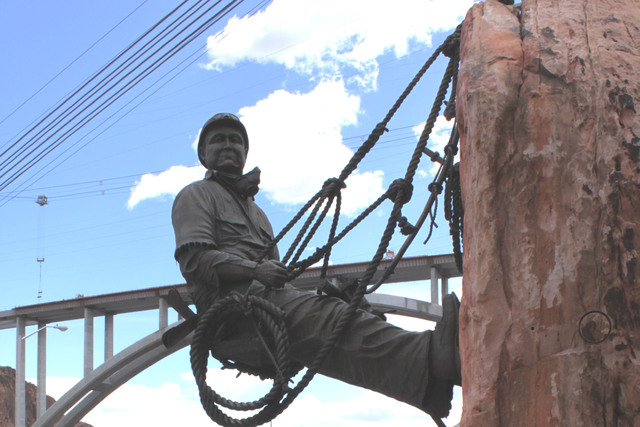 An artist has won almost $1.35 million in a lawsuit over a sculpture commemorating workers who were paid $5 per day to risk their lives during the construction of Hoover Dam.
A jury in Las Vegas federal court ruled last month in favor of artist Steven Liguori, creator of the bronze statue known as the "High Scaler" at Hoover Dam.
In 2011, Liguori sued Bert Hansen, longtime owner and operator of the Hoover Dam Snacketeria and the High Scaler Cafe at the dam, after the artist said he was cheated out of royalty payments and his work was used without permission for merchandise and marketing.
According to the lawsuit, Hansen commissioned Liguori to create "High Scaler" for a $166,000 fee and a share of the proceeds from merchandise based on the sculpture as well as the artist's other dam-related creations.
U.S. District Judge George Foley ordered Hansen to pay Liguori $1.2 million for breaching their agreement and $150,000 in other damages.
The sculpture at the center of the legal dispute is modeled on a photograph of a high scaler, a special breed of Hoover Dam laborer willing to clear loose rock from the walls of Black Canyon while dangling from ropes tied to clifftop eye bolts.
"They were the celebrity laborers on the dam," said Dennis McBride, director of the Nevada State Museum at the Springs Preserve and a leading Hoover Dam historian. "They'd be sitting in their bosun's chairs, and over the side they went."
"It was the most dangerous job so they earned top dollar," McBride said. "They earned top dollar, which was $5 a day."
In today's money, that translates to about $87 a day — or a little less than $11 an hour.
McBride said the man in the photograph on which the "High Scaler" was based is Joe Kine, who got a job with the U.S. Bureau of Reclamation and stayed on at the dam after it was finished.
Kine spent the rest of his life in Boulder City, where he died in 1997 at age 91.
The Las Vegas law firm Hutchison &Steffen, which represented Liguori, announced the final judgment in the lawsuit June 4.
"A jury of his peers found that he just wasn't treated fairly," Hutchison &Steffen partner Todd Moody said of Liguori in a written statement. "Not only did they breach the contract they had with him, they also infringed on the copyright he had. And to be awarded the highest statutory amount was kind of the icing on the cake."
Messages left for Hansen and his lawyer were not returned.
Contact Henry Brean at hbrean@reviewjournal.com or 702-383-0350. Find him on Twitter: @RefriedBrean