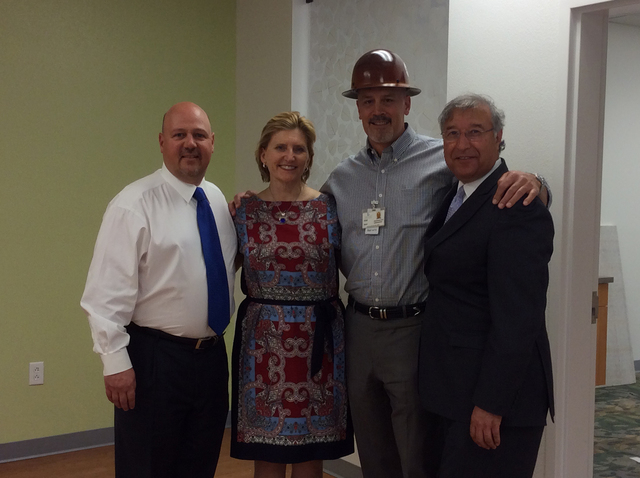 Boulder City Hospital, which is undergoing a $16.2 million expansion and renovation, has received approval for an additional $1.72 million in financing from United States Department of Agriculture for a much-needed electronic health records system, according to CEO Tom Maher.
"In addition to updating and expanding our facilities and service lines, we will now be able to have the newest technology for electronic health care records, thanks to our partnership with USDA Rural Development on a state and national level," Maher said. "This is a critical component to our sustainability as we continue to streamline our operation."
Tony Hernandez, the new national USDA administrator for rural housing and community facilities, toured the hospital Thursday evening with USDA Rural Development State Director Sarah Adler.
"These two loans are perfect examples of USDA's partnership with small town America," Hernandez said. "We provide affordable financing so that you may meet the needs of your community. I am really excited we are underwriting new patient care units and advanced technology that will streamline care management."
"We believe strongly in Boulder City Hospital and your proposed age-in-place business model," Adler said. "That's why we are willing to provide additional intermediate financing for electronic health records equipment and software, in addition to our financing for the expansion/rehabilitation of the hospital."
Working with Building Hope Nevada, the hospital has constructed and opened a new 10-bed inpatient Geriatric Behavioral Medicine Center and a 10-bed Acute Rehabilitation Program on the 10-acre campus. The second phase of the project, which expands emergency room services, skilled nursing/long-term care, physical therapy, lobby, patient registration and gift shop, is scheduled for completion in September.
The project has created 300 construction jobs and 90 permanent jobs and will add more than $75 million over five years to the local community, according to Angela Quinn, Building Hope managing director, who serves as project sponsor and developer.