Game wardens, park rangers keep watchful eye on Lake Mead visitors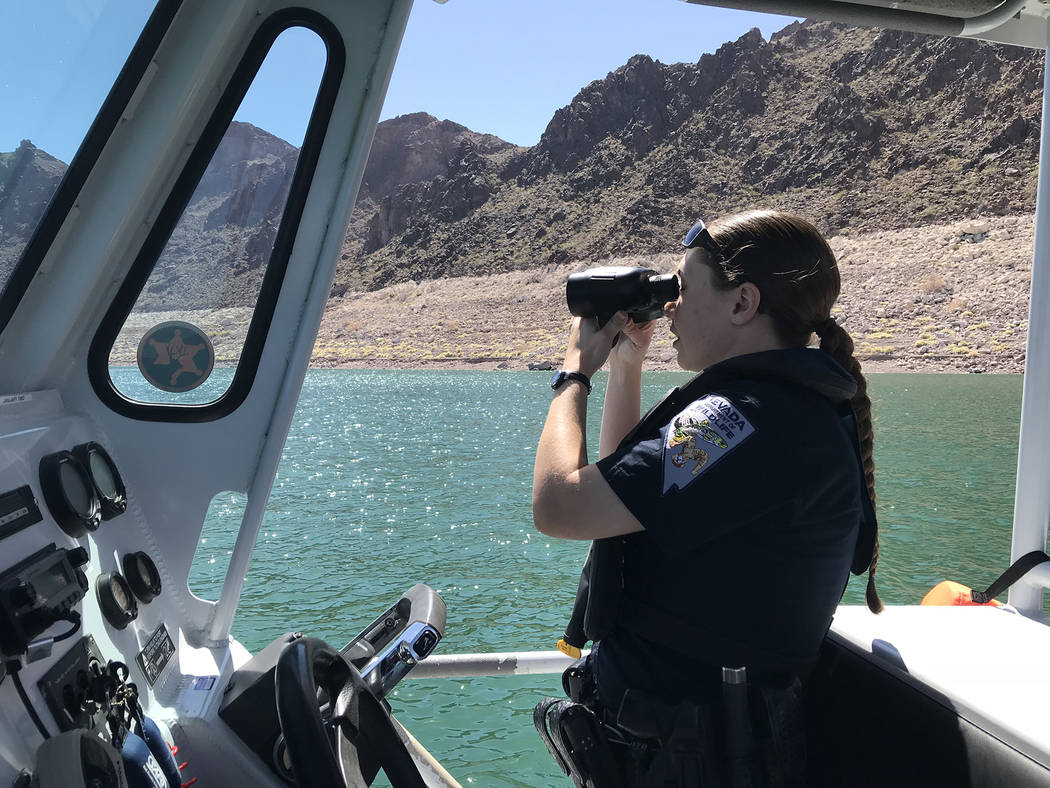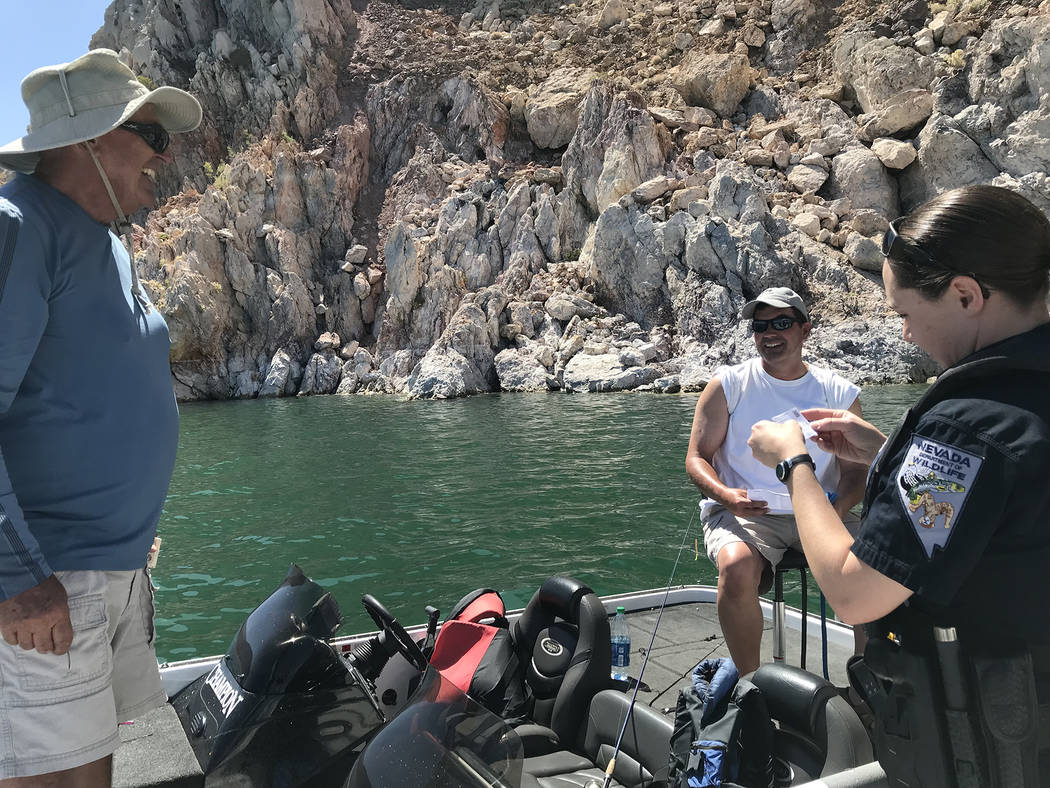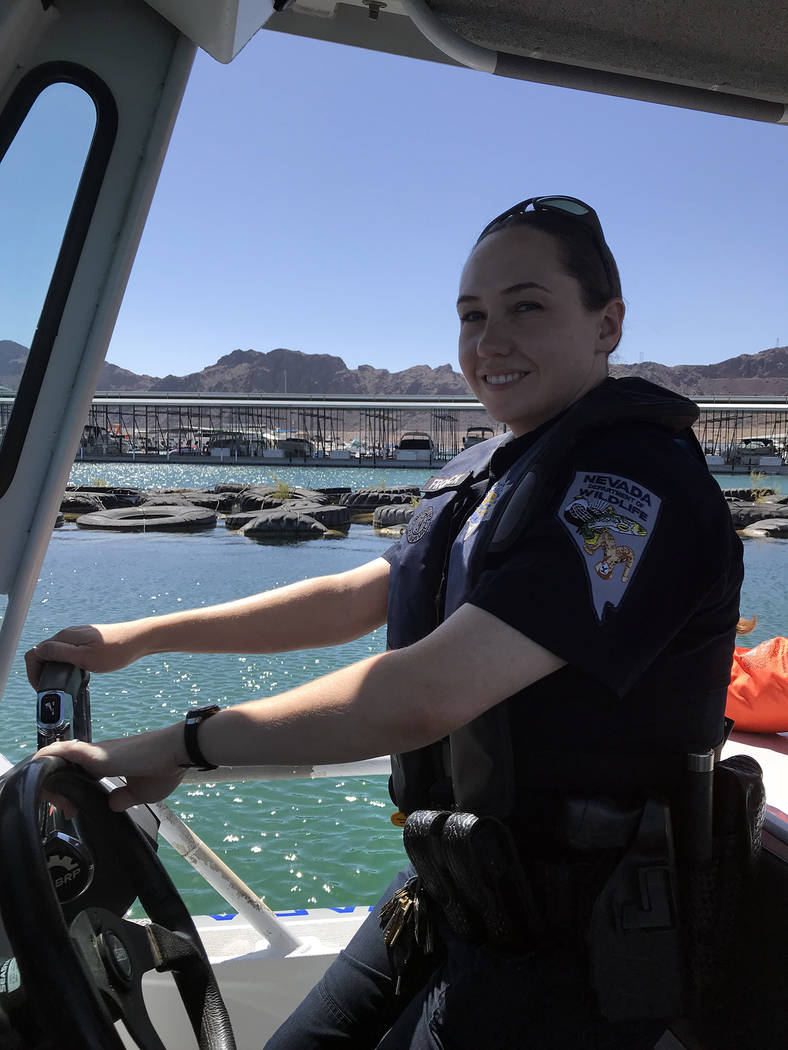 With eaglelike precision, Brittany Frolick scans the waters of Lake Mead looking for things that can turn an afternoon of fun into a family tragedy.
As a game warden for the Nevada Department of Wildlife, one of her primary duties is to make sure everyone using the lake is safe. She looks for proper life jacket usage, appropriate flag signals for water-skiers and easily accessible fire extinguishers, among other things.
While pulling into the Las Vegas Boat Harbor Marina, she spies a man on a personal watercraft fidgeting with his life jacket. Immediately she flags him down, tethers him to her boat and issues a warning, telling him his life jacket must be completely on and fastened properly before he starts his watercraft and heads out of the harbor.
Life jackets, she said, are the No. 1 piece of safety equipment a person can have when on the water.
By mid-June last year, there were already five deaths likely attributed to drowning at the lake, and none of the victims were wearing life jackets. On average, there have been eight drownings per year in the past five years at the lake.
Life jackets save lives
The National Park Service offers a free loaner program at the lake's most popular areas: Boulder Beach, Cottonwood Cove, Northern Arizona Telephone Cove and Princess Cove.
The stations feature life jackets in a variety of sizes along with instructions about how to properly wear them, ranger Chelsea Kennedy said.
According to Frolick, many people treat the lake as if it were a swimming pool, but the reality is they are completely different bodies of water.
"A pool is very small and has no current or wind that will take you away," she said.
Those who swim in the lake easily misjudge its depth and distances.
"They don't realize how far away land is," she added.
Another common mistake is thinking that piloting a boat is easy if you know how to drive a car, she said.
There are many more factors to be considered, including wind, rain, storm clouds and thunder. Conditions on the lake can change quickly, she said.
Be prepared
"When you go out, you need to be prepared for everything," Frolick said. "People also need a good appreciation for their skill level and what their boat can handle."
Boaters are encouraged to take boating safety classes before they head out on the water, and those renting vessels from a lake vendor are offered basic information before they receive the keys.
Frolick said it is necessary for all boats to be equipped with navigation lights, because it's the only way for other boaters to see them if it gets dark.
Boats don't have headlights, she added.
Frolick also said it's easier for people to become legally intoxicated on the water because our systems react differently when on land. The rocking motion of the boat, along with dehydration and possibly anti-motion sickness medications, can make a person impaired on water even if they drink the same amount of alcohol on land.
In addition to ensuring people's safety when on the lake, Frolick enforces laws regarding fishing and hunting. Because the lake bridges the gap between Nevada and Arizona, those fishing its water must have a license or use permit from both states.
The Nevada Department of Wildlife partners with the National Park Service to patrol the waters of Lake Mead. With 290 square miles of water, Lake Mead is the nation's largest reservoir. Occasionally, the Coast Guard joins them to keep watch on those enjoying the lake's many recreational opportunities.
But water activities are only part of what the recreation area offers. At 1.5 million acres, it is the third-largest area the National Park Service oversees outside of Alaska. Last year, about 7.8 million people visited the park, keeping rangers and game wardens busy.
Last Memorial Day weekend, National Park Service officials had about 700 incidents of all sizes throughout the recreation area, which received 150,000 visitors, said Charles Cuvelier, acting deputy superintendent for the park.
More information about boating safety, fishing and hunting regulations can be found at www.ndow.org.
Information about Lake Mead National Recreation Area is available at www.nps.gov/lake/index.htm.
Hali Bernstein Saylor is editor of the Boulder City Review. She can be reached at hsaylor@bouldercityreview.com or at 702-586-9523. Follow @HalisComment on Twitter.