Esther Drive house's future remains in limbo
April 18, 2013 - 12:04 pm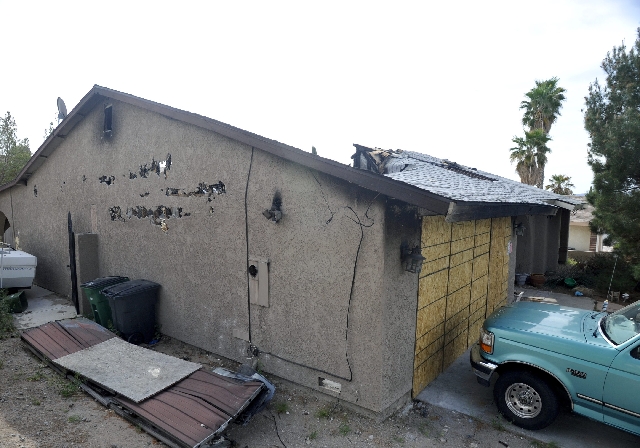 Neighbor Sally Gray is bothered by the occasional burnt smell, but she is more bothered by the constant reminder "of life."
Gray lives on Esther Drive next door to where the unthinkable happened nearly three months ago.
"It's disturbing to see those reminders every day," Gray said. "It is a constant reminder of what happened."
In the early morning of Jan. 21, Hans Pieter Walters, a husband, father and off-duty Metropolitan Police lieutenant in Las Vegas, killed his wife and 5-year-old son with gunshots to the head before setting his house on fire, and then killing himself with a gunshot to the head.
Although the Clark County coroner's office quickly confirmed the deaths as a murder-suicide, Henderson Police, which is leading the investigation, has yet to release its investigation.
Henderson Police spokesman Keith Paul said Wednesday the case is being reviewed by the detective's supervisor for approval and then will be closed.
Twelve weeks since the incident, the burned-out Esther Drive house remains largely untouched since police, fire and insurance investigators completed their work nearly two months ago.
A blue pickup truck sits in the driveway, Christmas lights hang from the house and an overturned lawn chair sits near the front door. A small, stuffed bear that likely belonged to the deceased son, Maximilian Walters, lays face down by the sidewalk.
The house has been properly secured by the city's code enforcement. Plywood covers the garage and other broken entry points.
However, ownership of the estate is being disputed in Clark County Probate Court by competing heirs, according to Community Development Director Brok Armantrout.
Armantrout said the city hopes a probate hearing scheduled for April 26 will clear up ownership so the house can then the cleaned and either be demolished or rebuilt.
"We'll be following the case so that we can determine who the appropriate person is to notify of the requirement to abate the public nuisance," Armantrout said. "We are tentatively going to take this to the City Council at (its) first meeting in May to formally declare it a public nuisance and order abatement.
"It is the responsible party's decision on what means to take to abate dangerous conditions."
The city's main concern it has control over at this point is making sure the house is secure from people entering. Gray said she has not seen any people next door who have caused her concern.
Ron Nybo, a city building official, said the city doesn't have the authority to clean up the yard without council approval.
"We don't have an abatement program," Nybo said. "I'd love to totally clean the place but we don't have the tools in our tool bag."
Gray, who moved next door in August, said a burnt smell comes into her yard on windy days, along with burnt wood and loose plaster. She is also concerned that with the house's roof mostly gone, that rain and other weather issues will start to mold and attract rodents.
"I just want it cleaned up," she said. "It's hard to see the reminders that a family once live there."
Gray said she only met Hans Walters at the mailbox a few times, but never met his wife, Kathyrn Walters.