Driscoll honored for saving 1-year-old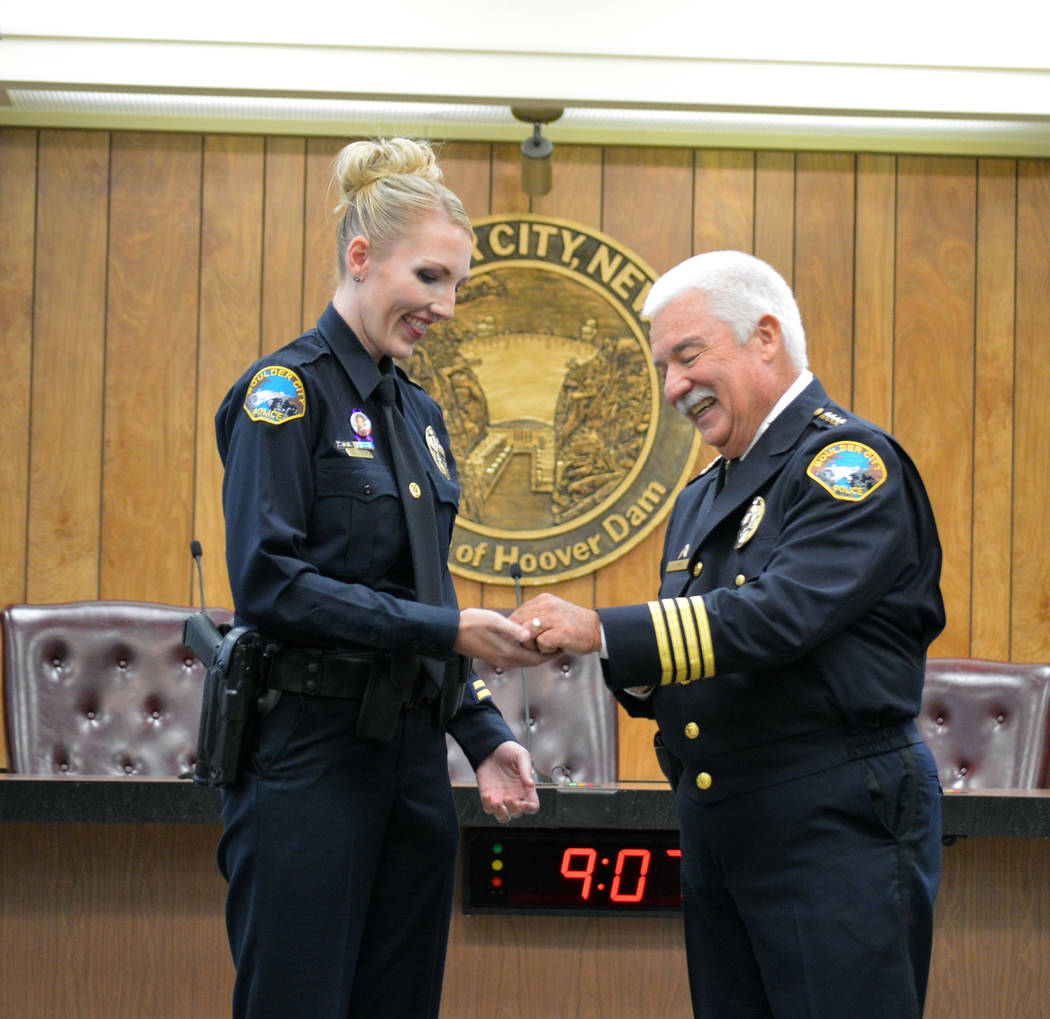 A mother recently came through her own personal tragedy of not being able to save her daughter knowing she had done everything she could when she saved the life of boy while on duty with the Boulder City Police Department.
In January 2015, Boulder City Police Officer Tiffany Driscoll was at home with her 5-year-old daughter, Kiera, who was sick with what was thought to be a cold. When Kiera stopped breathing, Driscoll fell back on her training as a police officer and performed CPR on her until the paramedics arrived.
She could not save her though, and her daughter died at the hospital. Since then, Driscoll wondered if she could have done more that day and saved Kiera's life. On the morning of Feb. 11, she received her answer when she and then-officer-trainee Peter Wheeler were on patrol.
They received a call from dispatcher Tina Ransom about a child in distress at the gas station near Albertsons.
When they arrived, they found the 1-year-old boy was not breathing and unresponsive. Driscoll did CPR, and got the child breathing on his own and took care of him until help arrived. Her actions ultimately kept him alive, and they also gave her peace in her daughter's death two and a half years earlier.
"This experience showed me that it's not my fault," she said. "I did everything I could in both scenarios. It took both experiences to solidify that in my mind."
Driscoll's actions on Feb. 11 were noticed by her supervisor, Sgt. John Glenn, who nominated her for the department's Life Saving Award, which was presented to her June 29 at City Hall.
The award is presented to someone directly responsible for saving or prolonging a human life, according to the department's policy and procedure manual. Once nominated, the person's actions are forwarded to the employee management team, which reviews the case and makes a recommendation to the police chief, who makes a final decision. During this process, the nominee is not aware he or she has been nominated.
"In law enforcement, we have a tendency to overlook the positives our folks do, and those actions sometimes start to blend into an overall lethargic overcast of 'it's just doing the job.' … It helps to remind each of us that, while law enforcement work surrounds us all too frequently with negatives coupled to the worst people seem able to present, there are many times where we can do what is so important to virtually all of us in the field," said Police Chief Tim Shea. "We truly can make a positive difference and remove fear, hopelessness and despair."
Driscoll said she is overwhelmed by the community's response since she was presented with the award.
"I was lucky to be at the right place at the right time," she said. "Any of us (BCPD officers) would have done the same thing.
"It's just my job," she added. "For everyone to say it was awesome, is overwhelming … I just love Boulder City. You just can't ask for a better community to serve in."
During the presentation, Driscoll thanked her husband, their children and her squad, as well as Ransom and Wheeler, whose dispatching and driving had them arrive at the scene in time to save the boy.
She also thanked Kiera, who would have been 8 years old that day.
"It's because of her, I have the strength to go on," she said.
To help put some kindness back into the world, Driscoll and her family formed a nonprofit in her honor, Kiera's Kindness, which has three goals: spread kindness, put unicorns all over the world, and do other charitable work.
Contact reporter Celia Shortt Goodyear at cgoodyear@bouldercityreview.com or at 702-586-9401. Follow her on Twitter @csgoodyear.