Copper Mountain earns 'Star' for safety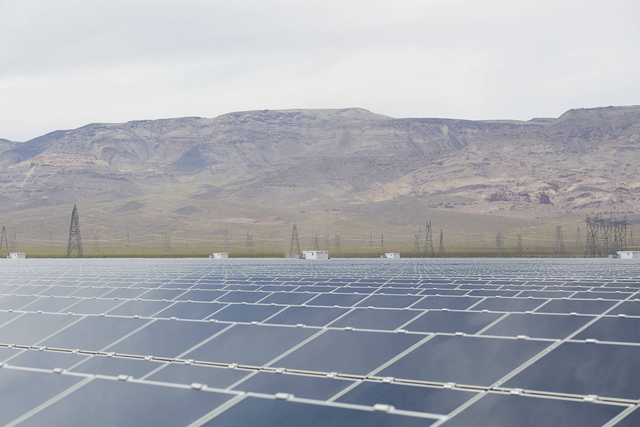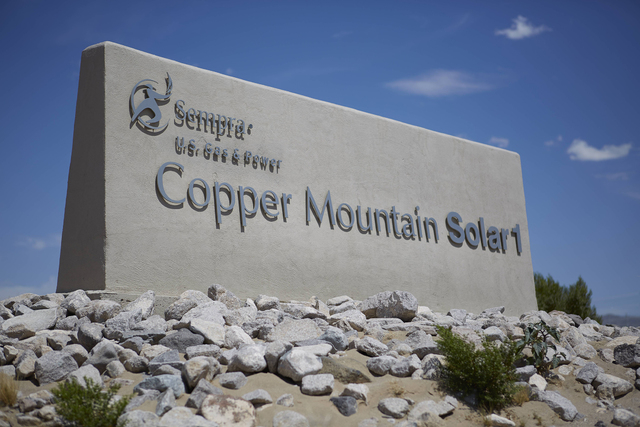 The Copper Mountain 1 solar plant in the Eldorado Valley was the first in the country to receive the Occupational Safety and Health Administration's highest safety award.
Copper Mountain 1, owned by Sempra U.S. Gas &Power, received OSHA's Voluntary Protection Programs Star on May 20.
"We are honored to be recognized by Nevada OSHA for our strong commitment to the health and safety of our employees as well as the local community," said Kevin Gillespie, senior director of construction and operations for Sempra U.S. Gas &Power. "This recognition is a testament to our strong safety culture and programs. I am proud of each and every team member who contributed to this remarkable outcome."
Since 2001, Copper Mountain 1 is the 10th Nevada work site to receive the star designation, though it's the first solar plant in the country to win the award.
The solar plant began with a 10 megawatt pilot in 2008. The 48-megawatt second phase was completed in December 2010.
Plant manager Brad McKinley said Copper Mountain 1 submitted a three-year safety plan to OSHA as per the requirement for star designation.
"It was a rigorous process," he said. "It was 18 people working daily making sure that this application process was ready."
After the application was submitted, OSHA representatives visited the site to review safety records, interview employees and audit the plant. McKinley said the administration typically spends five days on a site, but only spent three days at Copper Mountain 1 because it was in such immaculate shape.
As part of the star designation, Copper Mountain 1 must submit an annual safety report to OSHA, which will come back for a recertification visit every three years.
Representatives from solar plants across the state can now visit Copper Mountain 1 to see how it operates while they pursue their own designation. Nevertheless, McKinley said the plant must remain vigilant to keep the certification.
"There is always room for improvement. There is always better equipment and ways to improve the jobs we do," he said.
President Barack Obama visited Copper Mountain 1 in 2012, which was the nation's largest photovoltaic plant in the country at the time. Its 58 megawatts of energy power around 17,000 homes in California.
"The state of Nevada Occupational Safety and Health Administration is honored to welcome Copper Mountain 1 into its Voluntary Protection Program as a 'Star' VPP site," said Jess Lankford, Nevada OSHA Chief Administrative Officer. "Nevada OSHA welcomes the opportunity to continue working cooperatively with Sempra U.S. Gas &Power for the betterment of employee safety."
Contact reporter Steven Slivka at sslivka@bouldercityreview.com or at 702-586-9401. Follow @StevenSlivka on Twitter.