Mayor's State of City address soars to new heights
February 6, 2014 - 4:45 am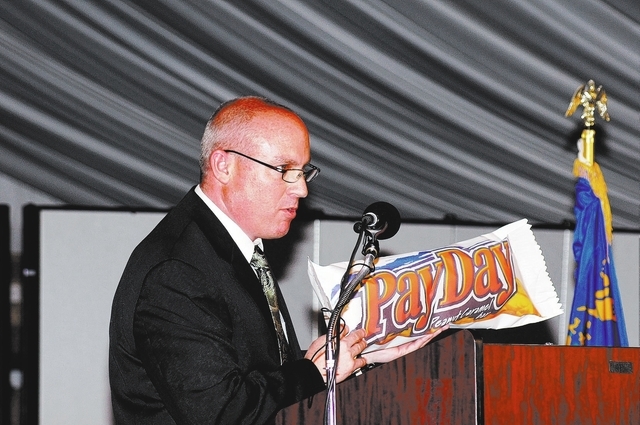 Mayor Roger Tobler's State of the City address Jan. 30 at Boulder Creek Golf Club went smoothly. But a surprise drone flight during the speech did not.
Partway through Tobler's address, which had highlighted Boulder City's quality schools, low crime rate and recreational amenities, a small drone whirred to life and rose up from behind a curtain behind the mayor.
The drone, as Tobler later told the audience, was choreographed to fly to his side. Instead, the small aircraft, controlled with an iPad by a local resident, tried to perform an aerial stunt and crashed to the ground behind the curtain.
"That went better earlier today," Tobler said as he laughed off the mishap.
Tobler used the drone, which successfully landed next to him on a second attempt, to demonstrate the "exciting changes" that will soon come to Boulder City's skies.
The federal government in December named Nevada as one of six U.S. sites that will be used to develop standards for the integration of unmanned aerial systems, or drones, into the national airspace, Tobler said.
Tobler said Boulder City's wide-open space, proximity to a large urban center and good airport helped Nevada win its drone site application, which the Governor's Office of Economic Development submitted to the Federal Aviation Administration.
The program's estimated economic impact on Nevada is $2.5 billion, Tobler said.
"This is a big payday for the state of Nevada," he said.
The program will benefit Boulder City specifically, Tobler said, by creating local high-tech jobs, aviation education opportunities for local students and lease revenue from the use of city airspace and land.
Tobler also spoke of another announcement from 2013 that will benefit Boulder City: The Interstate 11 bypass construction, which is expected to start this year and finish within three years.
The I-11 loop, which will alleviate traffic congestion in Boulder City, "is key to ensure the safety and high quality of life will continue for our residents," Tobler said.
Tobler recognized concerns that the I-11 may harm local businesses by routing traffic around the city. However, he said, the concerns associated with not constructing the bypass are greater.
"We have witnessed what happens when there is an accident on U.S. (Highway) 93. Traffic is backed up for hours, people can't get to work or get home from work. There is no alternative but to sit and wait until the accident is cleared," he said. "Visitors traveling into the state who experience these traffic conditions are less likely to return."
Tobler also said the traffic hampers public safety crews' response times.
Tobler said the city plans to better market itself and "ensure a vibrant business community" once the bypass is built. One group assisting in this is the Boulder City Economic Vitality Commission, an economic development initiative of the Boulder City Chamber of Commerce.
"(The commission) will be key to ensuring Boulder City is on the map as the state expands its efforts to attract businesses to Nevada," Tobler said. "The ultimate goal is to help businesses grow and prosper in Boulder City."
The city has formed a steering committee bent on having the roadway through Boulder City designated a scenic byway.
The city, the chamber of commerce, Boulder City Museum and Historical Association, and the Nevada Commission on Tourism, in partnership with the U.S. Bureau of Reclamation and the National Park Service, worked together to submit a nomination package to the state to have approximately 2 miles of Nevada Way and 1 mile of U.S. Highway 93 receive the designation, Tobler said.
"There are many possible benefits of having this stretch of roadway declared a scenic byway," Tobler said. "It would attract tourists and also provide access to federal funds for roadway safety improvements and recreation area investments."
Tobler also mentioned the accomplishments of the city's recycling program, claiming residential recycling participation has increased 120 percent since the city extended a contract with landfill operator Waste Logistics in late 2012.
He added that the Christmas-tree recycling provided to residents for the first time this year was "a huge success."
As he has in previous years, Tobler reviewed the progress of the city's financial plan, which was adopted in 2011 "as a road map for financial sustainability," with the goals of reducing debt, restoring capital reserves and stabilizing rates.
Tobler said the city is on track for the early retirement of utility fund debt, including a $14 million loan for the city's portion of the Southern Nevada Water Authority third intake construction, and a $32 million loan for the construction of a raw water line.
The third intake debt, initially scheduled to be paid off in 2020, will be paid off in 2017, saving the city close to $5 million, he said.
The raw water line debt, initially scheduled to be retired in 2036, will be paid off nine years early in 2027, saving the city an estimated $5 million in debt service costs, he said.
Tobler said general fund debt is expected to be retired early. Revenue bonds for the construction of Boulder Creek Golf Club, which were not due to be paid off until 2025, may now be paid off in 2017. This will save an estimated $1.5 million in debt service costs.
Tobler said the general fund was strengthened this year by lease revenues, including an advance payment of $3.5 million from Korean solar company Kowepo, and the Copper Mountain 3 solar plant lease that went hard this month, adding approximately $2.5 million to the general fund and $640,000 to the capital improvement fund.
Additional general fund debt from an interfund loan also is scheduled to be paid off three years early, Tobler said.
Tobler said the city's solar leases will provide "development benefits without development headaches," including lease revenues for the next 50 years, construction jobs, "hundreds of thousands of dollars" in building permit fees and increased property tax revenues.
"The solar lease revenues are a critical component in achieving the goal of long-term sustainability," he said. "Because of these revenues, as well as the city departments controlling costs, we have been able to recognize an increase in the ending fund balance. However, we will remain cautious as we move forward."
Tobler's address also recognized the completion of the Nevada Way revitalization project, which, aside from the gateway arch completed in January, was mostly finished in 2012.
"This entire project, including the new arch feature, exemplifies goal one of the city's strategic plan — to develop a brand and image for Boulder City, and goal eight — enhancing opportunities for transportation," Tobler said. "It is efforts like these that will keep Boulder City a destination community long into the future."
In concluding his speech, Tobler also mentioned internal plans, such as implementing online utility and licensing billing capabilities in the finance department.
"We are looking forward to being able to provide additional services to our citizens," he said.
He did not, however, give a time line for the implementation.
An evaluation of fire department standards will be conducted during the upcoming year, resulting in a three-year plan to establish goals and action items, Tobler said. Also, he said, the fire department will evaluate the city's emergency management program.
Tobler said the police department was recovering from a "difficult beginning" in 2013, which resulted in a "leadership change." He did not discuss specifics about the firing of former Police Chief Thomas Finn, for which the city did not publicly give a reason.
"The department has stabilized and is becoming more responsive to the needs of the community," he said.
Tobler concluded by saying he loved Boulder City, but there was still work to do here.
"There are many challenges we will have to face moving forward, but we are making great progress," he said. "I am confident and optimistic that as we continue to work together, we will make Boulder City what we want it to be. What it should be."
Public officials, including North Las Vegas mayor John Lee, from the region attended the event.
Lee said Tobler's address showed "soundness" and "vision."
"I would love to emulate what you out here are doing," Lee said.