November 7, 2013 - 9:39 am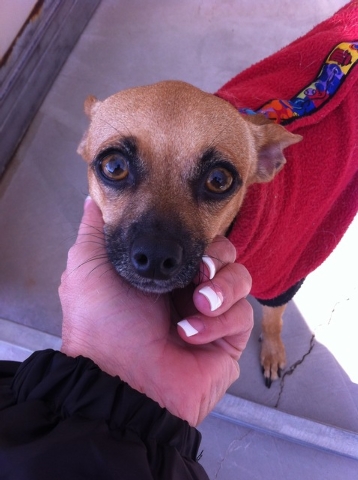 Local authors to hold book signing at Harvest Bazaar
Boulder City authors Karen Wilkes and Peter Miller will have a book signing Saturday during the Harvest Bazaar at St. Christopher's Episcopal Church from 9 a.m. to 1 p.m.
Wilkes will be signing two of her books, "Blue Sky and a Buick" and "Bishop on Horseback." "Blue Sky" is a true story about Episcopal Deacon Mary Hetler-Bradshaw who lived in Pioche and would travel hundreds of miles across Nevada to minister to folks that lived too far from church. "Bishop on Horseback" is a biography about Nevada's Episcopal bishops in the late 1860s.
Peter Miller will be signing his book "Vietnam MIAs Lost: Changed American Priorities." For 19 years Miller supervised military teams in search for and recovery of remains and evidence of American MIAs and POWs.
St. Christopher's Episcopal Church's annual Harvest Bazaar will be held from 8 a.m. to 1 p.m. Saturday. It will feature baked goods, homemade soups, holiday decorations and crafts and raffle prizes donated by local merchants. St. Christopher's is at 812 Arizona St.
American Legion Post 31 to host golf tournament
American Legion Post 31 will host a golf tournament Saturday at Boulder Creek Golf Club. Registration is at 6:30 a.m. with a shotgun start 7 a.m. Cost is $125 per golfer, and limited to the first 144 golfers.
Payment must be received by Tuesday. Make checks payable to American Legion Post 31, 508 California St., Boulder City, NV 89005.
For additional information, contact the Post 31 answering machine at 702-293-6374, or call Howard Scott at 702-293-3711. Funds raised will help Post 31 help veterans and their families in Boulder City.
'Leave No Trace' theme of event at Lake Mead
"Leave No Trace" is the theme of a presentation at 11 a.m. Saturday by the Lake Mead Institute at the Alan Bible Visitor Center at Lake Mead National Recreation Area.
The National Park Service is sponsoring the activity-filled event that will include games to help children and young adults learn how to have fun outdoors in an environmentally friendly way, a critical topic as the weather has brought out more hikers and campers.
The Lake Mead Institute is an alliance of partners dedicated to providing education, service and scientific opportunities that further the understanding and stewardship of the Lake Mead National Recreation Area.
Organizations team up to host Thanksgiving party
The Nevada Community Prevention Coalition, St. Christopher's Episcopal Church and the Boulder City Christian Youth Team plan to host a Thanksgiving party from 6:30 to 10 p.m. Nov. 15 at St. Christopher's, 812 Arizona St.
This party takes the place of the regularly scheduled NCPC meeting for November. The event is free and open to Boulder City residents of all ages. There will be food and music. Call 702-347-9924 to RSVP.
Boulder City Republican Women to meet Nov. 21
Boulder City Republican Women will meet at 11:30 a.m. Nov. 21 at Railroad Pass Conference Room. Radio host Alan Stock, who is featured each morning on Newstalk 72 AM KDWN radio will speak. Stock has worked in television and radio for 30 years and in Las Vegas since 1999. He also hosts a nightly interview program on Vegas TV channels 25 and 14. Also, Barbara Cegavske, a member of the Nevada State Assembly and Senate from 1997 through 2011 will talk about her future political plans.
A silent auction will be held during the luncheon featuring items from local establishments, with values from $15 to more than $1,000. To ensure seating, reservations for the $20 luncheon should be made before Nov. 16, by calling 393-1228, or emailing bcgop@yahoo.com.
Emergency Aid needs help
Emergency Aid of Boulder City is seeking donations. The nonprofit organization's funding is used throughout the year to provide utility and rental assistance to those in need. For more information or to donate, call 702-300-6187.
Library health care meetings to explain Affordable Care Act
Boulder City Library and CARE NV will be hosting meetings at the library to assist residents with understanding and signing up for health care under the Affordable Care Act or Obamacare. The meetings will be Dec. 6, Jan. 3, Feb. 14 and March 14. The visits are scheduled by appointment, by calling 702-836-9033.
Local churches join for weekday worship
Boulder City United Methodist Church and St. Christopher's Episcopal Church has begun weekly Wednesday night worship called WOW or "Worship on Wednesday." The 6:45 p.m. worship service is at St. Christopher's Episcopal Church, 812 Arizona St., and is a combination of contemporary praise music, prayer and a short reflection. The Revs. Sandy Johnson and Jim Lyons will lead the service. The service is casual and all are welcome. For more information, call Johnson at 702-293-7240 or visit www.bouldercityumc.org; or Lyons at 792-293-4275 or www.stchristopherschurch.org.
Class to fight fraud offered
The Better Business Bureau will present Fighting Fraud 101 on at 11 a.m. Nov. 18 at the Senior Center of Boulder City. Everyone in Boulder City is encouraged to come learn how to become a fraud fighter. This is a free program. The Senior Center is at 813 Arizona St. Call 702-293-3320 for additional information.
Lend a Hand plans volunteer training session Nov. 19
Lend a Hand is having a volunteering training class at 9 a.m. Nov. 19 at the Lend a Hand office, 400 Utah St.
Call 702-294-2363 for information on the class.
Lend a Hand helps seniors, disabled and handicapped residents of Boulder City. Volunteers drive them to appointments all over the Las Vegas Valley and provide help, respite and companionship for them to help them remain in their homes. Volunteers are needed for Lend a Hand to provide these services to our community.
Emergency Aid sponsors Christmas Angels
Emergency Aid of Boulder City will open its Christmas Angel Program Nov. 25 at the Boulder Dam Credit Union for a three-week run.
The program is for low-income families and seniors, and St. Jude's kids. Boulder City residents have provided 400 to 500 gifts each year.
Those who are eligible should contact the Emergency Aid office at 600 Nevada Way, 702-293-0797. The office is open 9 a.m. to noon Monday through Friday. Volunteers will administer the Christmas Angel Program during the credit union's hours of 9:30 a.m. to 5 p.m. Monday through Thursday and 9:30 a.m. to 6 p.m. on Friday through Dec. 31. To volunteer call the office. Gifts will be distributed at the credit union Dec. 14.
City offers children's performing arts class
The Boulder City Parks and Recreation Department is offering a children's performing arts class, Rising Stars, at the multiuse building. The class is held Tuesdays, with sessions running until Dec. 17.
Children will learn singing, dancing and performing skills. Participants will showcase their talents at the Holiday Magic Show Dec. 19.
Children ages 4 through kindergarten will meet from 2-2:30 p.m.; the class fee is $35. Children in first grade and higher will meet from 3-4 p.m.; the class fee is $70.
Additionally, there will be a $15 uniform fee for the eight-week session. Instructors are Lisa Morris and Kara Larsen.
For more information, contact the department at 702-293-9256.
Association of University Women BC branch to meet
The Boulder City Branch of American Association of University Women meets the third Monday of each month in the Boulder Dam Hotel, 1305 Arizona St.
Meetings are open to the public and held in the Gene Segerblom Meeting Room in the Boulder Dam Museum &Historical Society.
Boulder City Library schedules events
Boulder City Library, 701 Adams St., has a variety of events and activities scheduled for the month of November. These include:
n Preschool story time for children ages 3-15 from 10-10:30 a.m. Wednesday and Nov. 20 and 27 in the board room.
n Toddler story time for children younger than 36 months from 10:30-11 a.m. Wednesday and Nov. 20 and 27 in the board room.
n Lego challenge for chidlren 6 and older from 4-5 p.m. Nov. 21 in the community room. Legos will be provided.
n Family story time with science, crafts, games, Legos and stories for all ages from 6-7 p.m. Nov. 24 in the community room.
n Nov. 24 — The Teen Book Club for those 13 and older will meet in the youth department at 2 p.m. Nov. 24; call 702-293-1281 for details.
Annual Santa Train slated
The Nevada State Railroad Museum is selling tickets for its 12th annual Santa Train, which is set for 10 a.m. to 3 p.m. Dec. 7 and 8, Dec. 14 and 15 and Dec. 21 and 22. Tickets are $5 per person.
For more details, call 702-486-5006. The museum is at 600 Yucca St.