BDCU president/CEO carries on predecessor's legacy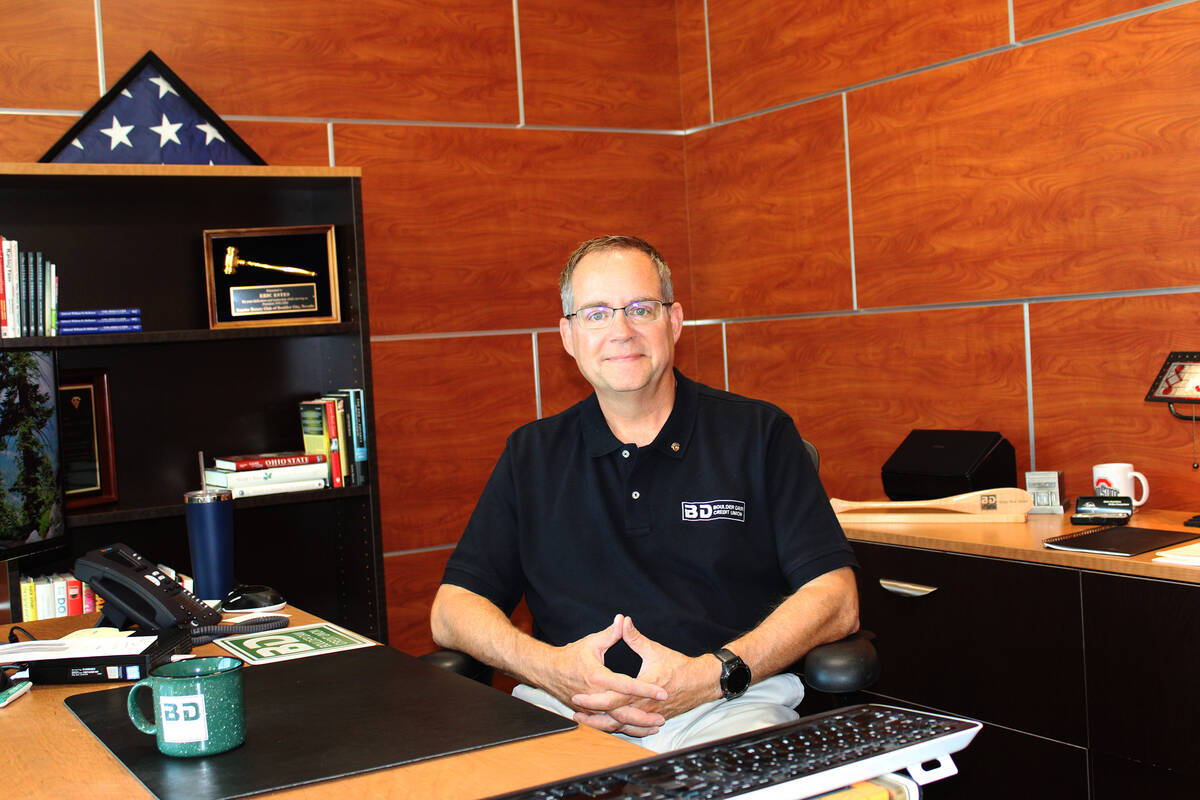 For many years, the Boulder Dam Credit Union has had the affectionate nickname of the "Credit Reunion" as it has been one of those places you're almost guaranteed to see a former classmate, colleague or neighbor.
In addition, because of a low turnover rate of employees, the person serving you almost always knows your name.
For longtime BDCU President and CEO Eric Estes, he wouldn't have it any other way.
August 8 will mark Estes's 30-year anniversary at the credit union, with 13 of those at the helm.
Back in 1993, Estes was recently married and working at a job in which he traveled about 80% of the time, which he knew wasn't going to be conducive to a successful marriage and family. Being an auditor for credit unions is how he met Bill Ferrence, who oversaw the credit union for decades. Instead of giving Estes a requested reference, Ferrence instead gave him a job as assistant manager.
"Linda and I spent two days here and just fell in love with it," Estes said. "We thought we'd be here maybe five years and go back to Ohio, where we're from. Obviously, that didn't happen."
As to what's kept them here so long, he said it's the city, community and the people he's worked with.
"This is the most beautiful town I've ever visited, let alone lived in," he said. "It has everything you could possibly want and what it doesn't have is just over the hill. I'm very blessed and it's been a joyride in every sense of the word."
Ferrence died in November 2010 and after serving a month as interim, the BDCU board named Estes as president. Having worked with Ferrence for 17 years prior to his death, Estes said he learned so much not only as a boss but that of a community leader.
"He put people first, all the time," he said. "He never let numbers drive a decision. It was always what was best for the members and then the staff. In my heart I have always led my life that way but he helped reinforce that and it was a reason he and I got along so well. It was easy to have our values align with each other. It was an honor and privilege to have worked with him."
Despite being at the credit union for nearly two decades at the time of Ferrence's passing, Estes said he still felt the pressure taking over as boss.
"Even to this day, I'll look up at the picture of him and on occasion I stop by his gravesite, and I'll just think, 'I hope you're proud of what we've done' because he served in this role longer than I ever will. They were big shoes to fill."
Estes said one of the goals of the credit union is to be good community partners and in exchange the residents have returned the favor with a nearly 80% penetration rate in Boulder City, which he said is unheard of in the industry. Then again, as he pointed out, those residents are not just members but owners, being that the credit union is a not-for-profit cooperative. While there is a volunteer board of directors, there are no stockholders.
"If it weren't for those people and that relationship, this credit union would not exist," he said. "I owe my career to the citizens of Boulder City and this credit union. Our staff knows that, which is a reason they have such a passion to serve."
Whether it's youth sports, to years of helping cover the cost of Fourth of July fireworks, to so many other things in between, Estes said he's proud of the that community partnership.
"No one has ever taken advantage of us or taken us for granted," he said. "They are certainly appreciative. Groups that we have been supporting for 30, 40 or 50 years are still as thankful today as they were back then. It's a huge obligation but we get an immense sense of pride that we're capable of taking basically our entire marketing budget and turning it over to sponsorships and contributions to local organizations instead of wasting it on billboards or TV ads. This money goes right back into the community, which is a great sense of pride. I enjoy it as much now as I did 30 years ago."
These days, with things like direct deposit and online banking, many baking institutions are closing branches left and right or closing altogether. That won't be the case for BDCU.
"We haven't put in automated tellers or voice activation systems," he said. "We're staying true to the service level we've always been committed to providing. We will never lose the focus of community service."
In his spare time, the 58-year-old Estes enjoys doing things with Linda and their two grown children. He's also been a longtime member of the Boulder City Sunrise Rotary.
"She and I are best friends and love to do everything together," he said. "We like to travel and be with our kids. When we're home, we enjoy Boulder City, the events and being outside. We love it all."