9th Island helps paddleboard enthusiasts hang loose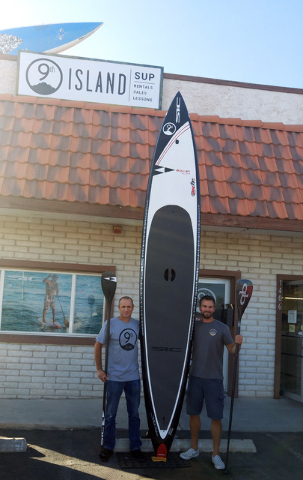 Paddleboarding is one of the fastest-growing sports in the world and Boulder City is now home to 9th Island SUP, the only paddleboard shop in Southern Nevada, or anywhere within 250 miles.
Braly Joy, one of the store's co-owners, was introduced to paddleboarding when the company he worked for purchased Sandwich Island Composites, one of the premier board manufacturers, in 2012.
After competing as a downhill skier for years, Joy found paddleboarding to be a perfect sport to transition into as he entered his 40s.
"It's a great way to stay involved in high-level competition and to stay in shape, but it's also very low impact," Joy said. "Injuries are very rare and there's a fast learning curve so it's perfect for all ages, from little kids all the way to adults."
Joy was still with Sandwich Island Composites two years ago when he began to formulate the plan for his own paddleboard shop after realizing what an opportunity Boulder City presented. It was close to Lake Mead National Recreation Area, and this particular group was underserved.
"Lake Mead and Lake Mohave offer world-class resources for people interested in water sports," Joy said. "But until now, if someone wanted to purchase a paddleboard and get into the sport, they had to drive to California and bring equipment back."
When he moved to Boulder City, Joy searched for locals interested in paddleboarding and almost immediately after posting a few inquiries received a deluge of responses.
One morning at the World Famous Coffee Cup, he ran into Terry Stevens, one of the cafe's owners and an avid paddleboarder. Now the two are preparing to compete July 31 in the 32-mile Mokokai 2 Oahu Paddleboard Championships in Hawaii.
After two years of planning Joy and his brother in-law Kirk Mitchell have seen their dream come to fruition. On June 25, they opened up 9th Island, using the Hawaiian nickname for Las Vegas.
It's the perfect place for this kind of shop, according to Joy, because it's right on the way to the lakes with people interested in getting out on the water driving right by their front door every day.
"There's already a growing community of paddleboarders here in Las Vegas and we just want to help foster that," Joy said. "It's the classic aloha vibe. There's no elitism, no territorialism. It's open to anyone and we want everyone to feel welcome and experience this awesome activity."
9th Island SUP is at 1408 Nevada Highway and is open from 9 a.m. to 6 p.m. Thursday through Monday, as well as by appointment on Tuesdays and Wednesdays.
The shop offers equipment for all experience levels and rentals starting at $20 an hour or $50 for a full day. It also hosts a free weekly training group.
For more information, call 702-293-SURF (7873) or visit its Facebook page at https://www.facebook.com/9th-Island-SUP-1591295971086744/?fref=nf
Contact reporter Hunter Terry at hterry@bouldercityreview.com or call 702-586-6711. Follow him on Twitter @HunterBCReview