Slain officer led heroic life
October 11, 2017 - 3:25 pm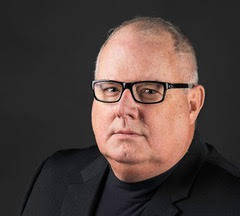 The aftermath of the Las Vegas carnage left many of us hurting — spiritually, mentally, emotionally or in combination(s) thereof.
I did not go to bed until 3 a.m. Oct. 2. I got a few hours of fitful sleep and then started writing my commentary, "No easy answer to evil."
I was saddened when I heard that Metropolitan Police Department officer Charleston "Charlie" Hartfield, a first sergeant in the Nevada Army National Guard and an Iraq War veteran, was one of the victims. An 11-year Metro veteran, he was off-duty enjoying the concert; he immediately changed into cop mode when the first bullets struck their victims. In his valiant efforts to save others, he was slain in the hail of gunfire.
I did not know Charlie personally, but I learned through a mutual friend that his book, "Memoirs of a Public Servant," was recently published.
I ordered the book Tuesday, Oct. 3 (it was not available for electronic download). I received it Friday and spent the rest of the afternoon reading it.
Charlie overcame many obstacles and became a professional soldier, an esteemed police officer, a loving husband and father and a revered youth mentor and football coach.
Charlie grew up without his father; his mother's absenteeism left a hurtful void. Raised by a loving, Christian grandmother, Charlie learned about giving to others. When his grandmother fell ill and had to move to Kentucky, an aunt stepped in.
Young boys growing up without a caring father are more likely to drop out of school and suffer additional failures. In one chapter, Charlie bared his soul in describing his anger toward his father, who, despite being on his deathbed, would not acknowledge him.
Charlie could have easily fell into the snare of unemployment, poverty and incarceration cycles experienced by his African-American peers while growing up in Southern California. He did not. Most men would have become bitter. Charlie did not. Influenced by his grandmother's compassion, he focused of what was good in life.
As a teen, he was loved and gladly received by his future in-laws. He later married a good woman, served in the Army, including a combat tour, and became a great father to his son and daughter.
As a police officer, he excelled at community policing because of his empathy for those he encountered during their difficult times. On one occasion, Hartfield used his personal cellphone to call the parents of a young homeless man who claimed to be a graduate of MIT. The parents were relieved to hear their son was still alive and confirmed their son did graduate from MIT but had been seduced by illegal drugs.
Additionally, Hartfield enjoyed the respect of his fellow officers and those street people he humanized during his contact with them. He will forever be remembered as a strong, caring football coach and mentor.
After reading his book, I felt as though I knew Charlie Hartfield personally. He has inspired me to finish my own memoirs and other stagnating manuscripts. I am confident his book will inspire others to overcome their past and help others.
Officer Hartfield's heroic acts were not limited to his actions on the night of Oct. 1. He was a hero by the way he lived his life, always giving his best, even to strangers.
Hartfield pondered in his writings if he was making a difference in anyone's life, a concern shared frequently by police officers worldwide. The thousands of folks who attended his candlelight vigil resoundingly answered his heartfelt question.
Thank you, God, for men such as Metro officer Charleston Hartfield.
Dan Jennings can be reached at bcpd267@cox.net or by visiting his website at www.danielmjennings.com.