Work continues to help kids displaced by club's closing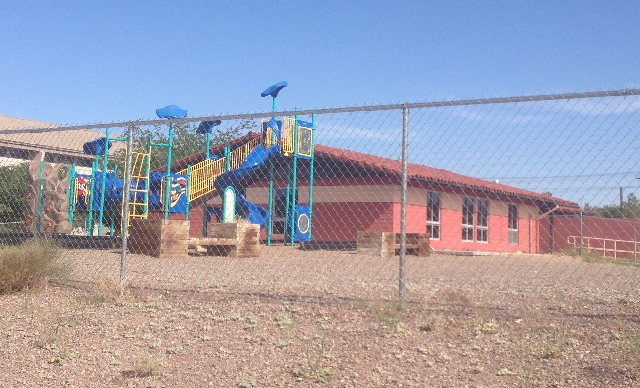 While the Boys & Girls Club in Boulder City may be closed, the children who used that resource have not been forgotten by local residents and business owners.
The local charity golf tournament committee, headed by Jack Gaal, Boulder City business owner and chairman of the past three golf tournaments that raised funds for the Boys & Girls Club, has not stopped working to help the kids displaced by the club's closing Nov. 3.
Gaal and his group, which he admitted, "I don't know what our group is called anymore," had held discussions with the Boys & Girls Clubs in Henderson and Las Vegas. Based on those talks, Gaal said, "Nothing is going to happen there. The Boys & Girls Club in the immediate future is not going to open" in the old location in Boulder City.
This realization did not stop Gaal and the group with no name from continuing in their efforts to help families and kids impacted by the club's closing.
The group has joined forces with the Dan Leach Memorial Fund to provide money for various programs around town. The organization was founded in honor of Daniel Leach, a Boulder City resident and 25-year veteran of the Metropolitan Police Department in Las Vegas. Leach died in a collision on U.S. Highway 95 near Searchlight on Nov. 21, 2009.
Gaal described members of the Leach foundation as "great people" who, like his group of volunteers, are working to help kids and families who need help.
Their plans are under way for a Sept. 7 golf tournament at the Boulder City Municipal Golf Course, Gaal announced. His business, Jack's Place on Nevada Way, "will probably be a main sponsor."
The $11,000 in funds generated from last year's Double Eagle Scramble "Fore" Kids is currently being used, Gaal said, "and is going to run out." The Sept. 7 golf tournament is needed to generate funds to send Boulder City kids through the city Parks and Recreation Department's programs and as well as preschool programs at the Christian Center and Oaklane Academy.
Also in the planning stage is the Dan Leach Golf Tournament that will take place Oct. 12 at Boulder Creek Golf Club.
Leach Memorial Fund Vice President John Balistere said last year's tournament raised approximately $17,000 and "we paid out last year in grants close to $18,000." The Leach Fund has sent kids to summer school, band camp, wrestling camp, helped pay for dance classes and bought equipment for Little League.
Balistere said, "Jack's group does such a great job helping out with Safekey," and should they come up short, he would like to have the Leach Fund "help out."
Both groups are organized "to help kids," and "our group is going to specifically continue to do what we are doing and try to help families in need" by sending children through the city programs and the Christian Center Preschool Program and Oaklane Academy, Gaal said.
According to Patty Sullivan, the city's recreation coordinator, to date, 14 children displaced by the Boys & Girls Club have benefitted from the 2012 Double Eagle Scramble "Fore" Kids golf tournament. The Parks and Recreation Department has received $3,387 in funds from the $11,000 raised by the tournament. These funds were used to send children to the city's Safekey program.
While Sullivan identified what she called a "child care assistance (program) funded by the Urban League," only one of the former Boys & Girls Club kids "qualified" for that program and did not complete the application process to have the benefit transferred to Safekey. Currently, the Parks and Recreation Department does not have any children using this assistance.
After a recent City Council meeting, June Brown and her 10-year-old son Cody spoke about the closing of the Boys & Girls Club that Cody and his brother, 6-year-old Hunter Brown, attended.
Cody, his head barely visible over the podium, asked the City Council on April 23 if the Boys & Girls Club was going to reopen.
"We're taking some of those services in with the Parks and Rec," Mayor Roger Tobler said. "We can answer some of those questions later, but right now we're trying to provide some of those same services through the city."
The city budgeted an additional $3,200 to offer two additional weeks of the Safekey program this summer, Parks and Recreation director Roger Hall said.
"We have had numerous requests from parents over the years to extend this program to fit into the summer school schedule," Hall said. "Our summer program usually ended approximately two weeks before school started and parents were having a hard time finding people to look after their children due to work responsibilities."
Gaal said talks with the Boys & Girls Clubs in Henderson and Las Vegas recently ended with no plan of either organization returning to Boulder City.
The Henderson chapter oversaw the club in the past, and the Las Vegas chapter decided to pull out in November for financial and staffing concerns.
"The Boys & Girls Club was a fabulous program during the summer," June Brown said. "I would have been willing to pay more as a yearly registration fee to see them stay open."
June Brown said she originally chose to send her boys to the Boys & Girls Club over the Parks and Recreation Department because of the "feedback" she received "from local parents." Once her boys joined the club, she saw the difference with the smaller group at the club and more adult supervision than the Parks & Recreation's summer program.
Cody Brown enjoyed the Boys & Girls Club because "a lot" of his friends were there and the club provided "really a lot of fun activities."
June Brown expressed concern that the Parks and Recreation Summer Program would become overcrowded because of the additional kids coming in because of the closing of the Boys & Girls Club.
Gaal continues to work to help families and kids and, with the cooperation of the Leach Fund, hopes to organize a significant car, boat and motorcycle show in Boulder City in the spring of 2014 to raise funds to go on with that work.