Veterans remembered, honored with wreaths
December 17, 2014 - 2:11 pm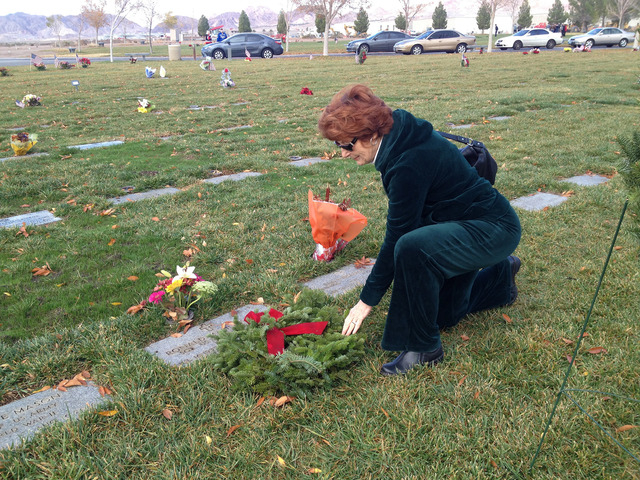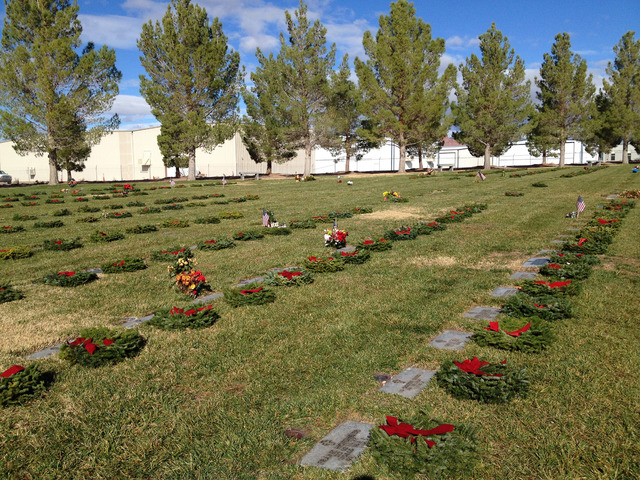 Shirley Malinowski got down on her right knee, her left hand gently caressing the wreath laid in front of her late husband's grave at the Southern Nevada Veterans Memorial Cemetery.
As the lingering gray clouds from the previous night's storm scattered across the Boulder City sky, Malinowski spoke softly of her late husband, Ronald, a Korean War veteran who died from colon cancer in 2010.
For Malinowski, placing the forest green wreath with the light red bow, identical to the thousands strewn across the Southern Nevada Veterans Memorial Cemetery is a pleasant experience, even though sadness made it all possible.
Saturday was the annual Wreaths Across America ceremony, a nationwide event where friends and family honored veterans by placing a wreath on their graves.
Cemetery Superintendent Chris Naylor said 944 wreaths were placed this year in Boulder City, 150 more than the year before. And Wreaths Across America representative Amber Caron said about 700,000 graves across the country, including some overseas, received a wreath this year. Last year, that number was 525,000.
"It's like keeping a memory alive, and it's a peaceful memory," Malinowski said. "It's beautiful when you see all these wreaths out here. All of those who passed away and gave their lives, and to know they're remembered. People don't realize that you come out here and it's actually a happy place. You see everybody here honoring everybody."
Ronald Malinowski served three years in the Korean War as a sergeant in the U.S. Marine Corps. Malinowski said her husband described his military experience as the best time of his life.
"Other than being married to me," she said with a soft laugh. "It was something he felt honored to do, and he made great friends he carried on through the years."
About five years ago, the Malinowskis came to the veterans cemetery for a funeral. Shirley Malinowski said her husband had been incredibly moved by the ceremony. Though he was always fascinated by Arlington National Cemetery in Virginia, Ronald told his wife he wished to be buried in Boulder City.
"It was such a relief when we came out (to the cemetery) and he said, 'You know, this will be good,' " Malinowski said.
Six months later, at age 78, Ronald died of colon cancer.
Joel Forman and Bob Jagemann of American Legion Post 76 in Summerlin come out every year to place wreaths on graves during Wreaths Across America. Forman, who served in the U.S. Army during the Vietnam War, said although the event marks a solemn day, it's an honor for him to recognize those who fought and died to protect America's freedoms.
Jagemann, who served in the Vietnam War as a member of the U.S. Navy from 1965-71, said he'll always have stories about fighting in the war.
"They are stories I will have forever, and a lot of them are still very tearful," he said. "We both had friends who didn't come back (from Vietnam), and had a lot of friends we've lost since, so we're happy to be alive and happy to come do whatever we can do to help out."
Although nothing can bring her husband back, Malinowski said she knows how important it is to keep his memory alive.
Hundreds of wreaths had been placed since the 9 a.m. ceremony began, and as the cool December breeze slowly picked up, Malinowski looked skyward to see planes flying over the cemetery — a sign of respect for veterans who had died.
A smile crossed Malinowski's face as she remembered her late husband.
"Every time these airplanes fly over, it's a nice remembrance. You're never forgotten," she said.
Contact reporter Steven Slivka at sslivka@bouldercityreview.com or at 702-586-9401. Follow @StevenSlivka on Twitter.