Two seek justice position
October 3, 2018 - 5:02 pm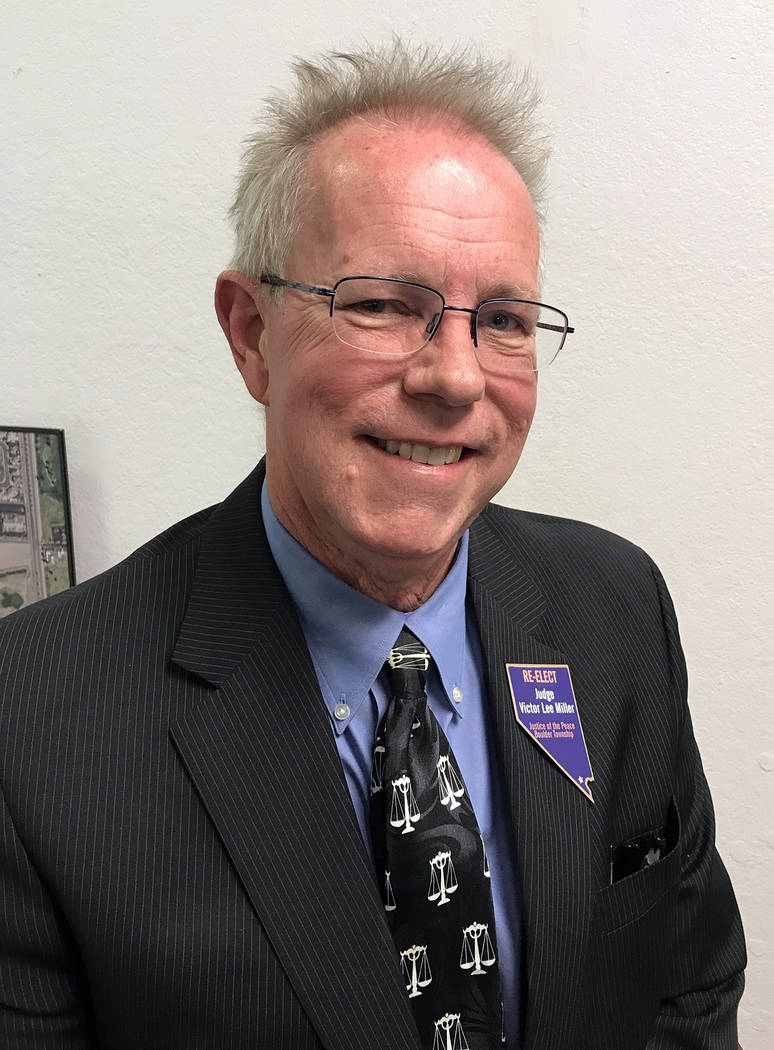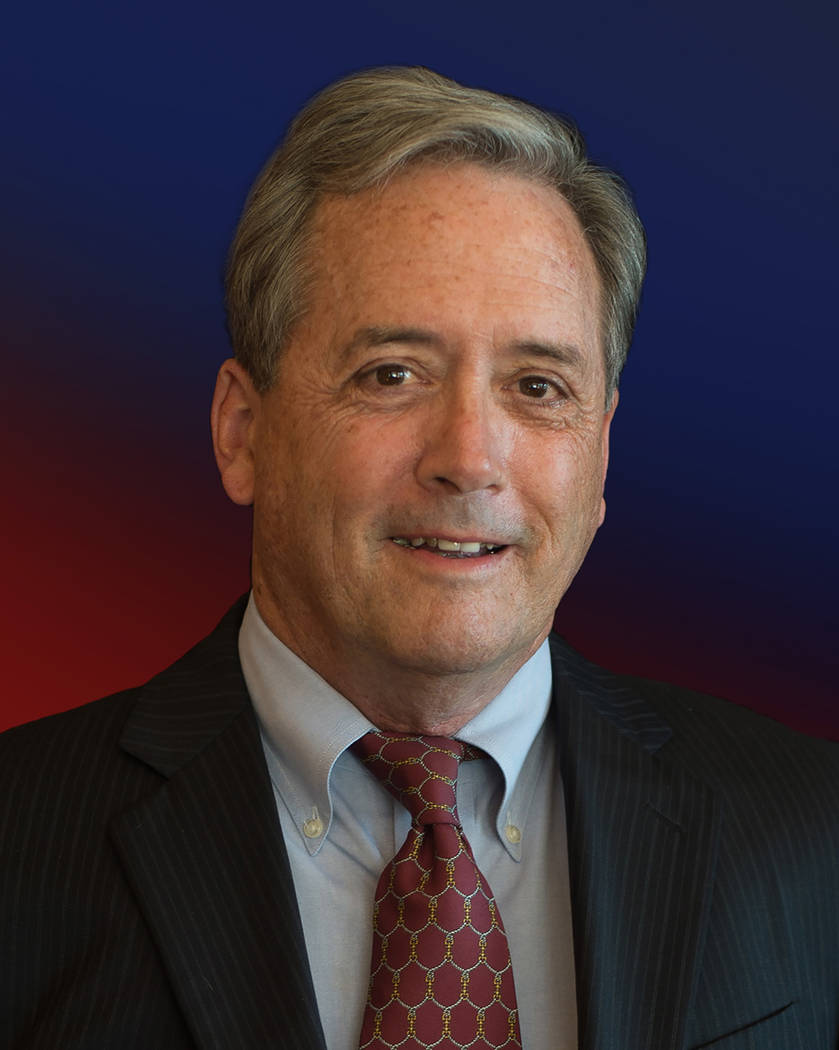 Two men are vying to become Boulder City's justice of the peace.
Justice Victor Miller, who is seeking re-election, is being challenged by newcomer Robert D. Martin.
According to the Nevada court system, justice courts handle misdemeanor crime and traffic matters, small claims disputes, evictions and civil matters less than $10,000. Justices of the peace also preside over felony and gross misdemeanor arraignments and conduct preliminary hearings to determine if there is sufficient evidence to hold criminals for trial at District Court.
Miller has been Boulder City's justice of the peace since 1994 and serves as the city's municipal court judge.
"This is like my life's work," he said. "This is what I've worked my whole life to do. … There is more to do and I'm ready to do it."
Martin has been an attorney in Las Vegas for more than 30 years. He said he has done more than 50 jury trials throughout his career and said he is running because there needs to be a change in the court for many reasons.
"It certainly could be done much better," he said about the justice court.
He said he has been going to court for about six months to observe Miller and he is disappointed with what he has seen in regards to legal knowledge and organization.
He said his jury trial experience showed him how to run a courtroom and he is qualified to be justice of the peace because he is "probably one of the most experienced trial lawyers in Nevada."
Term limits
Martin is a proponent of term limits and thinks judges should observe them. He said could not think of one who hadn't retired shortly after serving for 22 years.
Miller, who has served as justice of the peace for 24 years and municipal court judge for 34 years, thinks a longer time of service is a good thing.
"Justices gain wisdom with experience," he said. "They're different than other elected officials. Judges don't make law. We interpret law based on facts. You get better on it the longer you do it. … Experience is invaluable and literally something you acquire over decades."
Miller said it's not just the experience that is important with being a justice, it's also the training he has received with changes in the law, their implementation and the curation of a judicial demeanor.
"You need to have the respect of the people in front of you. … You don't want to create more conflict," he said. "If you respect the people in front of you, they will respect you, win or lose."
Martin said he has not received any public reprimands or sanctions by the State Bar of Nevada during his career. He said he has received letters from the Bar about problems but he was always able settle the issue or provide restitution.
Call to action
Miller received a public reprimand from the Bar in 2003.
"I had a difficult client who was bothering me every day and I stopped taking her calls," he said. "My staff was taking care of it."
She complained to the Bar, as did her daughter. He responded to the daughter's complaint and thought that would handle the matter. It did not and the Bar issued a warning letter.
"I took their warning seriously and moved on," he said, noting it prompted him to change his practice to lighten the case load and devote more time to his clients.
"At the time, I had to choose whether to be a judge or lawyer, and I chose a judge," he said.
According to the public reprimand, his client said she told the Bar she had resolved her differences with Miller.
Miller also had his wages garnished by the IRS from 2006-2008 but resolved the issue.
"I had a civil dispute with the IRS over what taxes were owed," he said about his former law practice. "Unlike normal civil collection actions, the IRS can attach property without a court order — no court ever said that I owed taxes before there was an attachment. The IRS garnished wages as the issue worked its way through the IRS appeals process. It was finally resolved by my attorney with the lien being removed and them sending me a check. The IRS and I both considered the issue resolved years ago."
To help residents make an informed decision, the Boulder City Review asked each candidate several questions. Their biographies appear below and their answers, in their own words, are in the attached document.
Robert D. Martin
■Age: 64 years
■Marital status: Married 30 years to Dr. Emily Fant, a local ophthalmologist
■Family: Three children. Sarah just finished medical school. Kelley is in school to become a geologist. Michael has not done well, and his problems were exacerbated by being chewed up by the juvenile criminal system in Clark County several years ago. I am one of 12 siblings, nearly all of which have lived in Clark County since 1970 and before.
■Education: California Western School of Law, juris doctor in 1984
■Occupation: Attorney in Clark County, Nevada, since 1984;
■Club/organization affiliations: Board member of Opportunity Village, Nevada State College Foundation, homeowners association president, Boulder City Municipal Airport, Romeo group, gardening club, Boulder City Elks, Lodge 1682, and Senior Center of Boulder City.
Victor Lee Miller
■Age: 65
■Marital status: Married to Cora-Lee Miller since Jan. 27, 1990
■Family: Cora-Lee and I have nine children ages 13-26 and two grandsons (1 and 4) who also live in Boulder City. I also have three older children (ages 34-40) with an additional seven grandkids who live in Florida, Eureka, Nevada and Las Vegas.
■Education: I attended and completed Boulder City Elementary School. I graduated from Boulder City Junior/Senior High School in 1971. I received a Bachelor's Degree in political science from Brigham Young University in 1978. In 1981, I graduated from the McGeorge School of Law, University of the Pacific. Since then I have completed numerous courses at the National Judicial College.
■Occupation: Judge
■Club/organization affiliations: Member of the Nevada Judges of Limited Jurisdiction and serve on their Bench Book Drafting Committee, State Bar of Nevada, Boulder City Little League as legal adviser, served on the board of directors of Operation Godspeed and worked with this organization to raise the funds to build the chapel at the Southern Nevada Veterans Memorial Cemetery in Boulder City, board member and past president of the Nevada Community Prevention Coalition, a rural Clark County coalition focused on substance abuse and violence prevention.
Victor Miller Public Reprimand by Boulder City Review on Scribd
Early voting
When: Saturday, Oct. 20, through Friday, Nov. 2.
Where: Boulder City Hall, 401 California Ave., on Monday, Oct. 29, Tuesday, Oct. 30, and Wednesday, Oct. 31.
When: 7 a.m. to 6 p.m.
Info: For a complete list of early voting locations and times, visit http://www.clarkcountynv.gov/election/Documents/2018/EVSched-SamBal-18G.pdf.
Note: Registered voters can cast their ballots at any location.