Two plots of city-owned land under consideration for development
October 25, 2017 - 4:02 pm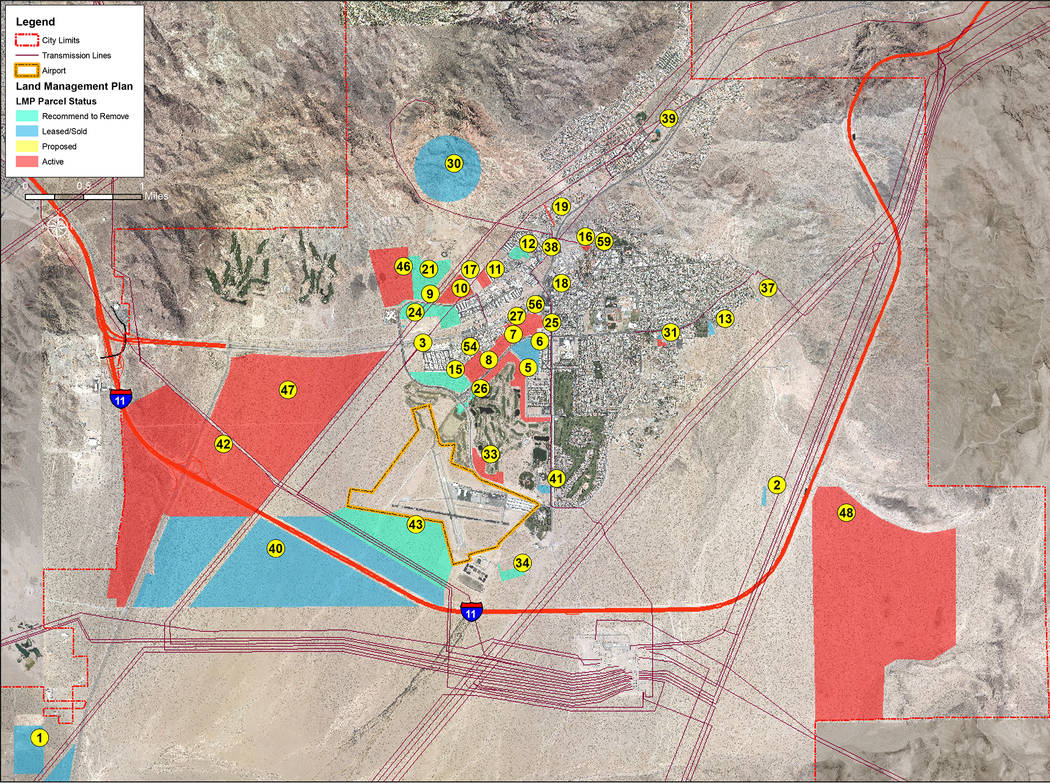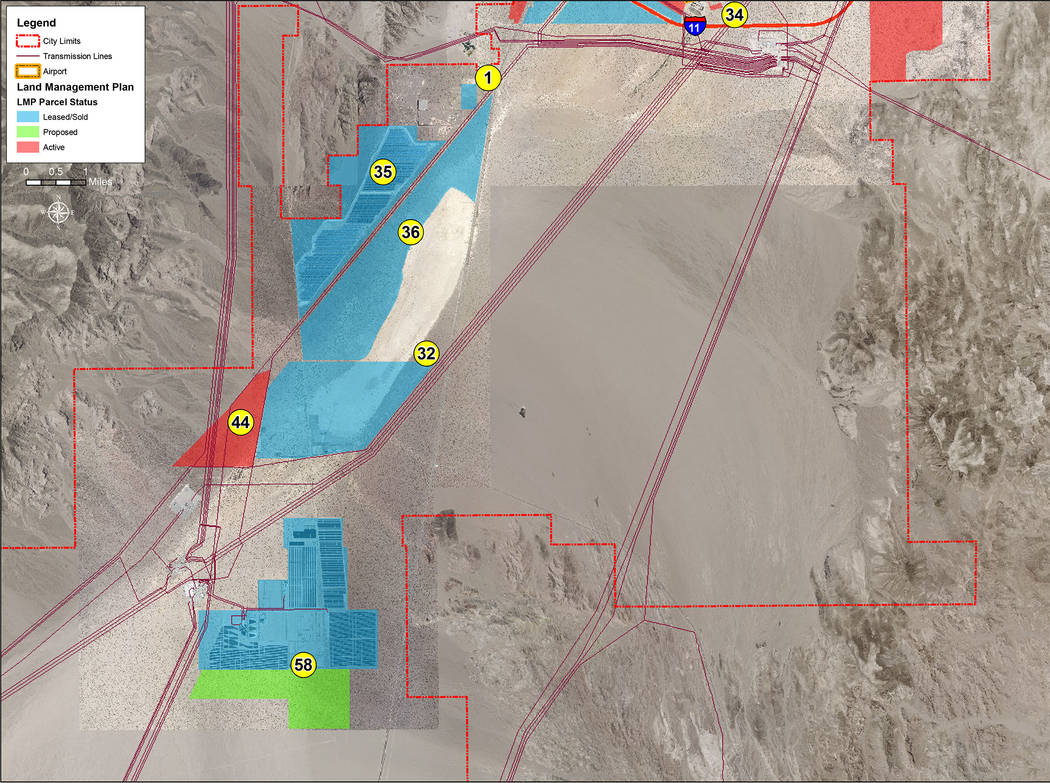 City Council forwarded two requests for the 2018 land management plan to the Planning Commission for public hearing and further recommendation.
The city received one application from Sempra Renewables as well as request for modification from city staff.
Sempra requested that 1,145 acres, south of the energy zone and Copper Mountain Solar 1, 2 and 4 be added. The company plans to use the land for its Copper Mountain Solar 5 LLC project. This parcel of land is referred to as LMP #18-01 in the plan.
City staff requested that the potential land uses for LMP #18-02, which is next to the Boulder City Library and part of its original portion of land, be modified to include residential uses. This designation will include a conditional use for community care centers.
Special Projects Manager Brok Armantrout said that staff was requesting council forward these requests, as it deems necessary, to the Planning Commission for review.
"I'm definitely in favor of Sempra Copper Mountain 5 proposal," said Mayor Rod Woodbury.
He also said that he was in favor of modifying the parcel near the library as it would allow for a variety of possible uses.
Councilman Rich Shuman said he did not think the council needed to discuss much with this as it the land management plan had been more administrative this year. He commended staff for taking the council's direction with it and their work.
Armantrout also included seven parcels of land staff requested be removed from the 2018 plan as there was no current activity or interest expressed in them.
Councilman Kiernan McManus said that he agreed with the removals and the other requests and wanted to encourage the Planning Commission to not treat the land management plan as a wish list for developers, entrepreneurs or those with ideas.
"Again, I really think we need to treat this as a planning document rather than a wish list for people, where we are looking at these pieces of land that fit in with what we want to do here in Boulder City," he said.
"I particularly like the fact that we are cleaning up the land management plan," said Councilman Warren Harhay. "It looks like it's being streamlined. I think it's a good move forward to get rid of these excess, unused and not-to-be-used spots."
The removal requests did not go the Planning Commission. Rather they will come back before the council for action at the 2018 land management plan adoption hearing in December or January.
The parcels suggested for removal are:
■ LMP #04-05: Approximately 43 acres bounded by the railroad detention basin/railroad on the south, Veterans Memorial Drive/Industrial Road on the west and north, and existing light industrial development on the east. It is currently approved for light industry or a crematory.
■ LMP #04-08: Approximately 8 acres, bisected by an underground utility facility and bounded by Canyon Road on the west, Industrial Road on the south, mini storage facilities on the north and an RV park on the east. It is currently approved for boat storage.
■ LMP #04-11: Approximately 27.5 acres that was previously under option to lease to Volunteers of America for the construction of a senior housing community with the transition to assisted living facilities as part of the project. The option expired several years later because of market issues. It is north of Boulder Creek Golf Club's main building. It is currently approved for a senior housing project.
■ LMP #05-06: Approximately 100 acres, this site is north of Industrial Road and bounded by Bootleg Canyon Park on the north. The veterans home is near the southwest part. It is currently approved for a multiuse sports complex.
■ LMP #06-02: Approximately 4 acres and adjacent to the Boulder Creek Golf Course parking lot on the east and west sides. It was previously under a joint development/lease agreement with Hawthorne Suites. The lease was terminated when market conditions changed. It is approved for hotel use.
■ LMP #08-03: It was approved for a solar demonstration site that was going to be a joint project between UNLV and the Korean Western Power Co. The UNLV team has retired and KOWEPO has assigned their lease to Skylar Resources. Neither are currently interested in developing a solar demonstration site.
■ LMP #4-02: It was approved as a possible location an aeronautical business and industrial park. Developing and marketing this site is difficult due to its access and distance to utilities. City staff is asking for the site's removal.
Contact reporter Celia Shortt Goodyear at cgoodyear@bouldercityreview.com or at 702-586-9401. Follow her on Twitter @csgoodyear.