Train museum employee honored
January 11, 2023 - 4:06 pm
Updated January 11, 2023 - 4:46 pm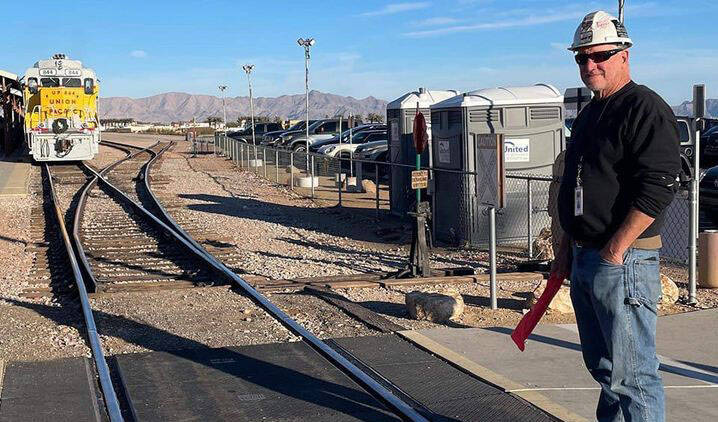 A staff member at Boulder City's Nevada State Railroad Museum was named Nevada's Veteran Employee of the Month on Friday.
John Walker was recognized by the Nevada Department of Veterans Services for his work as an administrative assistant for the museum.
"I like educating people, sharing my knowledge and experience with other people," said Walker.
Museum Director Christopher McMahon said Walker went above and beyond the standard responsibilities of his job. He said that Walker's official job responsibilities mostly include paperwork and administrative duties, but he also runs the museum store, tracks volunteer hours, helps coordinate educational programs, helps with store and ticket office volunteers, among other things.
McMahon said Walker gets along well with the volunteers and makes efforts to take care of them in the workplace. McMahon and Walker cooked and baked for the volunteers during the holiday season: a tradition at the museum that started with Walker's idea, according to McMahon.
Walker helped the museum adopt the General Code of Operating Rules, a set of rules used by more than 400 railroads in North America, for its excursion train operations, according to a press release from the Nevada Department of Tourism and Cultural Affairs.
He also was the only staff member working at the museum for two months in 2021, according to the department.
"His desire to make this institution a better place really shows," said McMahon.
Walker said his favorite aspect of working at the museum is helping educate people about the state's history. He said that people who work in the museum and preservation industry consider themselves "guardians of Nevada's history, culture and important artifacts," and he said he enjoys having that title and teaching people about that history, culture and collection of artifacts.
"We all like to tell stories; I get a chance to do that almost every day," said Walker.
Walker served in the U.S. Army, and is one of two veterans in the official museum staff of three, the other being McMahon, who served in the Navy. McMahon said the museum staff, including volunteers, has a "strong contingent of veterans" working there.
Contact Mark Credico at mcredico@reviewjournal.com. Follow him on Twitter @MarkCredicoII.