Traffic delays on I-11 beyond engineers' control
September 19, 2018 - 4:51 pm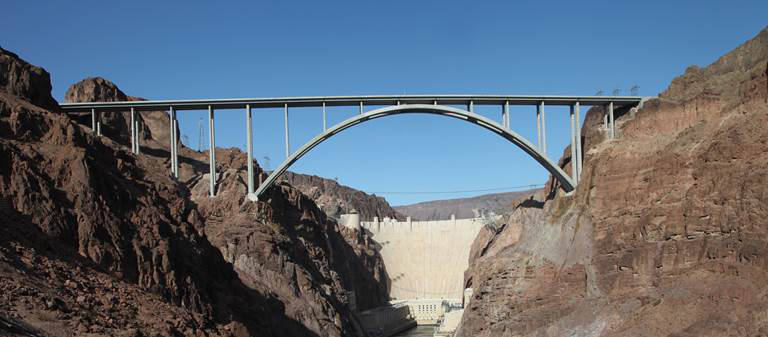 The newly opened stretch of Interstate 11 near Boulder City is designed to cut as much as 30 minutes off the trip between Las Vegas and Kingman, Arizona.
But the route is subject to occasional delays beyond the control of traffic engineers.
For public safety reasons, authorities say they will continue to shut down the Hoover Dam Bypass Bridge — I-11's only path across the Colorado River — anytime someone threatens to jump from the structure.
It's already happened at least twice since the new section of interstate opened Aug. 9, including an incident Aug. 15 that closed the bridge and I-11 for three hours.
Metropolitan Police Department spokesman Jay Rivera said shutting down traffic on the bridge is standard procedure whenever officers are dealing with a potentially suicidal person.
"Obviously, life will always come before someone's inconvenience," Rivera said.
How Metro responds
Most such calls are handled by Metro officers based in the southeast Las Vegas Valley, because the department is best equipped to respond, Rivera said.
At least three officers are sent to calls on the bridge: a member of the Metro's crisis intervention team, a back-up officer and a supervisor.
"CIT officers are not negotiators. Their training is more about recognizing issues and trying to make connections" with people in distress, Rivera said.
The highway is closed to protect the public from "the threat of violence," as well as the psychological harm that can come from seeing someone die, he said.
Then there is the more disturbing reason police don't want bystanders close by at times like that: "There's never a shortage of idiots who yell, 'Jump!'" Rivera said.
The four-lane, 1,900-foot span officially known as the Mike O'Callaghan-Pat Tillman Memorial Bridge opened to traffic in October 2010. The first recorded suicide occurred in April 2012.
It's unclear how many people have jumped or threatened to jump from the bridge in the years since. Officials from Metro, the Nevada Highway Patrol, the Nevada Department of Transportation and the U.S. Bureau of Reclamation, which operates nearby Hoover Dam, all said they don't track that sort of information.
Authorities said such calls are uncommon, but they couldn't be any more specific than that. Rivera said officers are able to talk individuals out of jumping "more often than not."
The bridge 890 feet above the Colorado River features a pedestrian walkway with a 5-foot-5-inch concrete-and-metal barrier overlooking Hoover Dam, about a quarter of a mile upstream.
Nevada Department of Transportation spokesman Tony Illia said engineers considered additional suicide prevention measures, including a catch net or a higher see-through barrier, but those ideas were rejected because of cost and the engineering and security challenges they posed.
The higher barrier, for example, would "turn the railing into a sail, subjecting the bridge structure to additional wind loading," Illia said. The net, meanwhile, would mostly catch litter and birds, while potentially providing a dangerous and unauthorized access route to the underside of the bridge.
Transportation officials also considered and rejected placing a suicide hotline phone on the bridge, but the Bureau of Reclamation did spend almost $92,000 in 2013 to put in 11 emergency call boxes on the top of Hoover Dam, in several parking areas and on the switchback trail leading up to the bridge walkway.
The phones connect directly to the dispatch center for the dam's security force.
Golden Gate gets barrier nets
After years of planning and debate, construction began last month on new barriers to prevent jumpers at the Golden Gate Bridge, which ranks as one of the world's top destinations for suicides.
Nearly 1,700 people have leaped to their deaths since the iconic bridge across the mouth of San Francisco Bay opened in 1937.
According to the Golden Gate Bridge, Highway and Transportation District, which operates the bridge, metal cable barrier nets are being installed along the entire length of the 1.7-mile span about 20 feet below the pedestrian walkway along the east side of the bridge.
District spokesman Paolo Cosulich-Schwartz said the barriers aren't meant to catch people so much as deter them from jumping in the first place by blocking their fall and thwarting their plans.
Installing the barriers is expected to take until early 2021 and cost $211 million, nearly as much as it cost to build the entire Hoover Dam Bypass Bridge.
The Golden Gate has only shut down about a dozen times in the past 81 years — and never because of a suicide attempt — but Cosulich-Schwartz said it's not unheard of for one or two lanes to be blocked off as emergency personnel deal with a potential jumper.
The six-lane bridge carries about 117,000 vehicles a day.
An average of 15,653 vehicles a day cross the Hoover Dam Bypass Bridge, just east of the new stretch of I-11.
Contact Henry Brean at hbrean@reviewjournal.com or 702-383-0350. Follow @RefriedBrean on Twitter.
Warning signs
Signs of suicide can include changes in conversation, behavior and mood, according to the American Association of Suicidology.
If someone talks about being a burden to others and feeling trapped; starts acting recklessly or withdrawing from friends, family and activities; or experiences rage, anxiety or a loss of interest, among other factors, you should reach out to the person or seek help.
For more information, visit suicidology.org/resources/warning-signs.
The National Suicide Prevention Lifeline, 1-800-273-8255, provides access to trained telephone counselors around the clock.