Town hall meetings planned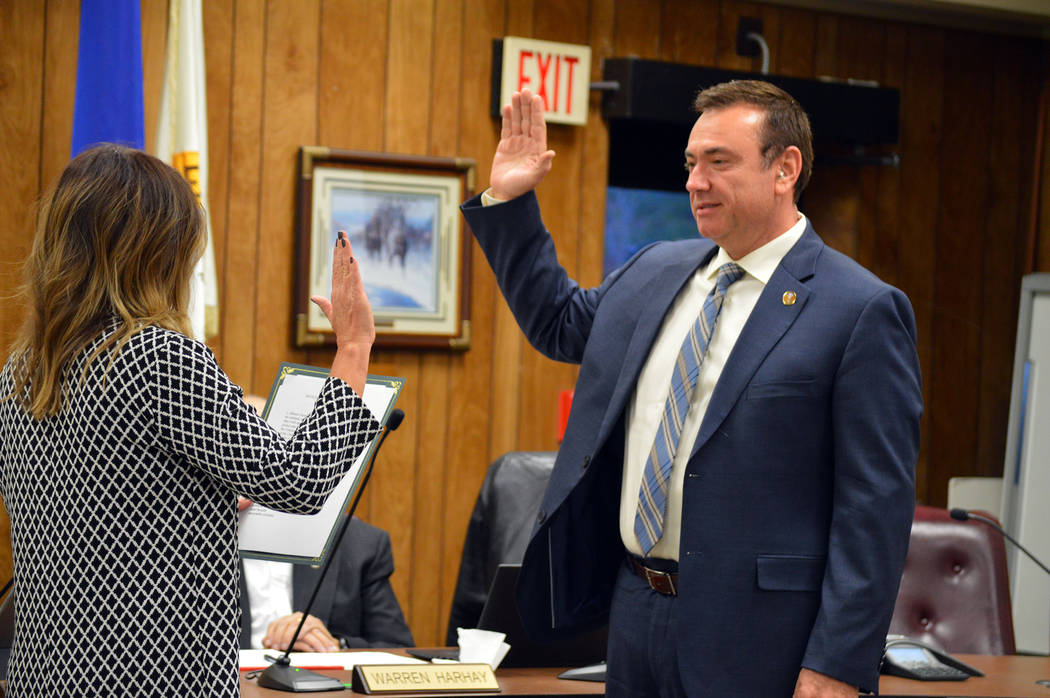 On Tuesday evening, City Council decided to hold more town hall meetings throughout the year and swore in new city manager, Al Noyola.
Residents will have five chances a year to interact with council members at town hall meetings, and each will lead one on a rotating basis.
Councilman Kiernan McManus had asked for a discussion to be put on the agenda so that the meetings would not be forgotten.
"Again, the reason I requested this to be put on here, loose ends tend to become lost ends, and it seemed like we were getting into a situation where we'd agreed to do town halls but weren't doing them," he said.
Councilman Warren Harhay and Mayor Pro-Tem Peggy Leavitt, who led Tuesday's regular City Council meeting, have each held one. Harhay's was about utilities and Leavitt's was about tourism.
The other council members agreed with having the meetings, but a concern about adding to the workload of the staff was raised.
"I'm definitely willing to do it, so you know, plug me into the calendar. … I'm willing to do it," said Councilman Rich Shuman. "I'd love to have a little advance notice of what we're talking about, but even without that, I'm ready to do one anytime."
Increased work concerns
Mayor Rod Woodbury, who participated in the meeting by phone, said he was willing to do them but was concerned about the added workload the meetings could cause.
"I guess my perspective as the mayor may be a little bit different than everybody else's somewhat because I'm already out to do a lot of things. … I'm constantly out there," he said. "I enjoy being out there, but you know to add to that is a little daunting sometimes. … I don't mind participating. I just don't want it to get so rigorous that we can't fit in other things, and it doesn't become a fluid process."
He was also concerned about the increased workload these meetings could have on staff.
"It's tasking our staff with a lot more responsibility," he said. "Especially if we are going to make these public meetings where they have to be noticed and then agendized where there's prep time for staff, and then there's overtime where they have to be there … just adds to what they already have to do."
Noyola agreed that if there were a lot of meetings it could require more staff input.
During the previous town hall meetings, some residents had suggested the proceedings also be lived streamed and recorded by the city.
Chilled discussion
Both Harhay and Woodbury did not think it was a good idea.
"The reason for that is when you have a town hall, you really want to have a free and open discussion from everyone that's a participant," Harhay said. "And many people are intimidated by standing up at a microphone, knowing they're going to be recorded because it's going to be a gotcha moment."
"I think if you make them more like City Council meetings then it will kind of chill that a little bit, in addition to taxing the staff," Woodbury said.
Resident Glenn Feyen said more town hall meetings is a good idea and that as many as possible should be scheduled without creating an undue burden on the council members.
"It's great for the community. … It's really nice to get out like that," said Ray Turner.
It was decided that each council member would hold one town hall meeting a year, but could do more if they wanted. Each member would also decide the venue, which staff could assist with setting up, if needed. The topic will be decided by the council members as well as whether to film it. Members of the public, however, could film the meetings, if desired.
Questions could also be submitted in advance.
For this year, McManus will hold the next town hall meeting, followed by Shuman and then Woodbury.
In other actions, council:
■ Approved an agreement with GridLiance West Transco LLC to add almost 24 acres of land to the company's previously leased area, which means the lease will generate almost $18 million in its first 45 years.
■ Approved Emergency Aid of Boulder City's application for approximately $23,000 in Community Development Block Grant funds, and Lend A Hand of Boulder City's application for approximately $8,000.
■ Approved an agreement with JEK Compliance Evaluating Service for dedicated building inspector services for the Techren Solar Project.
■ Shuman announced he would available at his office downtown all day on the Tuesdays of City Council meetings for people to come in and ask him questions.
■ Harhay said he was starting Coffee with Councilman again, which will take place from 2-4 p.m. Saturday at Starbucks, 1048 Nevada Way.
Contact reporter Celia Shortt Goodyear at cgoodyear@bouldercityreview.com or at 702-586-9401. Follow her on Twitter @csgoodyear.