Top students honored with scholarships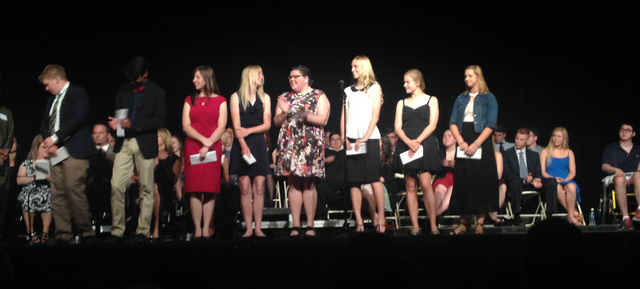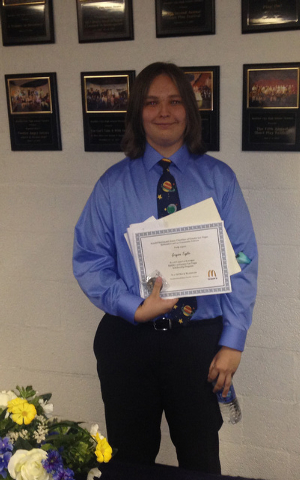 With graduation looming right around the corner, 39 scholarship-winning seniors were presented their awards at Boulder City High School's Scholarship Night May 19.
More than 100 scholarships were given out to the students who sat on stage in front of their proud parents and other members of the Boulder City community who have contributed to a scholarship fund throughout the years.
Approximately $111,000 in scholarships was awarded to Boulder City High School students.
"Our graduation rate is phenomenally high, and we have many very smart and very talented students," said Principal Kent Roberts. "Tonight is a celebration of many, many years of hard work."
Amy Eschner and Grayson Taylor were the big winners of the evening, garnering a combined 15 of the 106 scholarships presented.
Eschner won eight scholarships, the most of any senior. She plans to attend the Fashion Institute of Design &Merchandising in Los Angeles next year, and said the scholarships will make things much easier for her when she leaves home.
"I wasn't quite sure if I was going to be able (to go) for the first couple of years, but after tonight it's very relieving," Eschner said. "I can't wait to be doing something that I really want to do."
Eschner runs an online jewelry company and is hoping to expand her business when she's done with school in Los Angeles. She wants to become a fashion designer and is hopeful she'll eventually design shoes for people with foot disabilities.
Eschner was born with a birth defect that has caused her to lose most of her fingers and toes, so assisting those who struggle to find shoes like she does remains her top priority.
"Finding shoes to fit my feet has been very difficult," she said. "I hope that I'll be able to design shoes that will not only fit my feet, but other people who find it difficult also."
Taylor, who was the winner of seven scholarships, including the lone recipient of the Ronald McDonald House Charities Scholarship, said it's rewarding to know the hard work he's put in for the last four years is finally paying off.
"It feels really great," he said. "It's gonna help me a lot with college since the costs are going to be such a big factor. Every little bit helps."
Taylor is planning to leave Boulder City in August and will pursue a degree in mechanical engineering at the University of Portland.
Joseph Gebhart was awarded a full-ride scholarship to the Air Force Academy, and Adam Peterson was awarded the U.S. Coast Guard Academy appointment. Peterson was the only recipient of the award in Nevada.
Sam Woodbury, Jana Williams and Whitney Barlow were presented with the NIAA Farmers Insurance Top 10 Student Athletes in Southern Nevada Scholarship by Geoffrey Baughman, who said he wasn't sure if having three top 10 student-athletes from the same school had ever happened before.
Other notable winners of at least four scholarships were Evan Klouse, Kendall Miller, Chandler Harkins and Ashlen Bhatia.