Three sites designated as locations for new pool
January 17, 2018 - 3:51 pm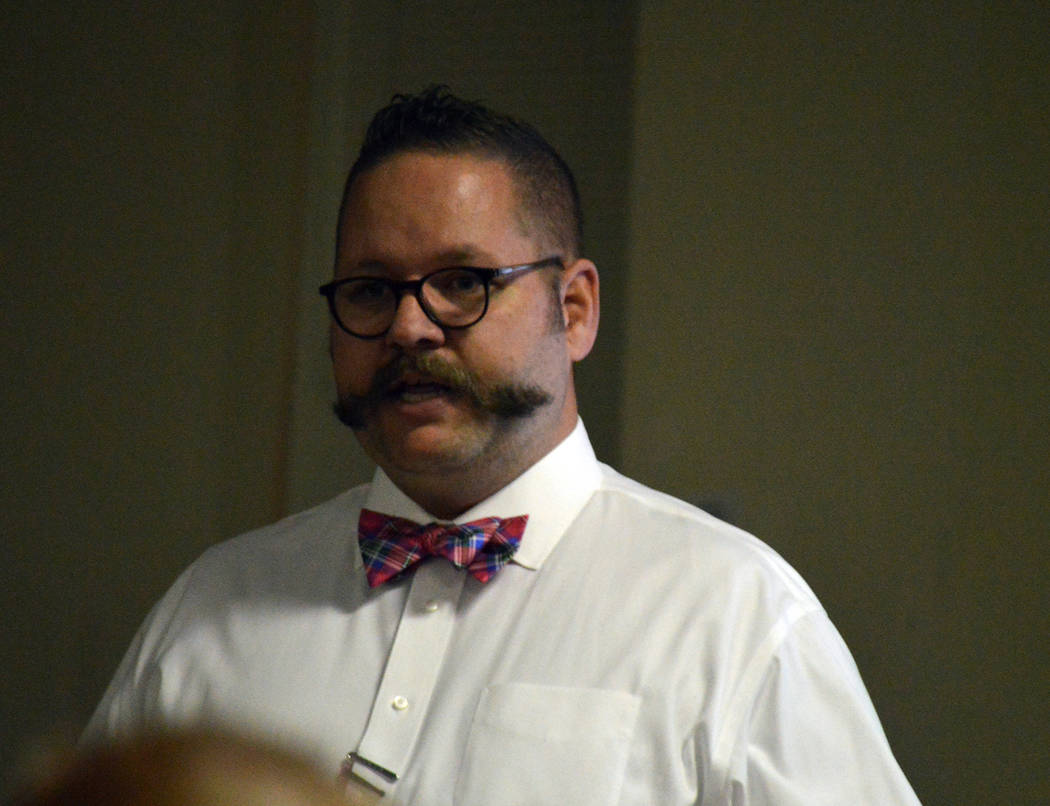 Three different spots in town are being researched for Boulder City's new aquatic and cultural center.
SH Architecture held a community meeting Tuesday and said that they are looking at Broadbent Park, ABC Park and a parcel on the southwest corner of Boulder City Parkway and Veterans Memorial Drive as possible locations for the facility.
The current pool in Broadbent Park is almost 40 years old and becoming too costly to maintain and repair.
Eric Roberts, principal at SH Architecture, said that he and his team will research each parcel in terms of what utilities are available, the sustainability of a pool and what else is needed. In addition, they will present the upfront costs for each location as well as how long it will take the city to recoup that money.
"Our job is first to listen," he told the approximately 30 people who attended the meeting.
From there, Roberts said that they will take what the community says is important and come up with a plan for the facility.
City Council approved a $109,000 contract with SH Architecture at its Dec. 12 meeting to facilitate and prepare concept plans for the new aquatic and cultural center.
Roberts said that they were told that the current pool needs to remain open while the new one is built, so their project will reflect that.
"We'll keep that open … and then phase two will be the demolition of it," he said. "There will be a pool in Boulder City until there is a new pool in Boulder City."
At the meeting, residents had the opportunity to voice some of their questions about the project as well as ideas for it.
One resident asked whether the racquetball facilities would move to the new center.
Roberts said that those could be attached to the new facility or kept at the old one.
"Usually the budget is the deciding factor in that," he said.
Other residents were concerned about the size of the new pool and whether competitions could be held there. To hold swim meets for high school and local clubs, a pool needs to be 25 yards long and have at least six swimming lanes.
"Any pool that would go in here would meet those minimum requirements," said George Deines of Counsilman Hunsaker, which is working with SH Architecture on the project.
Another option is make the pool an Olympic-size competition pool that is 50 meters long, but that costs twice as much as a 25-yard pool, according to Roberts. It also costs more to maintain because it is twice as big in size and water volume.
He said that a 25-yard pool is more than sufficient to meet the community's needs.
Other concerns voiced by those present include making sure the facility can incorporate the uses of the current pool, its sustainability, seating options, durability and intent of the cultural center.
Whatever facility is built will be designed to last for 30-50 years, outside of routine things like pumps, heaters and filters that need to be replaced sooner, according to Roberts.
"We build these to last," he said.
In terms of the cultural center, he said that they were asked to design that.
"It can be whatever the community wants besides the aquatic facility."
He said the cultural center can include anything that allows people to have fun because when you add fun you add money coming into the facility.
Roberts encouraged the community to give positive and negative input about what they want and don't want for the new facility throughout the duration of the planning phase, which can be done through comment cards at City Hall and the pool as well as the project website, http://bouldercityaquatics.mindmixer.com/.
All of those will be checked regularly.
SH Architecture will continue to hold public meetings to solicit input and update residents.
Contact reporter Celia Shortt Goodyear at cgoodyear@bouldercityreview.com or at 702-586-9401. Follow her on Twitter @csgoodyear.