The Write Stuff: Fisher marks 50th anniversary of space pen
August 17, 2016 - 1:07 pm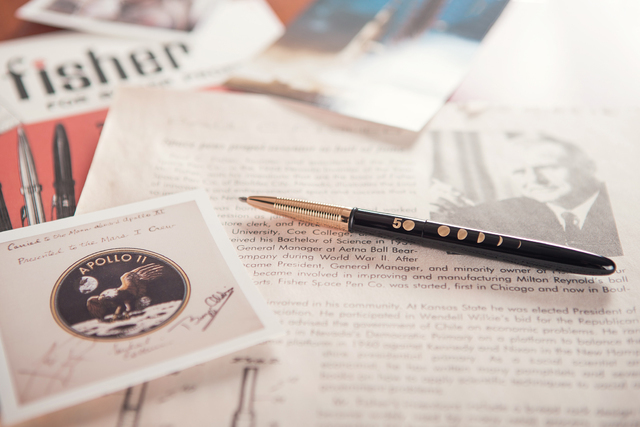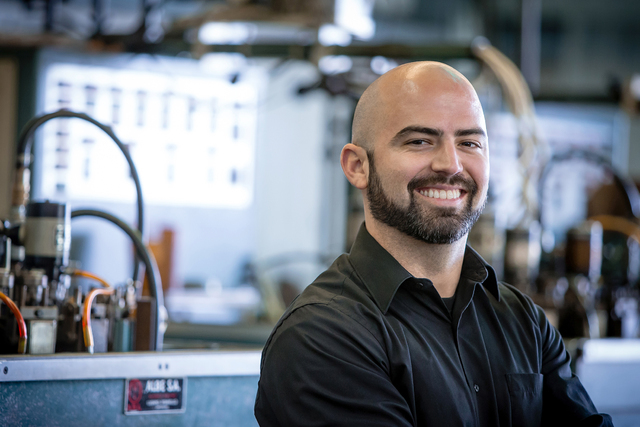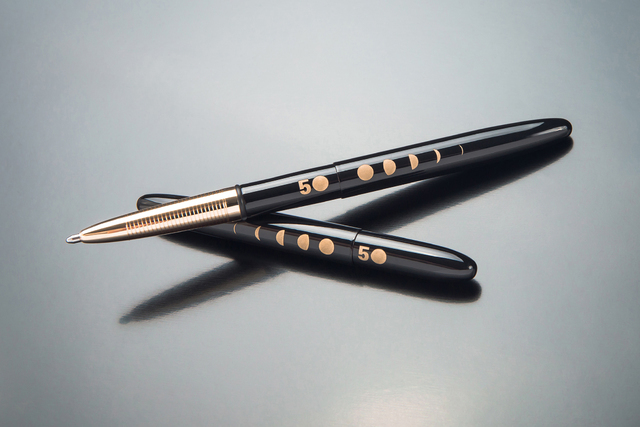 The year was 1966. The Gemini space program was wrapping up and the Apollo program was on the verge of launching.
It had been five years since Alan Shepard was the first American to fly into space. It would be another three years until Neil Armstrong would be the first man on the moon and utter those famous words: "That's one small step for a man, one giant leap for mankind"
It was the year when Paul C. Fisher, a pen manufacturer and inventor, developed his space pen, which has accompanied astronauts on every manned space flight since 1968. The retractable, pressurized pen works in zero gravity.
Though famous for its use thousands of miles away, the pen has a much closer connection to Boulder City than many people might know. The company, which is marking the 50th anniversary of the Fisher Space Pen this year, has called Boulder City home for 40 years.
And just like the many people who came to build Hoover Dam and decided to stay, Cary Fisher, son of company founder Paul C. Fisher, said they have no desire to be anywhere else.
"The city has been good to us," he said.
A good fit
Boulder City was not Paul Fisher's original destination when he decided to relocate Fisher Pen Co. from Van Nuys, California. He was attracted to Southern Nevada by its proximity to an international airport and the state's low tax rate, according to Cary Fisher.
The idea of relocating to Henderson was discussed one night during dinner with one of Cary Fisher's friends from college, Richard West, whose father, Harley, worked for the federal government in Boulder City.
After doing some investigating, Paul Fisher learned about an empty Singer factory sitting on 50 acres in Boulder City that would be ideal for relocating the pen factory. It had been sitting vacant since Singer decided not to open the facility, even after promising the city it would employ 50 or more people when making the deal for the land.
After Paul Fisher expressed interest in the factory and land, Cary Fisher said Singer was given an ultimatum by the city: Make a deal with Paul Fisher or it would take back the land.
"Dad liked Boulder City," he said, adding that the city and its residents were very supportive. "Once he got here he enjoyed being a bigger fish in a smaller pond versus being in Los Angeles where he was a minnow in the ocean."
It took a few years of adjustment to find the right staff since some of those who moved with the company decided to return to the Golden State. Now, despite its international reach, Fisher Space Pen is more like a small-town family operation. Cary Fisher said the average tenure of his employees is 20-25 years and he knows everyone on a first-name basis.
"There are many people back there who held me as a baby," added Matt Fisher, Cary's son and vice president of sales.
Family business
Though he and his brother and sister worked in the factory each summer when growing up, Matt Fisher left the company for a while because "Dad wanted me to experience the real world."
Since returning about eight years ago, Matt Fisher has learned every aspect of operations and worked in all parts of the factory.
Matt Fisher said he is honored to help carry on his grandfather's legacy.
Fisher Space Pen began 68 years ago when Paul Fisher began manufacturing ballpoint pens. Always tinkering and looking to better the product, he developed a universal refill cartridge that fit most brands of pens in 1953. Then, in 1966, he invented a pen and ink that would write in practically any environment.
The Anti-Gravity 7 pen was aboard the first manned Apollo mission in 1968 and NASA has been a customer since then.
Reliable writer
While the pen is still associated with space and is sold at NASA's Kennedy Space Center in Florida as well as Space Center Houston, it's versatility makes it ideal for any situation that calls for a pen, Cary Fisher said.
"That's our marketing challenge," he said. "It's a great pen down here on Earth and it's a great pen in space."
The pens can write in extreme temperatures ranging from minus 30 to 250 degrees, at any angle, upside down, underwater and over grease. Plus, they last three times longer than the average pen.
Matt Fisher said that when he was in school, he would get a new pen at the start of the school year and it was still writing when the term ended. He also told about some man coming up to him at a trade show who said he had lost a pen and it was still writing when it was discovered more than 10 year later.
"Since they write in extreme conditions, they are good for anyone who demands reliability," Cary Fisher said.
The U.S. military is one of the company's steady customers and the Fisher Space Pen is the official pen of the National Ski Patrol. It has been on expeditions to Mount Everest, as well used by backpackers and skydivers.
Television appearance
Those who don't know about the pen's ties to space or rugged expeditions may be more familiar with its appearance on television. One of the company's chrome Bullet pens was the focus of a "Seinfeld" episode appropriately titled "The Pen."
"They called it the 'astronaut pen' vs. the Fisher Space Pen," Cary Fisher said.
The handcrafted pens come in 80 models and finishes, including those suitable for rugged outings or a luxurious office.
Cary Fisher said they continue to experiment with the pen's mechanics and inks to make a better product, as well as offering different styles and utilities.
Although a few parts are manufactured elsewhere in the United States, the majority of the parts and final assembly is done at the factory on Yucca Street. They have developed custom machinery to make the multiple parts needed to make the pens with exact precision.
Additionally, the ink is made and the pens are packaged at the local factory.
Fisher Space Pen makes about 1 million units a year and more than 50 million space pens have been sold.
Astronauts continue to play a big part in the company's history. Matt Fisher said they recently created a program with roughly 25 astronauts who picked out a specific pen that will be engraved with their signatures.
The pens are available at the Fisher Space Pen factory at 711 Yucca St., with a 20 percent discount offered to walk-in customers.
Additional information about the company and its complete line of pens is available at www.spacepen.com.
Hali Bernstein Saylor is editor of the Boulder City Review. She can be reached at hsaylor@bouldercityreview.com or at 702-586-9523. Follow @HalisComment on Twitter.