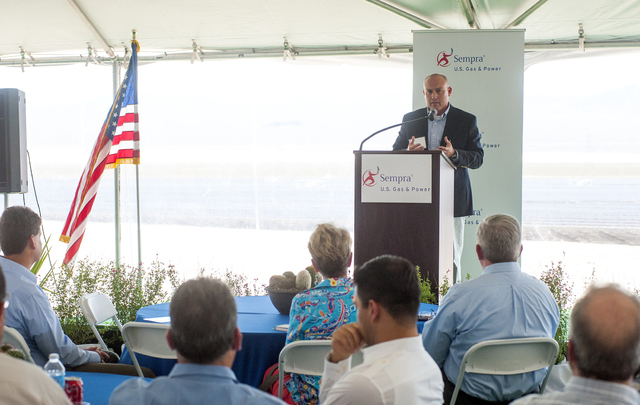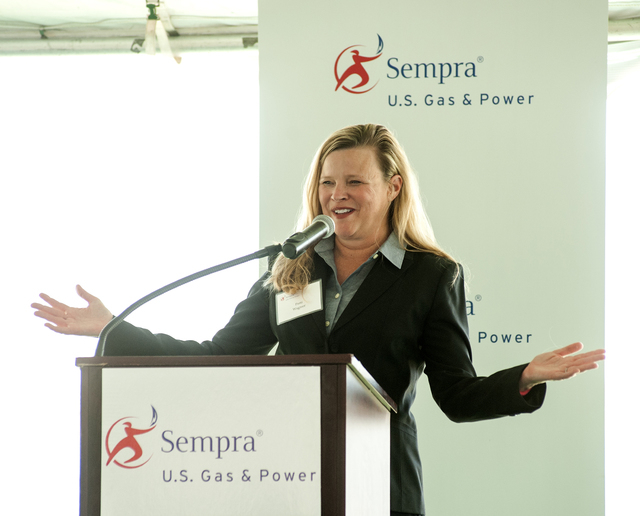 From end to end, Sempra U.S. Gas and Power's Copper Mountain 3 solar project is quite long. Actually, it's about 4½ miles long and consists of 1.13 million panels each measuring 6-feet-long-by-3-feet wide. The 1,400 acres it sits on is equivalent to 1,060 football fields.
Sempra's largest project, although jointly owned with Consolidated Edison Development, is in the heart of Eldorado Valley energy zone off U.S. Highway 95. With all three chunks of Sempra's Copper Mountain solar complex generating power from the sun, approximately 180,000 homes in California are reaping the benefits.
About 150 representatives who had a hand in the project gathered for its dedication ceremony April 30. Sempra employees, financial backers and representatives from Boulder City and Southern California among others made their way to Eldorado Valley to discuss the importance of the Copper Mountain 3 project.
"You're standing in one of the best locations in the world for generating and transmitting power, and Boulder City should get all the compliments in the world for making this a more streamlined process by reducing the barriers for that development," said Paul Thomsen, director of Nevada governor's energy office.
According to Thomsen, Nevada has contributed about $136 million to the solar industry while giving tax breaks to those solar companies that bring more jobs to the state. Thomsen said Nevada has seen more than $1 billion in return, and Boulder City has captured a piece of that pie.
Lease revenue has allowed the city to pay off the remaining $4.6 million in from Boulder Creek Golf Club nearly 10 years ahead of schedule. The final payment will be made in June and save the city $2.9 million in interest.
During the dedication ceremony, Mayor Roger Tobler commended former City Manager Vicki Mayes for her vision in capturing Eldorado Valley's potential.
"This has been a great asset to Boulder City. It's been great for our local economy," Tobler said. "For Boulder City, it's brought in a lot of needed lease revenue, especially during the times when it was very difficult for all of us during the downturn."
The entire Copper Mountain complex, about 450 megawatts in total, is the largest generator of solar power in Nevada, according to project manager Brad McKinley. Copper Mountain 3 generates 250 megawatts of power for about 80,000 California homes.
The project, which created about 500 jobs at its peak, was completed nine months ahead of schedule, according to John Dennis, director of the Los Angeles Water and Power Department.
Dennis said 80 percent of the clean energy generated from Copper Mountain 3 helps powers Los Angeles, and the remaining 20 percent goes to neighboring Burbank, Calif. Copper Mountain has helped California in its effort to reach goals laid out by Gov. Jerry Brown, Dennis said.
"The governor of our state has faced us with some real challenges of achieving 50 percent renewable energy by 2030. This is no small feat," he said. "This helps our strategy of getting off coal and meets our financial needs."
Toward the end of the ceremony, Sempra presented the Desert Research Institute with a $15,000 check to help fund its GreenPower program, which improves science technology engineering mathematics, or STEM, education in Boulder City schools.
Officials spoke of their excitement for the upcoming Copper Mountain 4 project, which is expected to break ground at the end of the year. That project is scheduled to be completed by the end of 2016 and will produce an additional 94 megawatts of power.
Once completed, the Copper Mountain solar complex will generate about 550 megawatts in total, according to Patti Wagner, president and CEO of Sempra U.S. Gas & Power.
"Generating cleaner sources of power in our backyard is our future, and Boulder City and the state of Nevada are at the forefront of this movement," she said.
About 2,400 jobs were created during the construction of the three solar complexes.
Contact reporter Steven Slivka at sslivka@bouldercityreview.com or at 702-586-9401. Follow @StevenSlivka on Twitter.