Senators propose expansion of I-11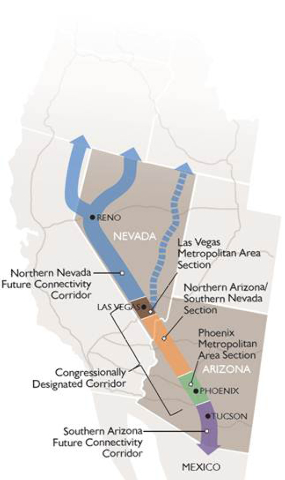 Interstate 11 has yet to break ground, but that hasn't stopped four U.S. senators from trying to expand it with the hope of creating more international trade.
Sens. Dean Heller, R-Nev.; Harry Reid, D-Nev.; John McCain, R-Ariz.; and Jeff Flake, R-Ariz., recently introduced the Intermountain West Corridor Development Act, which would allow each state's Transportation Department the flexibility to develop a corridor through Northern Nevada and Southern Arizona.
The legislation proposes connecting I-11 with Interstate 80 in Northern Nevada, and running it down through the southern part of Arizona. It is the next step in eventually connecting Mexico and Canada through an interstate.
"Connecting three of the largest cities in the Southwest will create good-paying jobs, increase commerce and significantly boost tourism to our state," Reid said in a statement.
McCain said expanding I-11 to southernmost Arizona would help unlock the state's economic potential.
"Our legislation emphasizes the importance of the proposed Interstate 11 and the critical need for a route that reaches all the way to Arizona's southern border, connecting our state to the global market," he said.
In 2014, Heller urged Transportation Secretary Anthony Foxx to support the creation of I-11 from Las Vegas to Northern Nevada.
The bipartisan legislation comes just days before the groundbreaking at 10 a.m. April 6 for the Boulder City bypass, the first phase of the I-11 project.
"Developing critical infrastructure in our state is the first step toward long-term job growth and sustainability," Heller said. "With the Mountain West region, including Nevada, expecting a population surge of 32 million residents between now and 2030, it is imperative I-11 serves as an artery of commerce, solidifying the Silver State's role in an important international trade route."
The completed Boulder City bypass project will be a four-lane interstate with interchanges at U.S. Highways 95 and 93. There also will be 10 bridge structures, four wildlife undercrossings, one wildlife overcrossing, an off-highway vehicle crossing, and a southbound scenic parking area that overlooks Lake Mead as part of the project's second phase managed by the Regional Transportation Commission, and constructed by Las Vegas Paving.
The 2.5-mile first phase will be managed by the Nevada Transportation Department and constructed by Fisher Sand &Gravel.
Officials expect the Boulder City bypass to be completed by July 2018.
All agencies will work from an office at 1404 Colorado St. where residents can ask questions and get updates on the project. The office is open from 8 a.m. to 5 p.m. Monday through Friday. Additional information is available at www.bouldercitybypass.com.
Contact reporter Steven Slivka at sslivka@bouldercityreview.com or at 702-586-9401. Follow @StevenSlivka on Twitter.