Sempra to sell solar assets; leases expected to remain intact
October 10, 2018 - 3:53 pm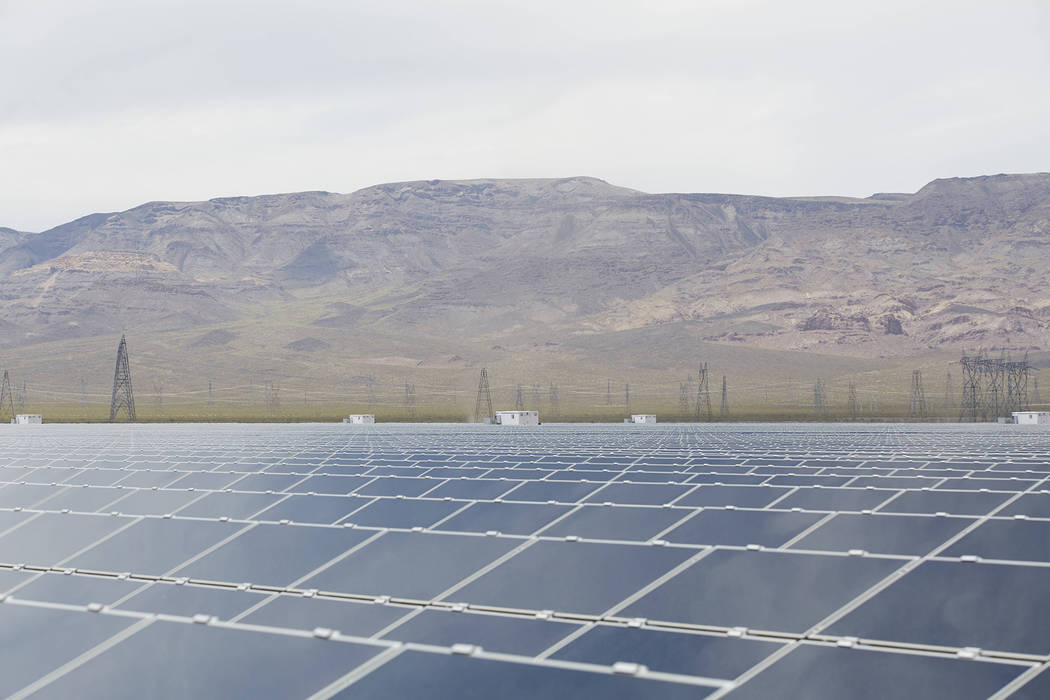 Sempra Renewables is selling its solar assets in the United States, but the sale is not expected to affect the solar leases in Boulder City.
At the end of September the company announced it was selling all of its nonutility operating solar assets, solar and battery storage development projects and one wind facility to Consolidated Edison Inc., for $1.54 billion in cash.
Included in those assets are the four Copper Mountain projects in the Eldorado Valley as well as solar facilities in Arizona and California. Those projects have brought the city tens of millions of dollars in rent payments since 2006.
"The city has received rent payments, which includes option payments for the years prior to the construction of their various solar plants, from Sempra in the amount of $38,254,636," said Brok Armantrout, contracts/real estate manager for Boulder City.
Money from solar leases, including those from Techren, represents about 30 percent of the city's annual general fund, according to the 2018-19 fiscal year budget.
Even with the new owner, a representative from Sempra said the solar leases in town will not be affected.
"The announced sale will not impact the solar leases," said Paty Mitchell of the public relations department at Sempra North American Infrastructure. "All of the rights and obligations in the leases for the Copper Mountain Solar projects remain in full force and effect."
Mitchell said the only change will be a change in ownership to Consolidated Edison, an large investor-owned energy-delivery company with $12 billion in annual revenues and $49 billion in assets.
Consolidated Edison already jointly owns Copper Mountain 2 and Copper Mountain 3 with Sempra, according to Mayor Rod Woodbury.
"That these companies are already established partners with an ongoing working relationship is obviously is a big benefit of this transaction," he said. "Con Edison understands Sempra's track record of successfully developing renewable energy projects, its commitment to safety and integrity, and its dedication to the communities where those facilities are located including, most importantly, Boulder City."
Woodbury said he was not surprised when he heard about the sale as Sempra informed the city about the intended transfer in June when it announced its portfolio optimization initiatives.
"In fact, it's no secret that Sempra is an energy services holding company, which means that its business model contemplates developing and holding projects temporarily, then selling percentage ownership interests as a means to partnering with other energy companies or spinning them off altogether," he said. "… Its representatives have assured us that just like Sempra, Con Edison is committed to stakeholder engagement and collaboration, working with local community groups like the chamber of commerce and nonprofits, exemplifying the highest professional standards and operating facilities with safety and reliability as the chief cornerstones of its business."
Additionally, Woodbury said Sempra is still working with city staff on entitlements for the planned Copper Mountain Solar 5 project and has expressed its commitment to finalizing the land swap process.
"Although nobody has a crystal ball, we're still very optimistic that this project will ultimately come to fruition," he said.
Sempra first started paying partial rent for land in town in 2006 with Copper Mountain Solar 1, according to Armantrout. It started paying full rent in 2008.
Sempra began paying full rent for Copper Mountain 2 in 2013. Full rent started for Copper Mountain 3 in 2015 and for Copper Mountain 4 in 2017.
According to Armantrout, the Copper Mountain solar leases are for varying lengths so each one will bring in a different amount of money in their initial term. Copper Mountain Solar 1 will bring in approximately $18.7 million. Copper Mountain Solar 2 will bring in more than $102 million. Copper Mountain Solar 3 will bring in approximately $61.6 million and Copper Mountain Solar 4 will bring in approximately $26.8 million.
Armantrout also said that if the options for each lease are exercised, Boulder City could receive considerably more money.
Contact reporter Celia Shortt Goodyear at cgoodyear@bouldercityreview.com or at 702-586-9401. Follow her on Twitter @csgoodyear.