Scholarship challenge canceled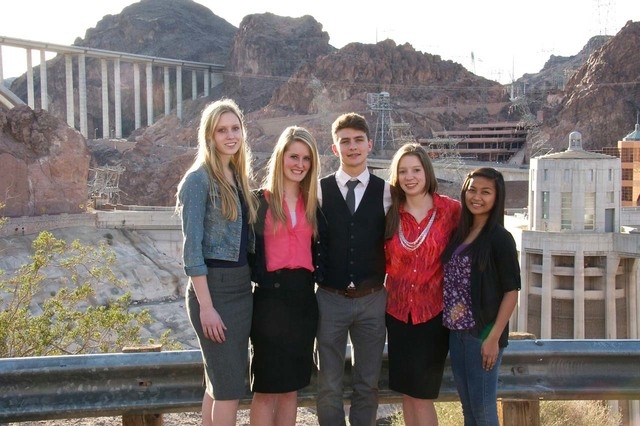 The co-ed Boulder City Scholarship Challenge, which replaced the long-running Miss Boulder City Scholarship Pageant, has been canceled this year.
The cancellation is the result of family obligations by challenge Director Dawn Green.
Green, who has run the pageant/challenge for 14 years, said she does not have the time needed to properly organize the event, which would have been April 5 at Boulder City High School. She said she tried to find someone to take the reins on short notice, but she could not. So she decided to call it off.
"I didn't want to do one that was less than perfect," she said.
However, thanks to Green pulling $1,500 out of her own pocket, the five teenagers who entered the competition were still awarded scholarships.
"We had $1,000 (in an account) from Miss Boulder City and I added to it and made sure each kid who had put in an application had gotten $500," Green said.
Jemm Valenzuela, Kennedy Bird, Savannah Morris, Daphne Skordas and Samuel Woodbury each received a $500 scholarship. To enter the competition, they had written essays, as well as shown examples of community service and school participation.
"They were all great kids," Green said.
Valenzuela, a junior who plans to study nursing at University of Nevada, Reno, said she was looking forward to the competition and had been preparing her color guard routine for the talent portion.
"When I heard about it being canceled, I was disappointed," Valenzuela said. "But I am still grateful to have the money come in. I wasn't expecting the money to come in."
Skordas, a senior, plans to study genetics at Brigham Young University in Provo, Utah. She said she was looking forward to performing an original piano composition in the competition.
But, she said, it was "very nice and very generous" of Green to award the scholarship.
Although the applicants will not perform for the competition, Green said they can still try out for BC's Got Talent April 5 at the L.A. Department of Water and Power building. The community talent show will be held May 17.
"They can still do their talent and win money," Green said. "We have enough activities in Boulder City, we can make sure we spread the love and still get recognized."
Green said she returned sponsorship money to Boulder Dam Dental Group, Woodbury Law, Gibson Orthodontics, Urban Jungle, Boulder Dam Credit Union and BC Realty.
"I felt it was better to give them their money than to just hand it on to the kids," Green said.
Green said she does not know whether she will be able to pick up where she left off next year, but will continue to seek assistance.
"I'm hoping next year there will be a few more people that will work on it," she said.
Green is even open to the possibility of changing the event back to Miss Boulder City, which she said has existed for about 60 years.
"We should be able to just pull it back together without any problem," she said. "And if someone coming in says, 'I don't like the fact that there are guys in it and we want Miss Boulder City,' that's a possibility."