Round-trip career steers Corbin to roots
August 13, 2014 - 1:15 pm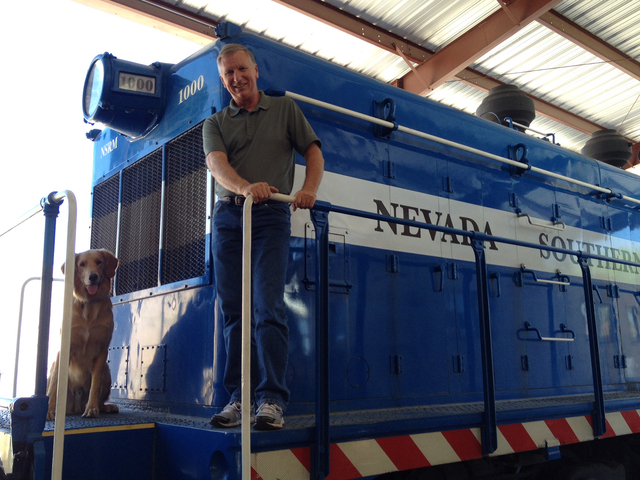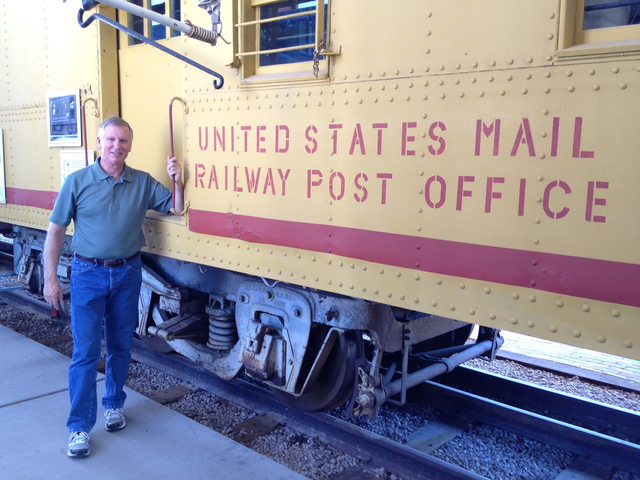 Greg Corbin, director of the Nevada State Railroad Museum in Boulder City, is leaving for Carson City, the place where his career started 33 years ago.
Corbin, 61, will become the new director of the Nevada State Railroad Museum in Northern Nevada after 16 years as director in Boulder City. It's the final stage of a long museum career that Corbin had no intention of pursuing when he first got a job at the Carson City museum in 1981.
He said he enjoyed seeing the train tracks as a kid in Sacramento, but never would have guessed that one day he would become director of a railroad museum.
Corbin spent three years as a state park ranger in Lake Tahoe, but his refusal to relocate to desolate locations prevented him from moving up in the system.
"I got married," Corbin said, laughing. "When you work in the state park system and you want to advance, you have to be able to move to some pretty remote parts of the state. I had to find something that kept me at home."
So, putting his family first, Corbin landed a job at the Carson City Railroad Museum instead of hitting the road as a park ranger. It was the unscripted beginning to an "accidental" career.
"It wasn't by design," he said. "It was just some place I found myself."
While Corbin moved up the ranks at the Nevada Railroad Museum in Carson City, the reality of a railroad museum in Boulder City began to gain steam. In 1985, the Union Pacific Railroad donated an 11-mile portion of the Boulder Branch Line to the state of Nevada.
Around the same time, Southern Nevada legislators were pushing for money and support to fund a museum in Southern Nevada. Construction on the Boulder City Railroad Museum began shortly after. In 1989, Corbin became involved with the Boulder City project after he was appointed assistant administrator for Nevada's Department of Museums and History.
"It was like, OK, we've got this rail line and we've got this property, now what can we do with it?" he said.
After acquiring about 50 pieces of equipment from Utah's Heber Creeper Railroad in 1993, Boulder City's Railroad Museum looked even stronger, and Carson City administrators tapped Corbin as the Nevada Southern Railroad Museum's first director in 1998.
"The project had developed far enough along that the administrators in Carson City felt we needed to have a full-time presence here in Boulder City," Corbin said.
Though it was an exciting feeling working on a brand-new project, Corbin said, establishing a new museum came with its share of obstacles. The museum was receiving complaints from Boulder City residents about the loud train whistle, and some viewed the railroad equipment as "eyesores" for the city. Fighting for state money was another hurdle Corbin had to climb.
"It's a struggle to get the dollars to do what you want to do," he said. "Especially when you have six other museums that are already established."
But Corbin remained close with state legislators, and did his best to secure funding that was used for higher state priorities like education and public works projects. Despite the challenges, Corbin said, he never lost his vision for Boulder City's museum.
"He was very instrumental in keeping things moving," former Mayor Bob Ferraro said of Corbin. "He's energetic, he has a good disposition, and he leaves a great impression on people."
The museum has grown leaps and bounds since Ferraro and former City Manager George Forbes began its initial planning during the 1980s, even running trains to and from Railroad Pass in 2002.
"We went from accommodating a few hundred passengers per year to more than 41,000 two years ago," Corbin said. "It's an incredible feeling to know that we've come so far."
Corbin is all smiles when discussing how popular the museum has gotten since he was named director 16 years ago. His vision came to life, and the joy that it brings to people of all ages gives him a tender sense of satisfaction.
"It has been by far the most rewarding and fulfilling career that anyone could ever ask for," he said as his eyes welled with tears. "The opportunities that I've had here and the things I've gotten to do … I don't even have enough time to tell ya."
Ferraro knew the museum would be in good hands when Corbin was given the job, and the city's interest in trains grew as Corbin's passion to give Boulder City an exciting museum escalated.
"He met people very easily, and he encouraged people to not only ride the trains, but he got them to become involved," Ferraro said.
The museum now has nine cars on display for visitors to explore, as well as the four operating locomotives that run to Railroad Pass on the weekends.
"We've developed something that's an important part of the community," Corbin said.
Corbin admitted that he never thought he'd be in Boulder City this long. But the people, the community and his love for the museum kept him around.
"It's a town that's small enough, so you get to know so many people," he said. "That's not easy to do in a town like Las Vegas. But here, it's very personal."
Corbin can be found every day at work with his golden retriever, Sherman, by his side. Whether he's in his office filling out paperwork or he's busy in the train yard adding a light to a car that took him forever to find, Corbin always has Sherman investigating the action. It's the same routine he had with his old golden retriever, Truman, who died in 2012.
Corbin named Truman after President Harry S. Truman, whom he shares a home state with. Corbin, the only museum director in Nevada not to hold a college degree, feels a connection with the former president, a fellow Missourian who became president despite not holding a college degree.
As Corbin packs his bags and prepares his return to Carson City, the place where his "accidental career" began, he remains humble for the years he spent in Boulder City.
He keeps every article that's ever been published about the museum, some dating to the early 1990s. It's not for his own personal glory or the fact the he helped take a few rail lines and a couple of cars and turned it into an attraction that brings in thousands of visitors per year. It's for the influence the museum has had on the Boulder City community, and the tourists who were able to learn something new about an early phase of the city's history. It's a feeling he will never forget no matter how far away he moves.
"The highlight is not what you accomplish; it's the impact that it has on the visitors that come here," he said. "Not many people in the museums have had the opportunity to do what I was able to do in Boulder City."
Contact reporter Steven Slivka at sslivka@bouldercityreview.com or at 702-586-9401. Follow @StevenSlivka on Twitter.