Reward worth risk for ranger
February 14, 2018 - 4:43 pm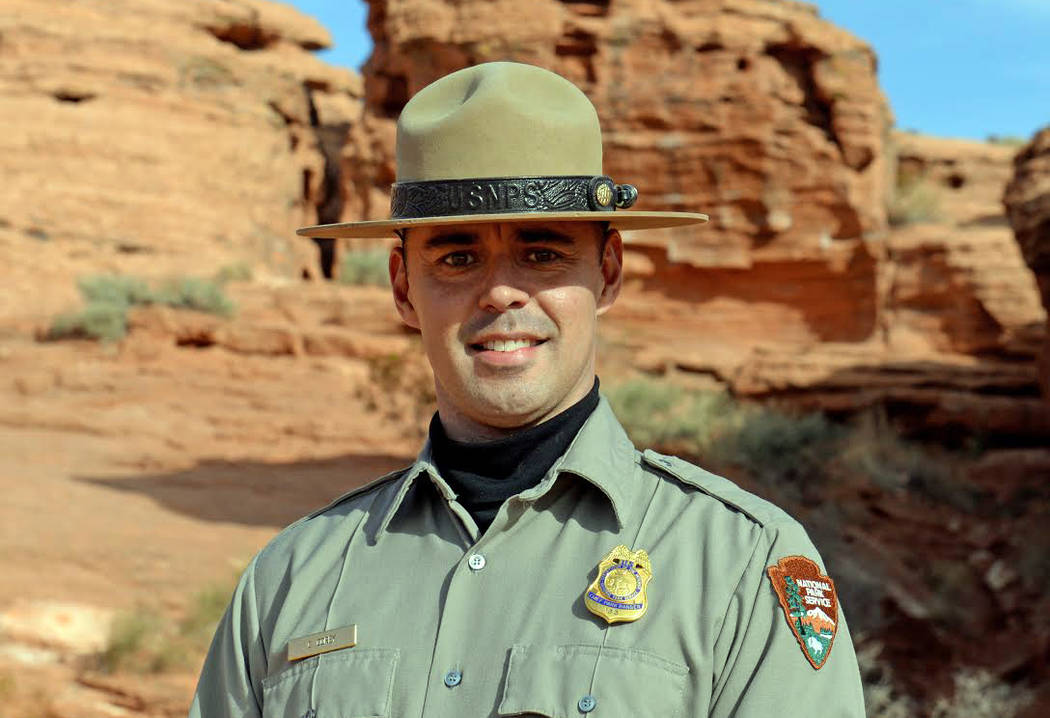 A risk taken 14 years ago by Chad Corey paid off in monumental proportions when he was named superintendent of a national park this month.
"I did not expect to be a chief ranger, let alone a superintendent," said Corey, a 1998 graduate of Boulder City High School who now heads Grand Canyon-Parashant National Monument in Arizona.
After high school, Corey served in the Army National Guard with the 72nd Military Police Co. out of Henderson. He was deployed to Monterey, California, after 9/11 and served a tour in Iraq in 2003.
"I got back from deployments and wanted to do something different," he said.
So he applied for seasonal work at Lake Mead National Recreation Area in 2004. When he received a position as a seasonal laborer maintenance technician, he took a risk and quit his full-time job at Albertsons to take it.
The risk started paying off at the end of that summer. As a veteran, Corey was given opportunities that resulted in him being hired as a full-time visitor use assistant, working at the park's entrance stations.
"I have been full-time ever since," he said.
With his military police background, his ultimate goal with the National Park Service was to become a law enforcement ranger. The chief ranger at Lake Mead heard that Corey wanted to become a ranger and arranged for him to get that training, he said.
He worked as a law enforcement officer in the park during the summer and at the entrance stations the remainder of the year until being hired as a full-time ranger at Willow Beach in 2007.
Corey said he was there for a year before becoming a ranger at Sitka National Park in Alaska. After taking the required federal law enforcement training, he was named chief ranger.
In 2012, Corey and his wife, Carleigh, and their two kids, Callista and Cohen, moved back to the Southwest after he was named chief ranger at Kolob Canyon at Zion National Park in Utah.
"I really enjoyed my time there," he said.
The move allowed him to be closer to his parents, Craig and Suzanne, who live in Boulder City. His father owns The Other Guy, a local handyman business.
In 2015, Corey was hired as chief ranger at Grand Canyon-Parashant National Monument and was named acting superintendent in 2017 after the previous one retired.
"Grand Canyon-Parashant is a very unique monument within the National Parks," Corey said.
He said it provides a very "solitary, pristine experience," as well as many off-roading opportunities for 4x4s and ATVs.
"It's a big thing that people do here," he said.
The monument also offers cultural sites, historic buildings, a few trailheads with hikes and hunting.
Grand Canyon-Parashant National Monument is approximately 1 million acres operated jointly by the park service and the Bureau of Land Management. Located several hours outside St. George, Utah, it is one of the most remote regions in the lower 48 states. The park has only dirt roads, and four-wheel drive vehicles are recommended for visitors.
As superintendent, Corey said he will manage the major programs within the monument and the visitor experience, as well as everything with the staff. He'll also be in charge of safety, budgets, hiring and the overall vision for the facility.
"It's very humbling to me where I've made it to," he said. "I enjoy it and am excited to offer opportunities for visitors and my employees. It's been very rewarding."
Contact reporter Celia Shortt Goodyear at cgoodyear@bouldercityreview.com or at 702-586-9401. Follow her on Twitter @csgoodyear.