November 9, 2016 - 1:52 pm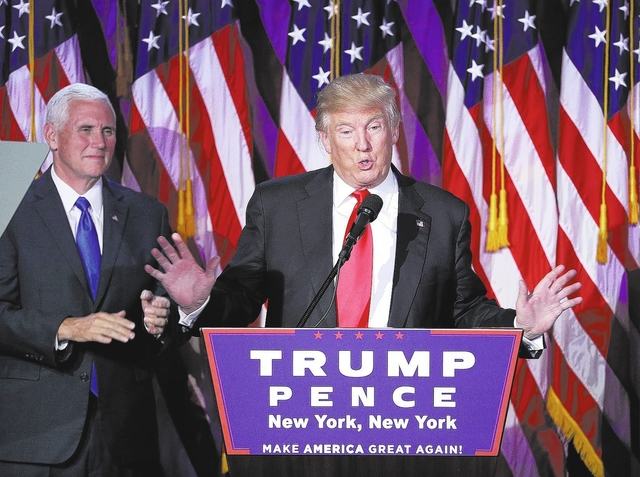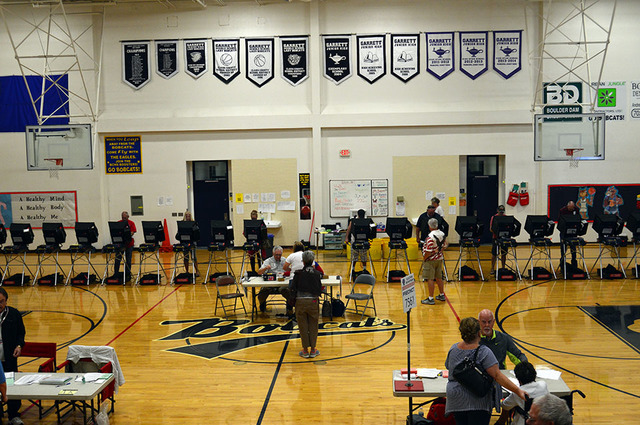 Donald Trump has won the presidency according to The Associated Press and voters in Boulder City were willing and eager to get out to the polls despite long lines filling the three polling places in the city.
In an election cycle full of contention and fears of voter suppression, polling place team leaders said the voting process went of peacefully and without a hitch, despite high turnout at each polling place.
Daniel Erickson, team leader of the polling place at Garrett Junior High, said voter turnout was high when polls opened at 7 a.m.
"We had a crowd of about 75 people waiting to vote when the polls opened," Erickson said. "We have had a steady stream of voters throughout the day and I am happy with how well our volunteers are doing; we have had nothing out of the ordinary happen."
Lonnie Wilborn, assistant team leader at the Boulder City Recreation Center polling place, said that his team had a few minor hiccups but handled the high number of voters well.
"We had a few people who had to cast provisional ballots and some people who were voting in the wrong precinct, but things have been running really smooth," Wilborn said. " Turnout was much higher than in the primary and people were really enthusiastic to get out and vote.
Turnout in Clark County was high with 766,806 residents casting a vote, a 75 percent turnout rate when adding in early and mail-in voters, according to the Clark County Election Department.
The numbers from the department do not show how people voted, but Boulder City residents were enthusiastic for the new president-elect.
"We need to get this country back on track and I think Trump is the person to do it," William Wilson said.
Other voters said that a vote for Trump was necessary because it was the only way to repeal the Affordable Care Act.
"I voted for Trump because we have to repeal Obamacare," Harry Barton said. "It is terrible my premiums keep going up and I can't afford them."
Seragio Andrade said that as a business owner he could not handle the cost of the Affordable Care Act.
"I can't afford the health care costs for my business. They are killing me so I voted for Trump."
Other Boulder City residents cast a vote for Trump, but did so reluctantly.
"I voted for Trump even though I hate his treatment toward women," Meivelling Curtis said. "But religious freedom is really important to me and I don't feel like (Hillary) Clinton cares about that freedom."
Many supporters of Clinton did not wish to comment, but one supporter said she was confident in a Clinton win in the early morning of Election Day, long before she would eventually lose.
"I am really excited about the possibility of the first woman president," Aurora Brackett said. "I voted for Bernie Sanders in the primary and I am proudly voting for Clinton now."
No matter who they voted for residents were just excited to vote.
"Making your voice heard is an exciting experience," Brackett said.
Paul Curtis said he was excited to take his 2- and 4-year-old children to the polls.
"They are too young to understand it now, but when my kids get older I want them to understand how important voting is."
Residents had their voices heard in other elections on the Nevada ballot. Democrat Catherine Cortez Masto secured Harry Reid's open seat in the United States Senate beating Rep. Joe Heck.
Democrat Jacky Rosen defeated Republican Danny Tarkanian in the 3rd Congressional District.
Incumbent Republican Melissa Woodbury prevailed over Democrat Craig Jordahl for State Assembly District 23.
Felicia Ortiz retained her seat for State Board of Education, District 3, defeating Dave Hales, and incumbent Deanna Wright defeated Richard Vaughan for Clark County School District trustee representing District A.
Voters also approved State Question 2 meaning that on Jan. 1 recreational marijuana will be legal.
Contact reporter Max Lancaster at mlancaster@bouldercityreview.com or at 702-586-9401. Follow him on Twitter @MLancasterBCR.
Clark County general election results
U.S. President
Darrell Castle, IAP, 3,201, 0.42%
Hillary Clinton, Hillary, D, 401,068, 52.40%
Roque "Rocky" De La Fuente, 1,713, 0.22%
Gary Johnson, L, 22,407, 2.93%
Donald J. Trump, R, 319,571, 41.75%
None of these candidates 17,461, 2.28%
U.S. Senate
Catherine Cortez Masto, D, 385,165, 51.25%
Tony Gumina, 7,969, 1.06%
Joe Heck, R, 303,316, 40.36%
Tom Jones, IAP, 11,284, 1.50%
Thomas "Tom" Sawyer, 9,331, 1.24%
Jarrod M. Williams, 4,814, 0.64%
None of these candidates, 29,734, 3.96%
3rd Congressional District
David Goossen, 9,551, 3.08%
Warren Markowitz, IAP, 11,580, 3.73%
Jacky Rosen, D, 146,653, 47.23%
Danny Tarkanian, R, 142,726, 45.97%
Nevada Assembly, District 23
Craig Jordahl, D, 12,188, 33.04%
Melissa Woodbury*, R, 24,696, 66.96%
State Board of Education, District 3
Dave Hales, NP, 114,965, 46.85%
Felicia Ortiz*, NP, 130,410, 53.15%
Clark County School Board, District A
Richard Vaughan, NP, 52,261, 47.21%
Deanna Wright*, NP, 58,431, 52.79%
Boulder City Question 1
Yes, 4,872, 58.28%
No, 3,487, 41.72%
Key: D, Democrat; R, Republican; IAP, Independent American Party; L, Libertarian; NP, nonpartisan
* indicates incumbent