Renovations start at high school as officials mingle with students at groundbreaking ceremony
February 3, 2016 - 4:33 pm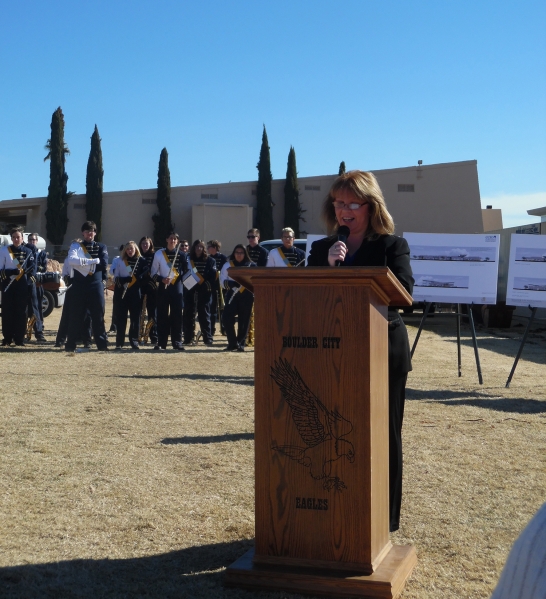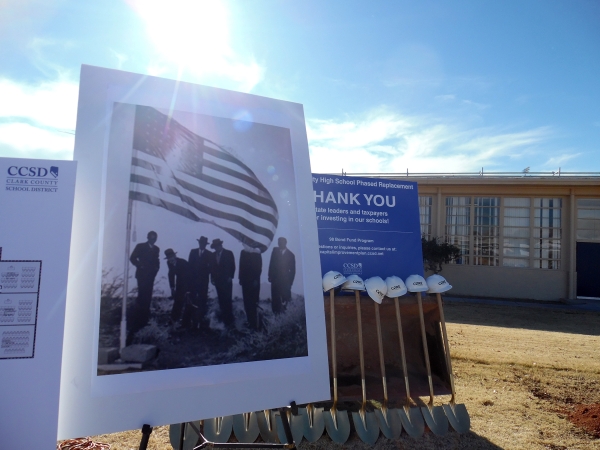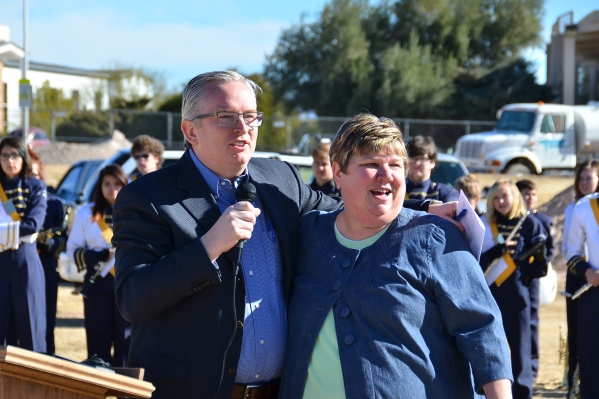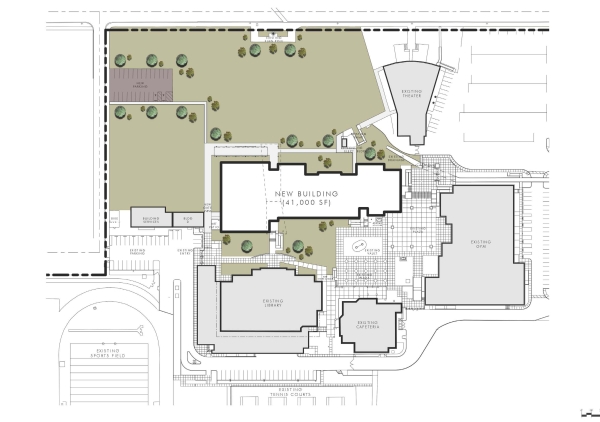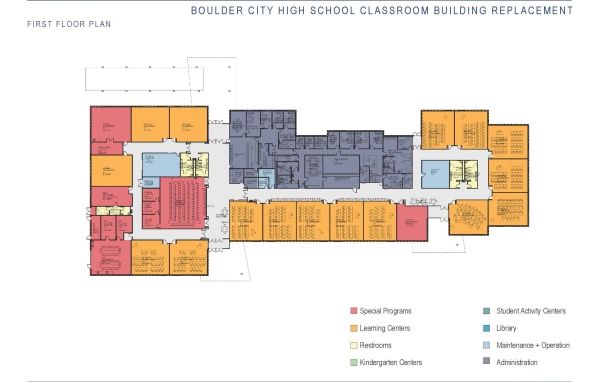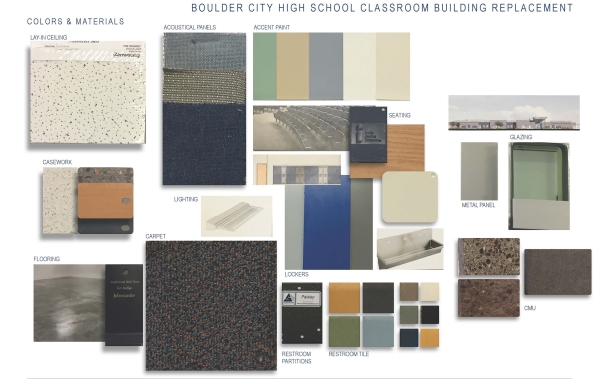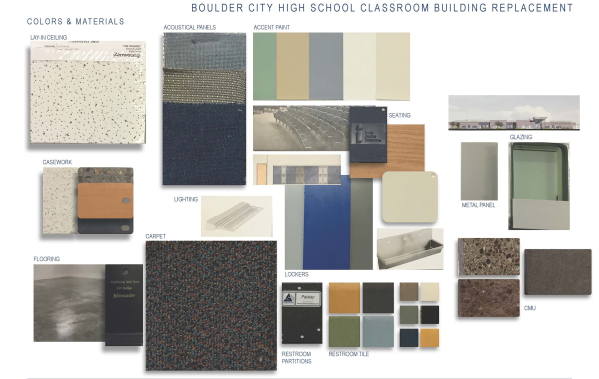 The $14.7 million building complex that will house classrooms, administrative offices and lecture halls at Boulder City High School officially broke ground at 10 a.m. Friday. This 41,000-square-foot behemoth of a building will begin construction Wednesday and is estimated to be finished in April 2017.
Clark County School District employees, City Council members, representatives from SH Architecture and CORE Construction were welcomed to the groundbreaking ceremony by the school's band and cheerleaders.
Students pressed their noses against their classroom windows to get a peak of the shovels making first contact with the dirt that their new building was going to be constructed on.
CCSD Trustee Deanna Wright then invited the kids to come out of their classrooms before she addressed the crowd, to witness the groundbreaking.
"For so long to see this happening, when we didn't think it would, is great," Boulder City High School Principal Amy Wagner said.
Boulder City High School was one of the five schools selected for phased replacements of their facilities in 2003 as part of the district's 1998 capital improvement plan.
According to Boulder City Councilman Cam Walker, in 1998 voters approved more than $4 billion in bonds, which were to be divided among the five schools, including the four-part replacement plan of Boulder City High School.
The first phase, built in 2004-2005, added a new auto shop, band and orchestra rooms, computer labs and a new gymnasium to the school. According to the school district, phase II was never started because community residents let it be known that they did not want to pursue a full school replacement at the expense of kids being housed in portables for a period of time.
As time went on, funds from the capital improvement plan were reprioritized and reallocated, in large part because of the recession that hit in 2008. Now that phase II is finally ready to begin, future generations of students will witness how monumental this building will be for Boulder City.
"I think these kids are excited for what's to come. When you get down to it, it's about them, and continuing that legacy for 75 years," Wagner said. "It's great to have the support from everyone because you don't feel like you're alone. When you have people helping you get this done — it is really important."
Boulder City High School was built in 1949 by the federal government after World War II ended. The classrooms, which have been in use since the Truman administration, have had failing air-conditioning units that resulted in temperatures reaching as high as 85 degrees. In the past, teachers have even had to teach outside because of the scorching conditions in the classroom. Issues which, according to Walker, had to be dealt with.
"It's not a cookie cutter like those (schools) over the hill. I think when it is all said and done, everyone will be surprised by the outcome," Wright said. "Some of the issues this building has had have not hampered students' ability to succeed, but it has hampered them."
According to site plans released by the district, classrooms will be positioned along the outside walls of the facility to allow for sunlight to come through the windows. The ceilings were raised in each classroom by request of Mayor Rod Woodbury and Walker. It was a issue that, according to Walker, may seem small but will become noticeable when students enter the classrooms for the first time.
"I'm humbled to still be involved in this," said Mike McGinty, the lead architect for SH Architecture, which has been involved with the renovations of Boulder City High School since 1999. "In the original design, history was very important when designing this building. We talked to elderly folk back in 1999 to get their input on it. It helped out tremendously to have the community involved in designing it."
SH Architecture and CORE Construction partnered to complete phase I in 2004. CORE Construction won the rights to work alongside SH Architecture again for phase II. It is a rare accomplishment for two companies to work on a second project together after so much time has passed since the first one, according to McGinty.
Phase III and phase IV have not been scheduled yet, but they will look to improve the performing arts center and the fields and site of the school.
"This will provide the individuality that Boulder City needs and has always had," Wright said. "I hope they will rally around and embrace this, knowing it is the future for the next 50 years."
Editor Hali Bernstein Saylor contributed to this article.
Contact reporter Juan Diego Pergentili at jpergentili@bouldercityreview.com or at 702-586-9401. Follow him on Twitter @jdpbcreview. Hali Bernstein Saylor is editor of the Boulder City Review. She can be reached at hsaylor@bouldercityreview.com or at 702-586-9523. Follow @HalisComment on Twitter.