Ready (almost) to roll: Construction of I-11 to be finished by end of year
January 3, 2018 - 3:08 pm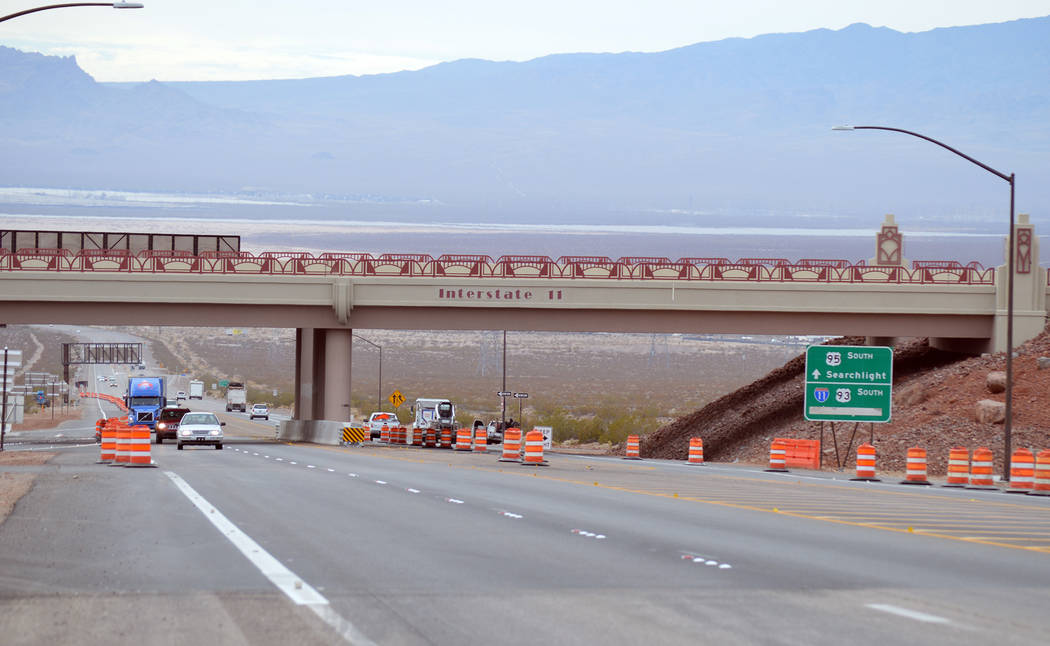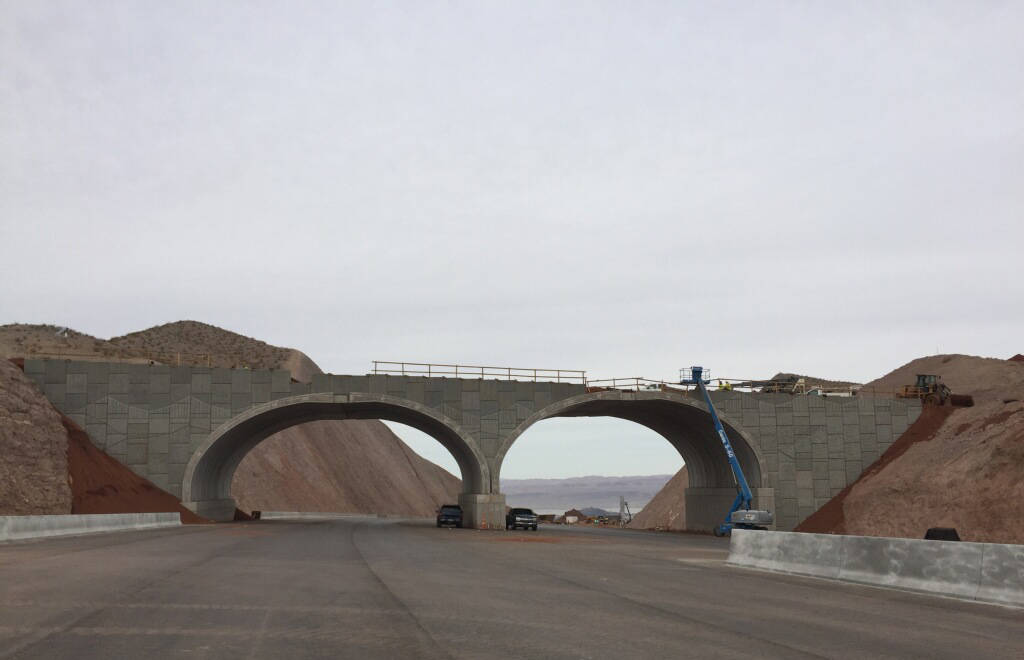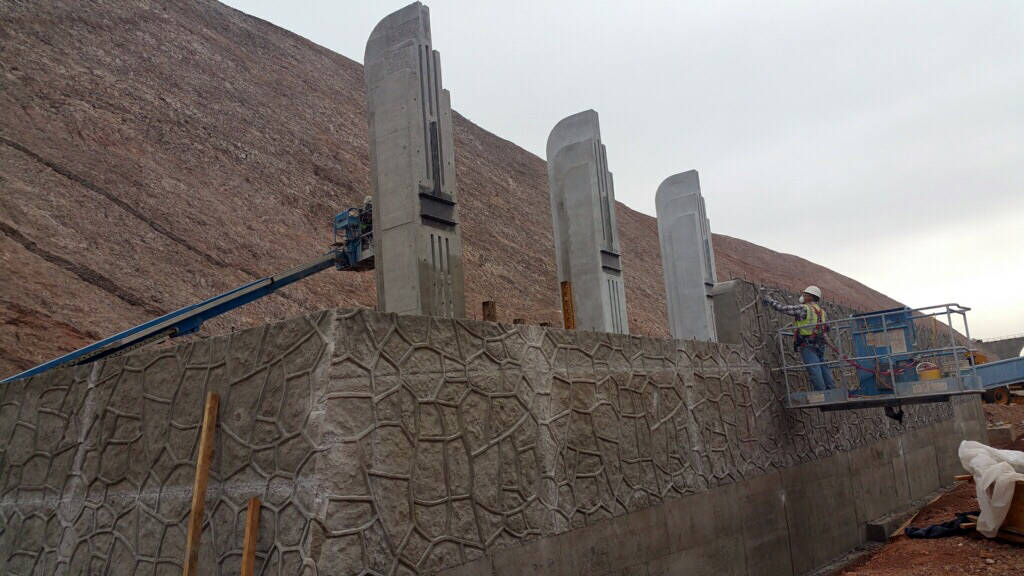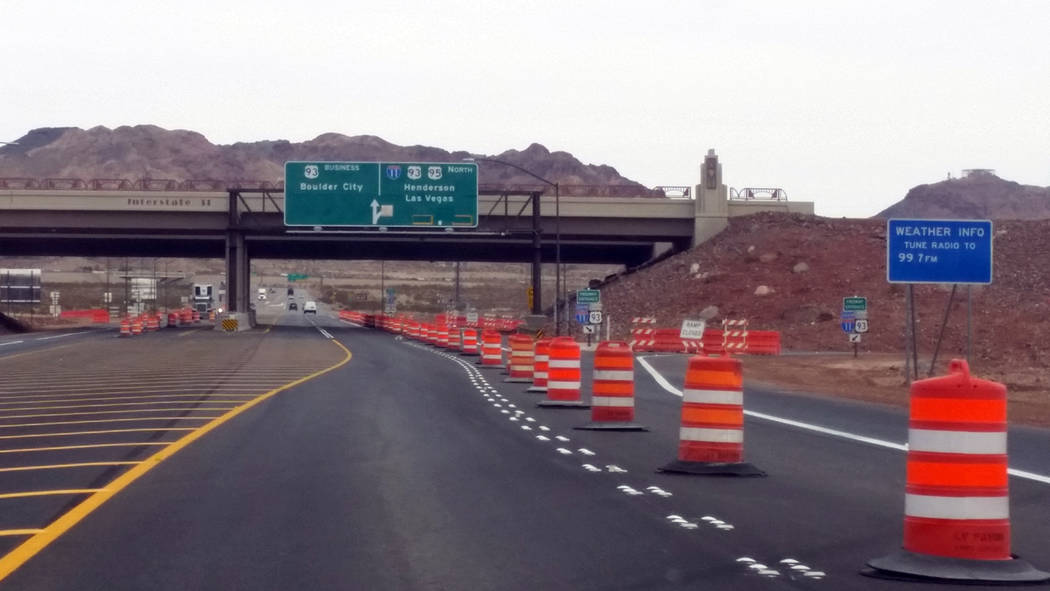 For nearly three years, large pieces of construction equipment have dotted the landscape around Boulder City as work has progressed on the building of Interstate 11.
With the arrival of 2018, crews are on pace to have the project completed before the end of the year.
The Nevada Department of Transportation and the Regional Transportation Commission of Southern Nevada have been working simultaneously to build the first two phases of the interstate highway, which will eventually connect Las Vegas to Phoenix.
NDOT's 2.5-mile section, which covers the area from Railroad Pass to U.S. Highway 95, is set for "contractual completion" in April, according to project manager Ryan Wheeler, and traffic is expected to be moved to new alignments before that.
"Overall, given the circumstances, it has gone as smoothly as possible," Wheeler said. "We are excited to get it open to the motorists."
Monika Bertaki, spokesperson for the RTC, said it is scheduled to complete its 12.5-mile stretch from the intersection with U.S. 95 to U.S. Highway 93 near the Hoover Dam Bypass Bridge in October, when it will open to traffic.
According to Wheeler, the contractual completion date — when all details have been finalized and signed off on — has been moved to April, but he expects the majority of the work to be finished by mid-February.
That will allow the agencies to shift traffic from northbound U.S. 93 onto the interstate heading toward Henderson, as well as opening the new Railroad Pass interchange, Wheeler said.
"The new 95-I-11 interchange will be open before May," he said. "Once Phase 1 is complete, if you want to go onto southbound 95, you won't have to divert. You can take I-11."
Plans have been adjusted continually throughout the project to accommodate issues that have caused delays.
Joe DeSimone, owner of the Railroad Pass Casino, had expected the land in front of the casino that is now being used for a portion of U.S. 93/95 to be returned to him before the end of 2017.
Though Wheeler commended Fisher Sand and Gravel for its work, any construction project will inevitably run across challenges that delay completion. One of the biggest challenges was relocating utilities, he said.
Bertaki said the RTC and its primary contractor, Las Vegas Paving, haven't encountered any issues that have caused delays.
Before Phase 2 opens, "the contractor will go through punch-list items for quality assurance and then review or modify any items prior to completion," she said.
Ground was broken for the four-lane interstate in April 2015 during a ceremony attended by numerous local, state and national officials. The highway will include interchanges at U.S. Highways 95 and 93, 10 bridges, four wildlife undercrossings, one wildlife overcrossing, an off-highway vehicle crossing and a scenic parking area overlooking Lake Mead.
Overall, the project will cost $318 million, with $249.2 million coming from federal funds.
Wheeler said an official opening ceremony will likely be held in October when both phases are complete.
The project has created hundreds of jobs.
Tony Illia, public information officer for NDOT, said there are currently 60 workers on-site, but there have been as many as 200 during the peak of construction activity.
Bertaki said there are currently 90 construction employees working on Phase 2.
"The number of employees can vary day by day due to the different aspects of the project. Thus far, there have been 1,078 construction employees on the project."
Hali Bernstein Saylor is editor of the Boulder City Review. She can be reached at hsaylor@bouldercityreview.com or at 702-586-9523. Follow @HalisComment on Twitter.