Public Art Scape continues to define downtown's landscape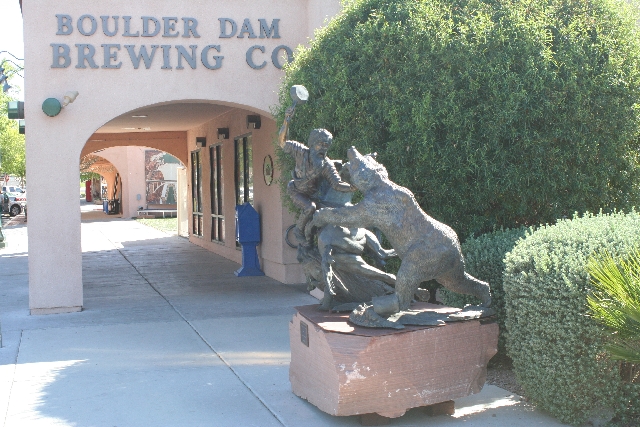 No, you're not crazy. That statue on the corner you just noticed has not always been there.
Saturday, the Boulder City Public Art Scape completed the installation of 11 public art pieces downtown.
Pieces include "If It Isn't One Thing, It's Your Mother," a massive bronze sculpture of a mountain man fighting a bear, located in front of Boulder Dam Brewing Co., and "Food Chain," a small bronze sculpture of an armadillo eating ants on a log, located in front of The Coffee Cup on Nevada Way.
The sculptures were installed in conjunction with the nonprofit Art Scape's seventh annual art walk and reception Saturday at the Boulder Dam Hotel.
The event includes an award ceremony for the pieces of public art that are sold or returned to the artist after a year of display, and also a walking tour of the newly installed pieces.
Art Scape Chairwoman Darlene Burk said about 45 people attended the event this year.
However, "People were very complimentary of the statues that came in this year," she said.
Every year Art Scape takes, on loan, about a dozen pieces of public art and displays them throughout downtown. The artists are paid a $400 honorarium for the use of their art.
In seven years, 32 artists have exhibited here. About half have been from Southern Nevada, but they've come from as far away as Georgia, Burk said.
Several artists have exhibited multiple years, but Henderson resident John Banks, whose piece "Star of Dancing Triangles" is near the Brewing Co., is the only artist who has exhibited for seven years.
"It's been great. It's given me an incentive to do new stuff every year," he said.
Every May, pieces can be purchased at the reception.
The prices are listed on plaques, and this year range from $1,200 to $30,000, Burk said.
Often, the pieces are purchased by private buyers and donated to Art Scape, which in turn donates the pieces to the city for permanent display.
"It's not costing the city anything, its just helping to beautify the city," Burk said.
A benefit of donating pieces is that Art Scape does not have to carry insurance on them, as it does with the loaned pieces, Burk said.
This year, two pieces were donated by private buyers and will be on permanent display, Burk said. Another piece was donated by an artist for permanent display.
Burk said Art Scape also purchases pieces itself, when it can afford to. This year it purchased "Second Love of a Child," located near Wells Fargo.
Art Scape operates through donations and fundraisers, and by keeping a percentage of the sale prices.
The main fundraiser is Taste for the Arts, an auction in November, Burk said.