February 22, 2017 - 2:29 pm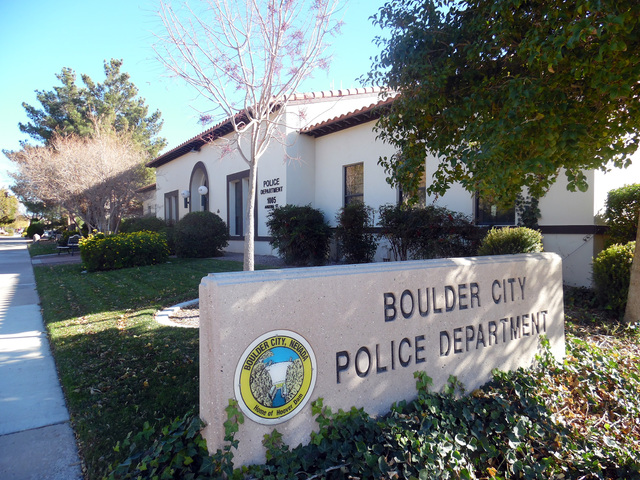 Feb. 14, 2:54 a.m.
A man driving a pickup truck was cited for speeding after he pulled out of the 7-Eleven parking lot, spinning his tires. He explained to officers that he was frustrated because the store was closed while the crew worked on the floor.
Feb. 14, 8:53 a.m.
A person came to the police station to complain about dogs barking all the time. Officers arrived at the location only to find a husky quietly lying down in the side yard, although other dogs in the neighborhood could be heard barking.
Feb. 14, 9:44 a.m.
Officers received a call about people possibly stealing electricity because cords were coming out of the windows.
Feb. 14, 1:11 p.m.
A person came into the police station to report that he received checks written on a closed account in exchange for meat. He lives in Mohave County, Arizona, where the checks were written and the meat was delivered. He was advised to report the crime to Mohave County officials.
Feb. 15, 10:24 a.m.
A woman came into the police station to state she was going to assault another woman unless an officer was standing by while she retrieved her mother's items. The woman was told this was a civil issue and advised to get a restraining order. She then headed to the courthouse.
Feb. 16, 8:17 a.m.
A person called to report that a woman had been fired from a restaurant and her boyfriend came in threatening the caller. At the end of the day, the boyfriend called in an order for $150 worth of food, but no one came to get it. The caller asked that the woman and her boyfriend be cited for trespassing if they returned.
Feb. 16, 12:52 p.m.
Officers received a call about a man wearing a blue jacket who was lying on the side of the road near Railroad Pass. Upon contacting the man, he said he was walking to Laughlin to see his girlfriend.
Feb. 16, 4:57 p.m.
Officers received a report about a woman wearing a black hoodie and tan shorts who was carrying a water bottle and was walking into Escalante Park after getting off the bus. While on the bus, it appeared that she was passing out. She told officers she had just donated plasma and tried to smoke a cigarette when she became lightheaded. She said she was fine now, and that her boyfriend was on his way to get her.
Feb. 16, 6:24 p.m.
A driver in a white Ford Focus was cited for driving 19 miles per hour in a 45 mph zone on Veterans Memorial Drive.
Feb. 16, 9:42 p.m.
Officers advised a person that golfing on the course when it was closed was not permitted even if that person lived near hole No. 5 and was an employee at another golf course.
Feb.17, 4:01 a.m.
Officers received a call about a car going off the road into a ditch. The vehicle had substantial damage, but no driver could be found. The hospital did not treat anyone with injuries.
Feb. 17, 9:53 p.m.
Officers found a man riding a bicycle with a warrant for his arrest because of a ticket that was not taken care of. He was advised about an upcoming court date but was not taken into custody because of the nature of his ticket as well as the fact that he had a "copious" amount of items and a bike.
Feb. 17, 11:48 p.m.
Officers responded to Veterans Memorial Park because a person was there to see the fish pond and go fishing while the park was closed.
Feb. 18, 2:05 p.m.
Officers received a report about a fire in a microwave because someone had burned cookies. The fire was put out, but the fire department was called to make sure the scene was safe.
Feb. 18, 5:41 p.m.
Officers were called about a fire seen in the desert off of U.S. Highway 95. Rubbish was burning, and the fire department was able to put out the flames.
Feb. 18, 11:02 p.m.
Officers encountered a man from Canada who was missing his left eye that was sleeping near a bridge. The man was told that camping was not allowed in Boulder City, so he collected his belongings and began walking toward Hoover Dam on his way to Arizona.
Feb. 19, 11:40 a.m.
A woman called to report that some type of plastic thing was hanging from the top of her door preventing her from entering.
Feb. 19, 8:05 p.m.
The remains of a large coyote were moved to the side of the road.
Feb. 20, 5:11 a.m.
A woman called to report that her estranged husband had broken into her home and she had locked herself in a bathroom along with her 1-year-old child. A 3-year-old child was asleep in another room. The man has a permit to carry a concealed weapon. The man, who was on the couch waiting for officers to arrive, told police he had access to the house through the evening and was trying to get clothes for the children.
Feb. 20, 1:16 p.m.
A man reported that his travel trailer got stuck in the mud at the dry lake bed, and it was still too muddy to retrieve it. He will get it out as soon as the mud dries.
Feb. 20, 2:12 p.m.
A man reported that his red suitcase fell out of the back of his truck somewhere in the city, but he could not find it.