Planners recommend 80-acre plot be left off land management plan, seek to add two smaller parcels
August 17, 2017 - 6:41 pm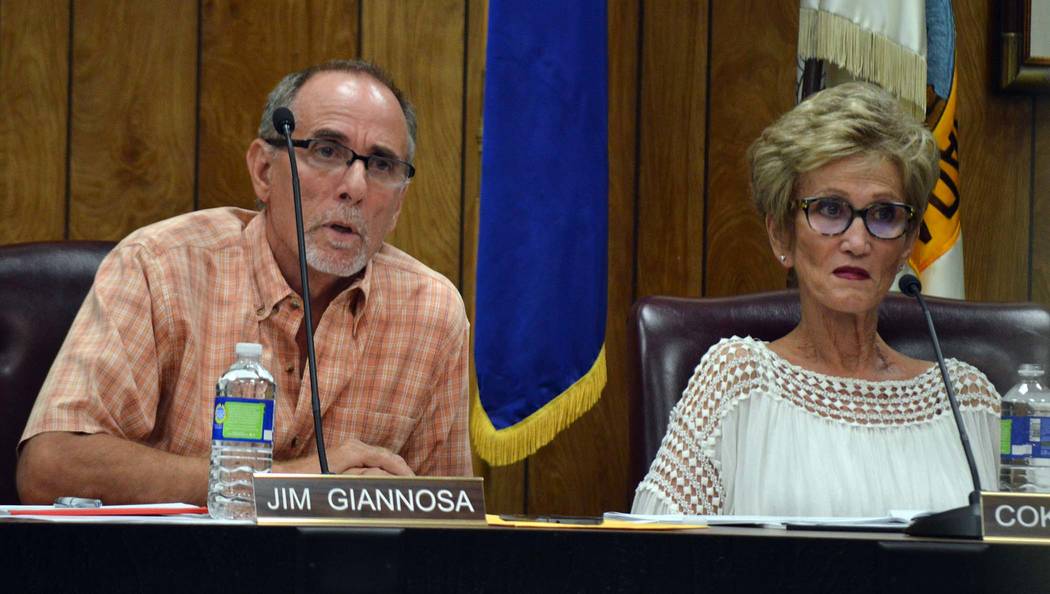 City planning commissioners voted to not to expand the city's land management plan to include an approximately 80-acre parcel for any residential purpose while recommending the addition of two parcels totaling about 72 acres for single- and multi-family residences during their meeting Wednesday night.
Designated as parcel 3, the nearly 80-acre plot is bordered by Georgia Avenue on the west, transmission lines on the south and east, and Vaquero Drive on the north. According to city documents, it's within the airport's range, has never been developed and would need utilities extended to it. It was previously discussed at a city workshop in which residents put red or green dots on it to show how they felt about its development.
Earlier this year, the city requested it to be sent to the Planning Commission to recommend whether it should be added to the land management plan.
City Planner Susan Danielewicz said the land management plan is an ordinance that was put into place to give an organized framework for the City Council to deal with the land that the city owns.
"It puts a step before City Council starts discussing any proposed lease or land sale in depth," she said.
This process is used no matter who makes the request. The land in the plan can also have multiple uses listed for it.
Several residents voiced their opposition to developing the large parcel during Wednesday's meeting.
"I don't know if it's economically viable for you to develop parcel 3," said resident Brad Rassuchine, who lives near the parcel.
Rassuchine said there are seven empty properties near that parcel that have been for sale for awhile.
"That land has tremendous recreational value to residents who use it for walking their dogs, for jogging, the other things that you don't see on a day-to-day basis," he added.
Twenty-five year Boulder City resident Ron Milney said he was concerned about the area surrounding parcel 3 for the people who build houses and live there. He said that their view would overlook the new interstate, living under high-tension wires, and be in the airport's flight path.
"This is going to be a very controversial, I think very intensely debated white elephant that no developer is going to want to buy," he added.
Other residents expressed concerns about safety infrastructure and traffic should the land be developed residentially and zoned R1-80, which is what some of the surrounding areas are zoned.
R1-80 is single-family homes on 2-acre lots. Other surrounding areas are zoned R1-10, single family residential on 10,000-square foot lots, and S for study.
"As a planning commissioner, we're here to work for the citizens of Boulder City … so I'm inclined to recommend to the City Council that we pull number 3 … because I think the community has spoken," said Commissioner Cokie Booth.
"The biggest thing for me is that it doesn't add value," said fellow Commissioner Fritz McDonald. "We have talked through planning commission meetings, through everything else we're looking at single family homes. How do we get that entry-level home, and we're talking R1-80? It doesn't do anything for us."
"I think we should just pull it off altogether," he added.
Chairman Glen Leavitt said he felt the timing of adding the 80 acres to the land management plan for development was not right.
"No one requested it to even look at potentially building there, so it doesn't really seem like a viable place right now … I think I agree with what's being said about just not being the right time," he said. "Maybe in the future."
According to Danielewicz, planners' recommendation not to include the parcel in the land management plan will go before the City Council, which can either approve or deny it. She said the issue is scheduled for the council's Sept. 12 meeting.
The two approved plots are parcel 1, approximately 24 acres north of Adams Boulevard and west of Aspen Drive, and parcel 2, approximately 48 acres north of Adams Boulevard and east of Aspen Drive.
The commissioners recommending parcel 1 be designated for single family residential development, and parcel 2 for single family and multi-family residential development.
Contact reporter Celia Shortt Goodyear at cgoodyear@bouldercityreview.com or at 702-586-9401. Follow her on Twitter @csgoodyear.