Planners hear ideas for 'Gateway' parcel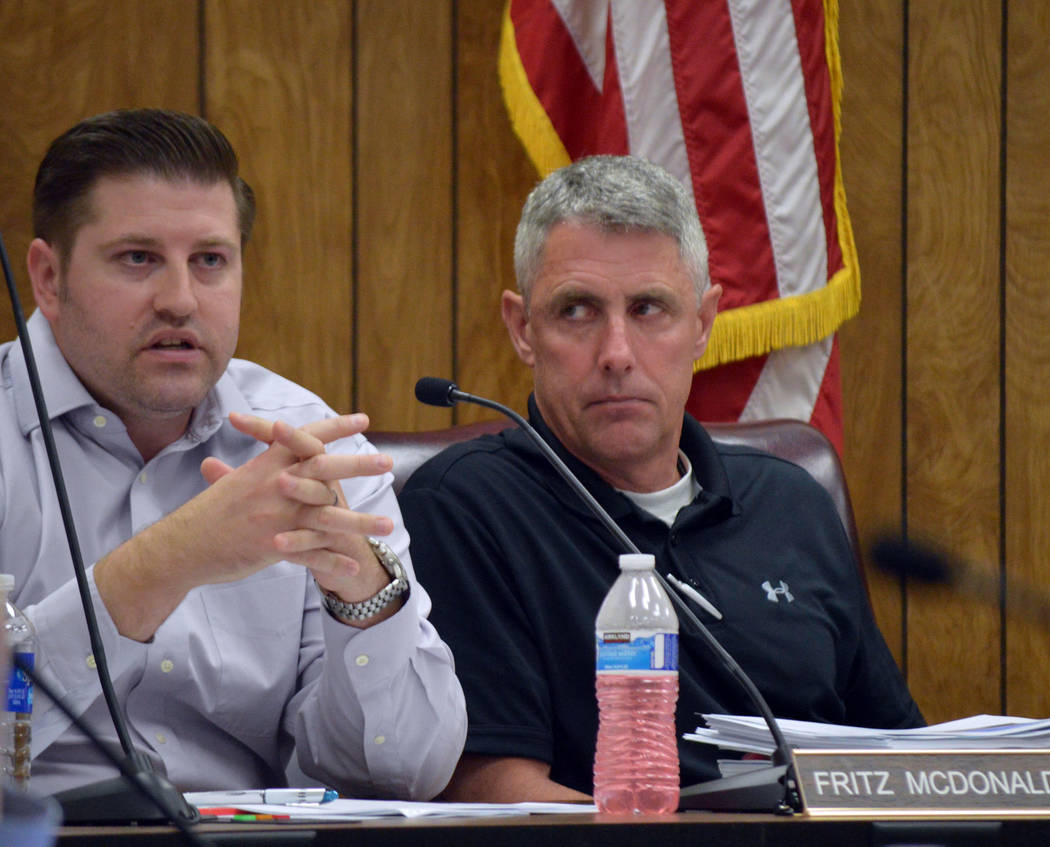 Several Boulder City residents expressed their concerns that developing the Interstate 11/U.S. Highway 95 interchange would create a second city center that would harm existing businesses.
They voiced their opinions at the April 19 Planning Commission meeting as consulting firm G.C. Garcia presented its recommendations for additions to the city's master plan.
"This isn't an adoption of a master plan land use but a master plan in the sense of the words setting the stage for future development in looking at this project," said Doug Rankin of G.C. Garcia.
G.C. Garcia was hired to prepare an analysis and preliminary master plan document to help the City Council in making decisions in regard to the future interchange. The firm has been working on it since October 2016.
The plan, titled "The Hoover Dam Gateway," focused on the land use, connectivity, design guidelines, future zoning, financing and implementation strategies. The presentation included preferred and nonpreferred uses for the 700-acre parcel of land.
The basis for the plan was gained after individual meetings with key community stakeholders and a town hall meeting to help define the best uses for the area with input from citizens. Ideas that were proposed for the area were warehouse distribution, technology parks, corporate parks, data centers, industrial parks and a visitor center; there was opposition, however, to workforce housing, casinos, heavy industrial and big box retail shopping.
The land includes a large hill for which the firm presented several options. One was for it to be fully developed, another partially developed, and the third would keep it as a park and open space.
At the April 19 meeting, members of the public spoke about issues such as compatibility, existing businesses and growth.
"I don't see where this master plan is compatible with the existing master plan of 2003," said Neal Siniakin. "I think that it should all be incorporated together and taken into account that the master plan of 2003 calls for Boulder City to remain a small town and developing 700 acres around that interchange would have an incredible impact and would make it very hard for Boulder City to remain a small town."
Nate Lasoff discussed the effect the new development and industry could have on the existing town.
"I think that if it looked anything similar to what to what we already have on Industrial or Foothill roads, I don't think it needs to be down there," he said. "There's land that the city owns that we could expand that area, and it still stays in Boulder City, so I'd be against anything that looks similar to what was already down on Foothill or Industrial."
"I just think it's our value in Boulder City that we have this nice small town, and that's what we like, and that's why we're here, and doing this development will open the door to ruining that and turning us into Henderson," added Mary Venable.
Other comments included concern about too few people attending the public meeting, the plan catering to certain businesses and adding another city center when Boulder City already has one.
"What steps will be taken between now and the time when this is either approved or rejected?" asked Commissioner Paul Matuska.
Community Development Director Brok Armantrout said the next step is to present the findings at a City Council meeting sometime in May where council members will decide to either move forward with a formal master plan amendment or do nothing.
"This is a document that would be used as a resource for when the master plan would be amended for this area," he said. "At some point in time whether it's this document or another document, the master plan would need to be amended, and it's something we'll be working on in the next 18 months most likely anyway for the master plan as a whole."
Contact reporter Celia Shortt Goodyear at cgoodyear@bouldercityreview.com or at 702-586-9401. Follow her on Twitter @csgoodyear.