Pediatrician joins local health care practice
January 13, 2016 - 4:06 pm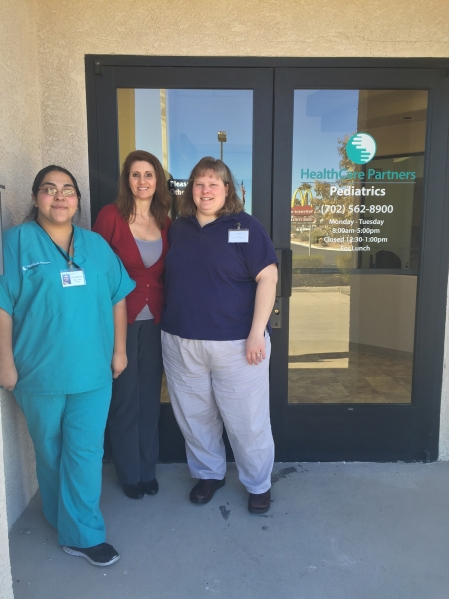 For the past 25 years, parents residing in Boulder City have had to drive out of town in order for their child to receive pediatric care. That did not sit well with Pam McLean, practice manager for the HealthCare Partners Medical Group.
Despite her relentless pursuit to bring in a certified pediatrician to Boulder City, she kept getting shut down. At long last, after years of trying, McLean finally got the green light two months ago to bring in the town's saving grace, Dr. Karen Swarts.
"I don't know how many kids live here, but I don't know why they haven't had any pediatrics," said a baffled McLean. "The stars aligned and we were able to do it this go around. To be able to provide that to the community is awesome."
Swarts, a graduate from Ohio State University, has begun practicing out of the Nevada Highway Clinic from 8 a.m. to 5 p.m. Mondays and Tuesdays.
Swarts agrees it takes a special type of personality to be a pediatrician. Not only does she have to remain kindhearted to the kids, but she also has to know when to be the bearer of bad news to the parents.
"The worst part is having to tell a parent 'Hey, I think your child has this little thing, but I have to rule out this big thing first.' I hate having to freak parents out like that," said a more serious Swarts.
Monday Swarts took care of her first patient in Boulder City. Joe and Cris Stubitz brought in their newborn daughter Chloe, who was the first baby born in 2016 at Summerlin Hospital Medical Center.
For Swarts, the joy of being able to help a child and put a smile on his or her face is the best part of the job, so much so that her enthusiasm has permeated throughout the office already and into her staff.
"I knew I wanted to be a doctor. I had no idea I wanted to be a pediatrician," Swarts said. "So I talked to my husband and told him I really like pediatrics. He realized I was the happiest then, so I said to myself 'Ok, let's go that route!' I just never thought I would."
Although this week is officially the first week that Swarts' office has been open, there have not been many parents rushing their kids to her office just yet. It is a process, according to McLean.
Many kids in Boulder City have been seeing a pediatrician in Las Vegas for years. Once the word gets out that Boulder City has its own pediatrician, it is only a matter of time before parents begin to bring in their children, she said.
"I think once they know we're here and what we're about, I think the transition should happen fairly quickly. I think this is very vital to the community that they do not have to travel to Henderson," McLean said.
Letting Boulder City know that Swarts is not temporary and that she will be a permanent fixture in Boulder City is key, she said.
Plans are in place to redo the marquee in front of the Nevada Highway Clinic so that people driving by can see pediatrics in Boulder City is here to stay, McLean added.
"The best thing you can do is love your job, and I love my job. It is nice knowing that you are in a community that is happy to have you," Swarts said with a wide smile on her face. "I'm happy to see the kids and the parents in the office. Hopefully, they're well when I do."
To make an appointment to see Swarts, call 702-562-8900 or visit the Nevada Highway Clinic at 1297 Nevada Highway, Suite B.
Contact reporter Juan Diego Pergentili at jpergentili@bouldercityreview.com or at 702-586-9401. Follow him on Twitter @jdpbcreview.