Parades cap three days of holiday festivities
November 30, 2016 - 2:05 pm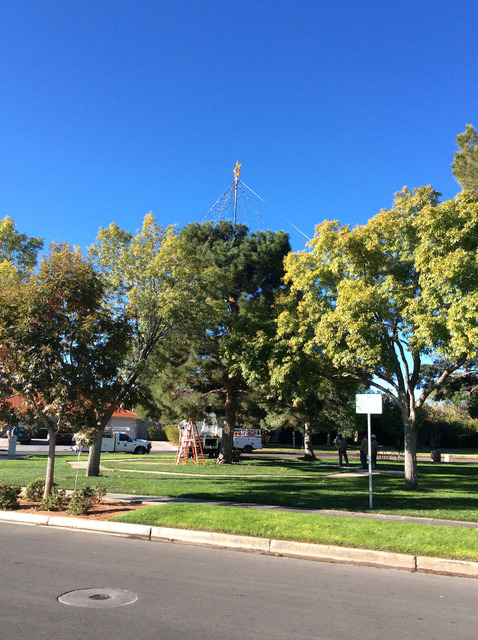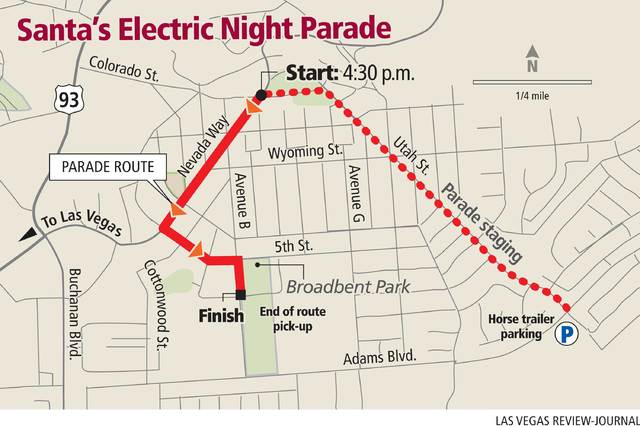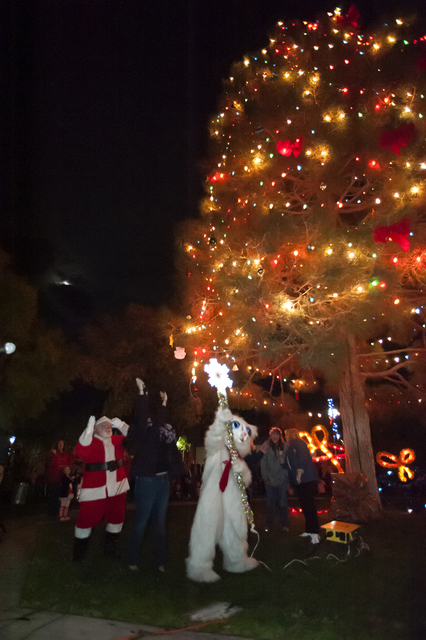 December has arrived and the final month of the year is filled with a plethora of holiday events that begin today in Boulder City.
A living Nativity scene, chance to visit with Santa and Mrs. Claus and plenty of festive lights will fill the next few days. Here's a look at what's happening:
Luminaria and Las Posadas
The birth of Jesus Christ is an important event for many people of faith and residents can watch a local rendition of Joseph and Mary's journey to Bethlehem for his birth tonight at the Boulder City Parks and Recreation Department's gymnasium, 900 Arizona St.
The event begins at 6 p.m. and along with the re-enactment guests will be treated to choir performances by Garrett Junior High School, Grace Christian Academy and Boulder City High School. Julian Shull and Scott Hensley will sing a duet of "Mary Did You Know," with piano accompaniment by Cheryl Snead. The night will end with Christmas carols.
The event is being presented by Boulder City United Methodist Church and sponsors are BC Real Estate, The Homestead at Boulder City and the Rotary Club of Boulder City.
The Rev. Sandy Johnson of the church said she is expecting a standing-room-only crowd so guests should come early.
Christmas tree lighting
The community Christmas tree in Frank Crowe Park will be lit Friday. The event starts at 6 p.m. with the tree lighting beginning at 6:17. After the tree lighting guests can sing Christmas carols, drink hot chocolate courtesy of the Rotary Club Boulder City and listen to musical performances by Christina Perkins, Kim Santarossa and Michael Henry.
The lighting is sponsored by the Boulder City Chamber of Commerce and is dedicated to Christy Springgate-Hill, a longtime volunteer in the community who lost her battle with cancer in October.
The park is at the corner of Nevada Way and Cherry Street.
Doodlebug Bazaar
This event is a great one for shoppers and trinket hunters. The bazaar will be held from 9 a.m. to 4 p.m. Saturday at the Boulder City Parks and Recreation Center, 900 Arizona St. Linda Graham, chairwoman of the event, said the bazaar will have over 140 vendors and a food truck. The event is sponsored by the Boulder City Community Club and all proceeds will go to local charities of the club's choosing.
Santa's Picture Party
Kids don't want to miss their chance to get a picture taken with Santa on Saturday and receive a free goodie bag. Santa will be taking pictures at the recreation center gymnasium from 11 a.m. to 2 p.m. The event will be in the same area as the Doodlebug Bazaar so feel free to stop by both events.
Faith Christian Church Cookie Sale
Faith Christian Church will be selling cookies beginning at 9 a.m. on Saturday. The annual sale is at the church, 1100 Buchanan Blvd.
Santa's Electric Night Parade
Big floats and fancy lights are the name of the game during Boulder City's night parade. The parade will feature a number of marching groups, equestrians, vehicles and more. The event begins at 4:30 p.m. Saturday and should end around 6.
It starts on the corner of Utah Street and Adams Boulevard. It then travels on Nevada Way and ends on Avenue B at Mitchell Elementary School.
The parade will be filmed by Cox Cable, which will air the event on Channel 98 from Dec. 11-25.
Parade of Lights
Sponsored by the Lake Mead Boat Owners Association this is the perfect event for residents who want to see another parade and see one on Lake Mead. Boat owners decorate their boats with lights and other Christmas decorations and set sail for a parade across the lake.
The boat parade begins at 6:30 p.m. Saturday at the Las Vegas Boat Harbor and the Lake Mead Marina.
Boat Owners Association Chairwoman Barb Wagner said that paradegoers should set up shop at Boulder Beach in the Lake Mead Recreation Area because that is where the best view is. Boats will pass by the beach around 7 p.m. The National Park Service is also allowing free admittance into the park after 2 p.m. that day.
Christmas Dreams
Dance Studio Dance Etc. is putting on a Christmas show Dec. 8 at the Historic Boulder Theatre, 1225 Arizona St. The event begins at 7:15 p.m. and tickets, priced at $25 each, can be purchased at the studio, 525 Hotel Plaza.
Contact reporter Max Lancaster at mlancaster @bouldercityreview.com or at 702-586-9401. Follow him on Twitter @MLancasterBCR.