One of two bodies recovered from presumed lake drownings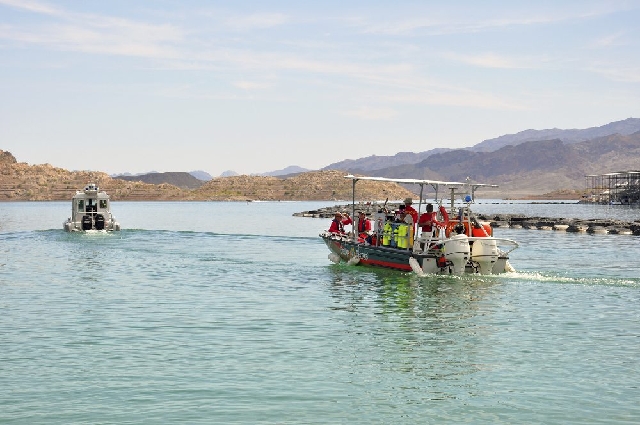 The National Park Service and other agencies are still searching for a Chicago man who went missing June 20 in Boulder Basin at Lake Mead National Recreation Area. However, the body of a Las Vegas man was found Monday nearly 24 hours after he went missing in the water in a separate incident near Callville Bay.
The Clark County coroner's office identified 30-year-old Curtis James Ficarrotta on Tuesday, but said cause of death was still pending. Park service officials believe alcohol may have been a contributing factor.
Ficarrotta was reportedly "swimming with friends in the Virgin Basin near Callville Bay without a life jacket when he began to struggle and disappeared underwater," according to Christie Vanover, park service spokesperson.
The Park Service received a call Sunday at 2:01 p.m., and park service officials, along with rescuers from the Nevada Department of Wildlife and Callville Bay Marina in the area, began the search. The search was called off around 4:30 p.m. because of high winds.
The Metropolitan Police Department's Search and Rescue Unit from Las Vegas joined the search Monday at 6 a.m. Ficarrotta's body was located by Metropolitan Police divers around 10 a.m., and the body was recovered an hour later.
The park service and Nevada Department of Wildlife are investigating the incident.
However, the search continues for the 35-year-old Chicago man, identified by family members as Istvan Tibor Feichtner. Feichtner was last seen around 4 p.m. between Painter's Cove and Castle Reef when he disappeared underwater after going for a swim. Not wearing a life jacket, he struggled in the high waves, witnesses said.
According to Vanover, park service and police search teams conducted a two-hour search June 20, but "search efforts were suspended around 6:30 p.m. due to unsafe weather conditions" from high winds.
The search continued Sunday through Tuesday using a combination of scan sonar and divers.
Vanover said the majority of drownings at Lake Mead happen to people not wearing a life jacket.
"When visiting Lake Mead National Recreation Area, boaters should be cognizant of the weather forecast," she said. "Lake conditions can change in an instant, which is why swimmers are advised to wear a life jacket."
It can sometimes take months for a body to be recovered. The body of Antonio Tucker, a 28-year-old staff sergeant stationed at Creech Air Force Base in Indian Springs, jumped into the lake without a life jacket June 23, 2012. His body wasn't recovered until April.
According to Vanover, four bodies that were reported missing at Lake Mead since 2000 have never been recovered.
On Aug. 2, 2002, Thomas Erndt went missing near Callville Bay. Vincent Petrilena disappeared May 23, 2004, near Grebe Bay, while Kenneth Eldon Funk went missing June 19, 2004, in Boulder Basin.
William Gurule apparently drowned Nov. 9, 2010, near Iceberg Rapid on the Colorado River.
These two incidents are the second and third presumed drownings of 2013. Autopsy results are still pending for William H. Meyer, 52, of Las Vegas who died June 1 after surfacing from a scuba dive unresponsive.
There were 18 deaths at Lake Mead in 2012, eight of which were drownings. Since 2000, 114 people have drowned at the lake, not including this year.