Oaklane Preschool marks 40 years of teaching city's youngest residents
January 13, 2016 - 4:08 pm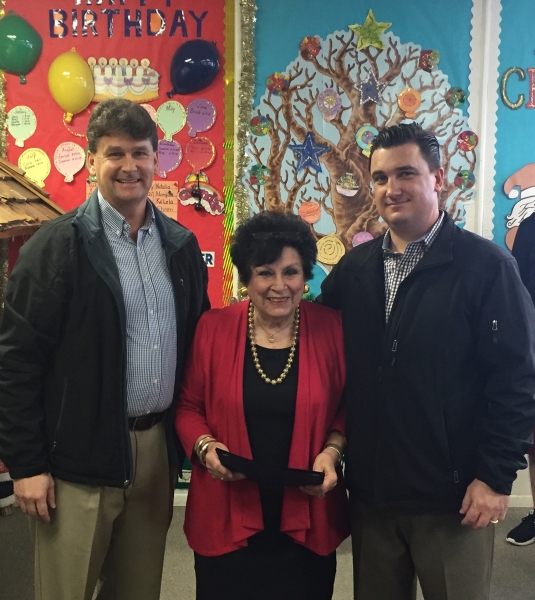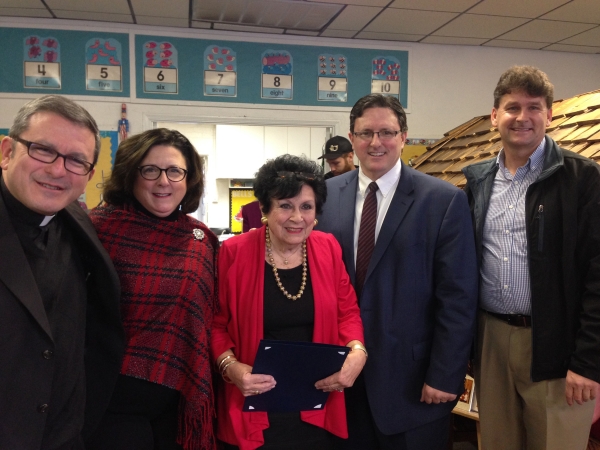 Four decades of educating children was celebrated Jan. 7 as Oaklane Preschool Academy marked its 40th anniversary.
Past students mingled with current students, family members and staff as Carole Gordon, founder and primary educator at the school, was honored.
"It's been a good 40 years," Gordon said, adding it seems "like yesterday" when she started the preschool.
She said seeing the children enter the door for the first time knowing very little and leaving being able to read, sometimes at the first- or second-grade level, is rewarding.
"I think Mrs. Gordon exemplifies what it means to be a teacher," said Councilman Rich Shuman, who attended Oaklane and sent two of his children there. "I can't say enough about Mrs. Gordon. She is a good example for children … an inspiration… all (done) in a fun atmosphere."
Shuman also called the preschool a fixture in the community.
Oaklane was the city's first preschool and has provided important benefits that will last children their lives, said Mayor Rod Woodbury, who attended the celebration to present Gordon with a proclamation from the city designating Jan. 7 at Carole A. Gordon day.
"The beauty of this is its continuity, it's multigenerational," said Gordon's daughter, Karen Gordon, who helped organize the celebration with Monsignor Gregory Gordon and Richard Gordon, two of her four brothers.
Richard Gordon, who was one of the academy's first students, said he has many fond memories of his time at the preschool, both as a student and helping his mother with activities and special events.
"I really want to thank and congratulate my mother for 40 years of service to the community and people of Boulder City," he said, calling her commitment to the school and students a testament to her vocation.
Carole Gordon started the preschool after moving to Boulder City with her late husband, who was a physician. She transformed an old auto parts store into the academy, which was later expanded because of high enrollment.
The school's name came from a neighborhood in her native Philadelphia, Pa., where Gordon worked as a student teacher while getting her degree from Temple University.
She said her many years at the preschool never seemed like work because she loves what she is doing.
The affection between her and the students is obvious by their smiles and hugs, even from those who graduated years ago.
Nelson Muniz said he enrolled his two daughters, Morgana, now 10, and Livyana, now 7, at the preschool because he appreciated its atmosphere and "old-school way of teaching."
"It was just a great feeling coming in here and seeing the kids," he said about why he selected the school.
Even after they started going to public school, the Muniz girls would go to Oaklane, getting help with their homework, until their parents finished their work day.
The girls, who joined the celebration, put it simpler. "It was fun," they both said.
Morgana said she believed that her time at Oaklane helped prepare her for school.
Alexix Lagan, who was a student from 1996-99, agreed, noting that her time at Oaklane created building blocks for her education.
"Oaklane Academy was a wonderful experience for me. I still have memories of playing with my friends on the playground in the back, arts and crafts, and how sweet the teachers were to me. It wasn't just a daycare, though. We had many activities to help prepare us for school as well, such as how to behave in a classroom setting, be well-rounded students and good citizens."
Lora Smyth said it's the "solid curriculum" that brought her back to the preschool. Her older daughter, Kinsey, 19, attended classes at Oaklane and stopped by for the anniversary celebration to congratulate her former teacher, while her youngest daughter, Remmi, is a current student.
"We love her," said Remmi Smyth as she thanked Woodbury for coming to the celebration and awarding her teacher with a proclamation.
— Hali Bernstein Saylor is editor of the Boulder City Review. She can be reached at hsaylor@bouldercityreview.com or at 702-586-9523. Follow @HalisComment on Twitter.