No one hurt during helicopter's hard landing at airport
January 9, 2014 - 5:15 am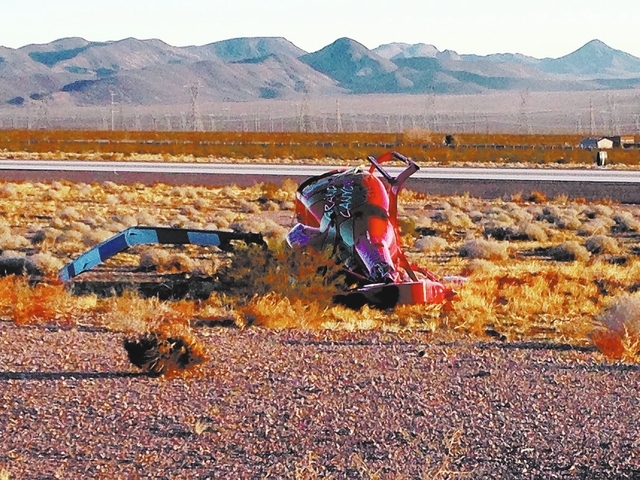 No one was hurt Jan. 1 after a Papillon Grand Canyon Helicopters tour helicopter on a test flight made a hard landing at Boulder City Municipal Airport.
Only the pilot was on board the Eurocopter EC130, when it landed at about 3:05 p.m. after a maintenance test flight, according to the company.
The emergency landing came after the engine lost power, a Federal Aviation Administration spokesperson confirmed Jan. 2.
The FAA and the National Transportation Safety Board are investigating what went wrong. It typically takes the NTSB months to determine a probable cause of an accident.
Papillon did not offer a reason for the crash of the helicopter, which was manufactured in 2004, but stated safety was the company's "top priority."
"Our records demonstrate we consistently go above and beyond to ensure we maintain one of the most rigorous maintenance programs in the industry," said Robert Graff, Papillon's corporate vice president of marketing.
The helicopter was eight minutes into the flight when the engine lost power at an altitude of about 200 feet, said Boulder City Community Development Director Brok Armantrout, who oversees the airport. It landed in the desert 150 feet north of the airport's main runway and then tipped over, causing the main rotor and tail rotor to break.
"I think if it hit hard on asphalt it may have been a different result," he said.
The wreckage was transported to a nearby hangar in the hours after the accident, Armantrout said.
Armantrout said the airport was closed for two hours while Boulder City Fire Department made sure there was no hazard associated with the wreckage.
Papillon Airways Inc. was founded in 1965 and offers helicopter and airplane tours of Las Vegas and the Grand Canyon from locations in Nevada and Arizona.
The company has had a presence at Boulder City Municipal Airport since 2006, Armantrout said.
The accident is the only helicopter accident to have occurred at Boulder City Municipal Airport in at least 10 years, according to Armantrout.