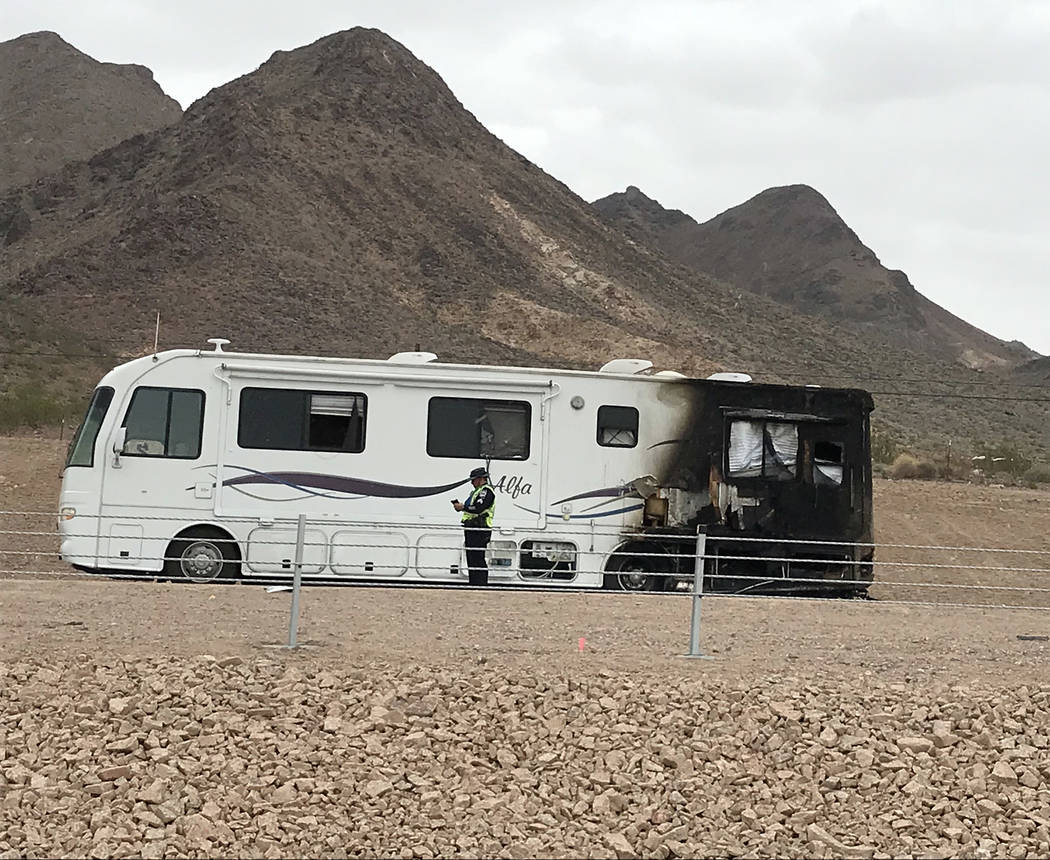 Motor home fire delays traffic in Boulder City for hours
A motor home that caught on fire delayed traffic in Boulder City for hours Saturday, March 10, morning. Boulder City Fire Department responded around 10:40 a.m. to a report of smoke coming from the vehicle near the interchange of U.S. Highway 93 and U.S. Highway 95, according to Fire Chief Kevin Nicholson.
Both northbound lanes of U.S. Highway 93/95 were closed, causing traffic to back up on all northbound routes through the city, as well as on southbound lanes in Henderson.
Boulder City Police Department assisted with traffic control.
Nicholson said fire crews reported seeing heavy smoke and fire coming from the rear of the motor home upon arrival, before they initiated a fire attack.
One northbound lane was reopened about an hour and 20 minutes after the fire was reported.
The cause of the fire was ruled as accidental and the loss is estimated at $60,000.
Police officers assisted with the investigation.
More residents file their candidacy in Clark County
With the candidate filing period ending Friday, March 16, several more people have filed to run for office in Clark County.
Boulder City resident and Republican Glen Leavitt filed to run for State Assembly District 23.
Eight more people filed to run for U.S. Congressional District 3, which includes Boulder City. Those candidates include Republicans Scott Hammond, James Thomas Murphy Sr., Annette Teijeiro; Democrats Richard Hart, Suzanne Lee, John Love, Steven Schiffman, Michael Weiss; Libertarian Steven Brown; and Gilbert Eisner and Tony Gumina, who are not affiliated with a political party.
Those who want to run for state leadership positions should file their candidacy with the secretary of state's office at the Grant Sawyer Building, 555 E. Washington Blvd.
Those who want to run for positions in the state Assembly and Clark County should file their candidacy at the Clark County Registrar of Voters, 500 Clark County Government Center, First Floor Pueblo Room, South Grand Central Parkway, Las Vegas.
Candidates may file between 8 a.m. and 5 p.m., except on holidays and weekends. Appointments are not available.
The last day to change how a name will appear on the ballot is Friday, March 16, and the last day to withdraw candidacy or rescind withdrawal of candidacy is Tuesday, March 27.
Nominations open for city's Historic Preservation Award
Nominations are still being sought for the 2018 Boulder City's Historic Preservation award.
Since 2011, Boulder City's Historic Preservation Committee and City Council have honored a building or property within the historic district whose characteristics display the spirit of the area.
To be nominated, a property must be within Boulder City's historic district. The award is based on the exterior of the building/property as it is seen from the street. It is open to all properties and can be either for a historically appropriate remodel or addition or an excellent example of preservation or restoration.
Nominations will be accepted through Tuesday, March 20. They can be submitted at www.bcnv.org, in person or by mail to the Community Development Department at City Hall, 401 California Ave. They must include the property's address.
Historic preservation focus of day-long event
As part of May's observance of National Preservation Month, the city and is Historic Preservation Committee is partnering with the Boulder City-Hoover Dam Museum and Los Angeles Department of Water & Power to present a Historic Preservation Day. Scheduled for May 12, the day will include speakers, lunch, a survey about historic preservation and a tour of the historic Six Companies Lodge that overlooks Lake Mead.
The event will begin at 9 a.m. with registration at the Department of Water and Power Building, 600 Nevada Way. Tours are scheduled to start at 10 a.m. and the day's activities will conclude at 4 p.m.
Among those scheduled to speak Mark Hall-Patton, museum administrator of the Clark County Museum; Dennis McBride, director of the Nevada State Museum; Leslie Woodbury museum development officer of the Boulder City-Hoover Dam Museum and Alan Stromberg, a local architect. Heidi Swank, a Nevada assemblywoman and executive director of the Nevada Preservation Foundation, will serve as moderator.
There is no cost to participate, but advance tickets are required for the tour of the lodge.
Additional information will be available on the city's website, www.bcnv.org, in the near future.