New councilmen sworn into office then tackle solar leases, personnel changes, committee appointments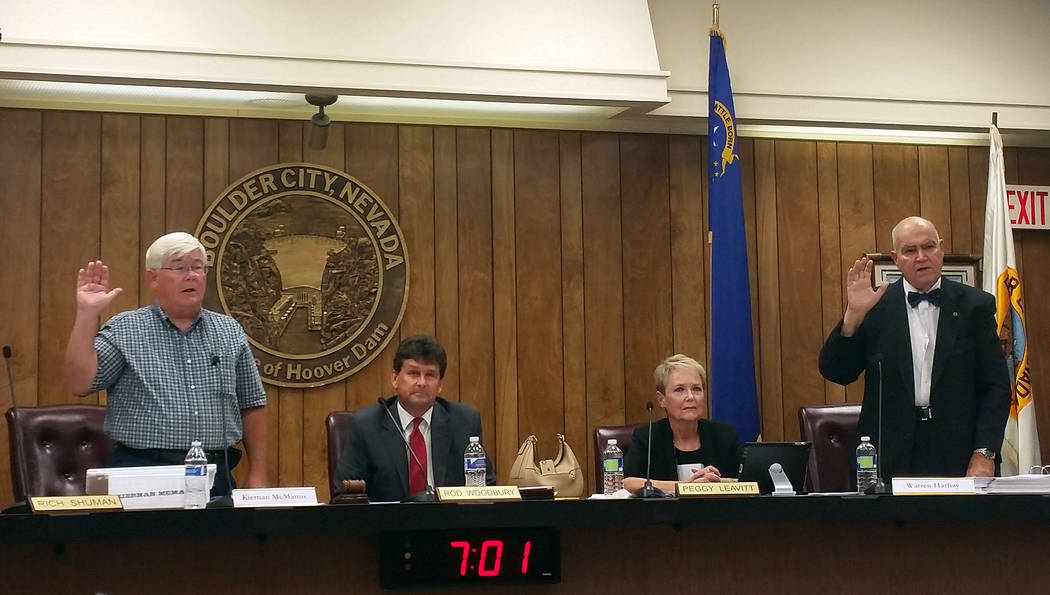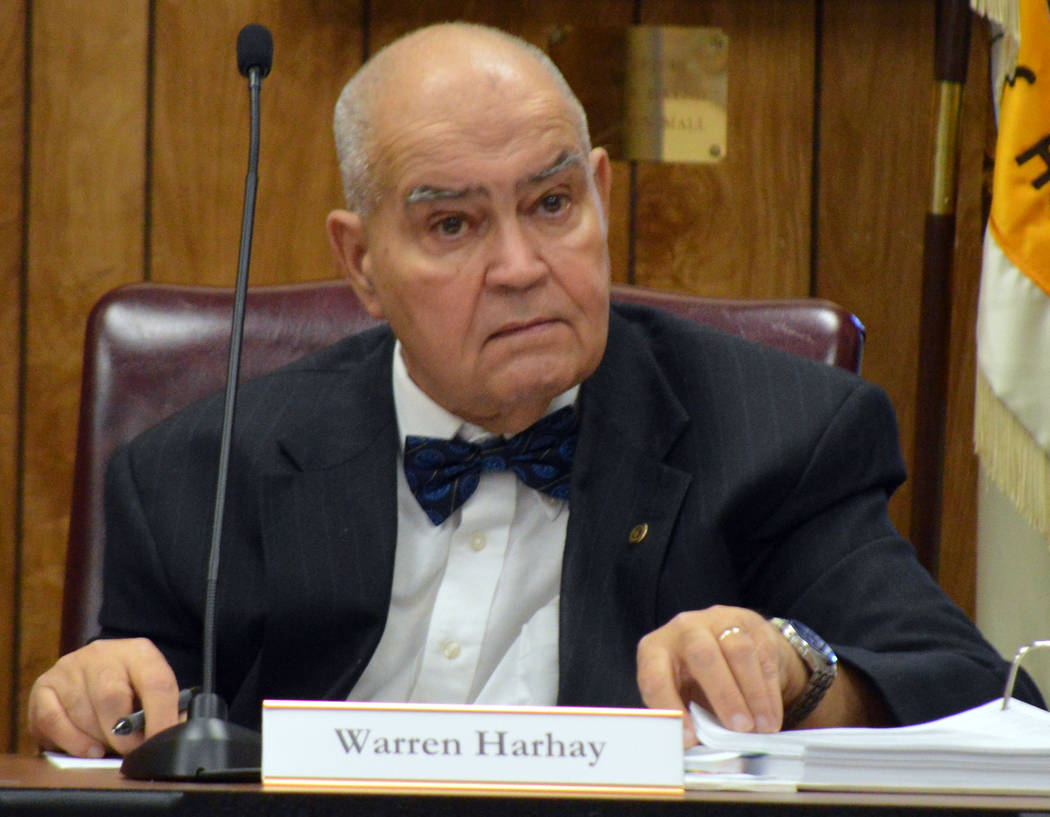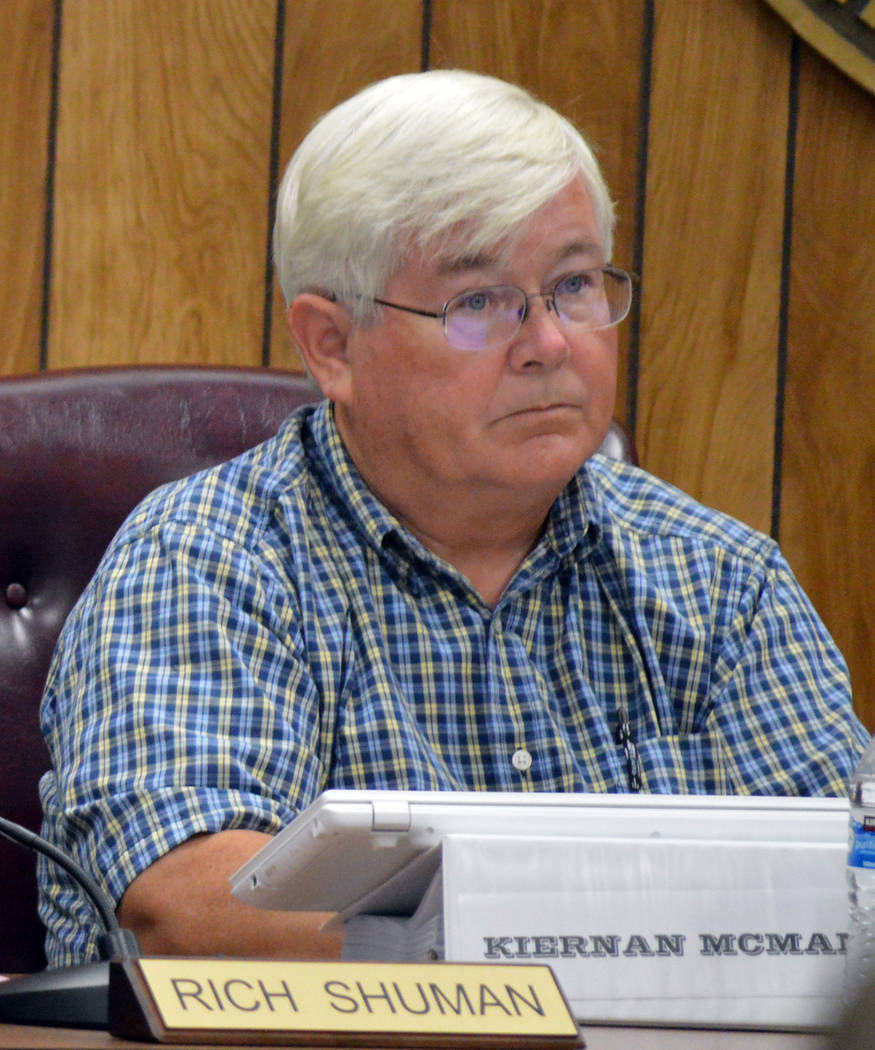 Tuesday's City Council meeting was busy as it welcomed its two newest members, said goodbye to a long-time staff member, and handled a variety of business items including committee appointments, naming an interim city attorney, began recruitment for a new city manager, and approving a new solar lease.
Just prior to the meeting being called to order, Kiernan McManus and Warren Harhay were sworn in to the council.
"These guys deserve everybody's congratulations and support … Certainly, they've gone through a long and hard campaign and done a great job," said Mayor Rod Woodbury. "I want them to know, too, they have a great city staff behind them that will help you guys to be successful and (I) advise you to use them. They're a great support."
Following the swearing in, the new City Council unanimously approved an amended lease option for a solar lease with Techren Solar LLC to build and develop a solar energy power plant in the Eldorado Valley.
Techren requested to exercise the lease option in phases and by separate affiliate companies. City Attorney Dave Olsen told the council members the ability to develop in phases and by affiliates was unique to this lease.
According to a staff report, Techren made this request because it had entered into two power purchase agreements with affiliate companies for two different portions of its overall site. Each of these agreements required a stand-alone lease.
Both the commercial terms of the option and lease remain unchanged.
This meeting was Olsen's last one as city attorney, and before he presented the lease he took a moment to reflect on his work with the solar leases.
"I'm very proud of the fact I've been involved as the person who reviews and approves each one of these leases that has gone into effect in the Eldorado Valley and that over the next 20 or 30 years that represents literally hundreds of millions of dollars of lease revenue that would be coming into the city for the benefit of the people here in Boulder City," he said.
Council also appointed an acting city attorney, as well as discussing the recruitment of a new one and a new city manager.
It unanimously approved Assistant City Attorney Steve Morris as the acting city attorney. A new contract will come before council in July to adjust his hours and rate of pay, according to City Clerk Lorene Krumm.
Additionally, council members created an advisory committee to help reduce the number of applicants for the job.
Acting City Manager Scott Hansen said the city received 14 applications for the city attorney position. Of those 14, 11 candidates are qualified in accordance to the city charter's requirements. Hansen requested guidance in how to determine the top four or five candidates.
Council unanimously approved an advisory committee featuring two council members, staff, and a member of another city attorney's office. Woodbury and Harhay will represent the council.
Originally, the committee did not include a member of another city attorney's office, but Harhay thought it would be a good idea, and the rest of the council agreed. Also included in the motion was McManus' suggestion that each member look over the 11 applications and give their thoughts on them to the committee.
With the new city manager, council approved directing staff to do a nationwide external search for new candidates. After applications are received, the council will form a committee to narrow the field of applicants.
Acting Community Development Director Bryce Boldt estimates the cost of an external search to be between $20,000 to $30,000, depending on how much of it the outside firm handles.
In other actions, council:
■ Approved a city ordinance that requires that certain domestic animals, including cats, dogs, ferrets, rabbits and potbellied pigs, be spayed or neutered.
■ Appointed Councilwoman Peggy Leavitt as mayor pro tem, the city's representative to the Southern Nevada Water Authority and the Las Vegas Convention and Visitor's Authority.
■ Appointed Councilman Rich Shuman to the Boulder City Community Education Advisory Board, the Southern Nevada Health District Board, and to the audit review committee.
■ Appointed McManus to the Civilian Military Council, the Nevada League of Cities Board of Directors, the Nevada Public Agency Insurance Pool Board of Directors/Public Compensation Trust, the Southern Nevada Regional Planning Coalition/Clark County Debt Management Commission, and to the audit review committee.
■ Appointed Harhay to Workforce Connections, the audit review committee, and as the board alternate to the Nevada League of Cities Legislative Committee.
■ Appointed Woodbury to the Las Vegas Global Economic Alliance and to the Regional Transportation Commission and Clark County Regional Flood Control District.
Contact reporter Celia Shortt Goodyear at cgoodyear@bouldercityreview.com or at 702-586-9401. Follow her on Twitter @csgoodyear.