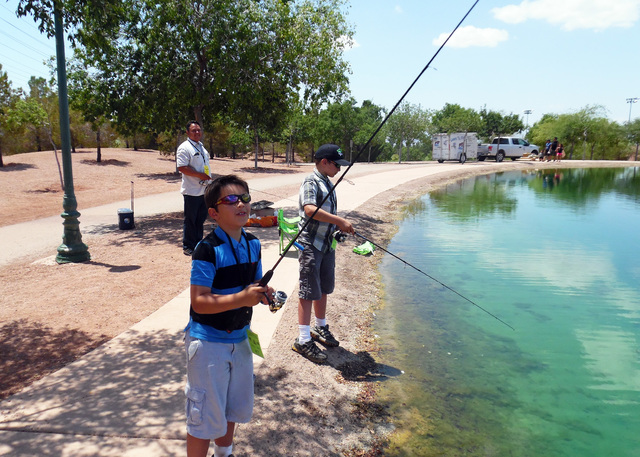 Anyone who wants to fish can do so Saturday at the pond at Veterans' Memorial Park as part of the state's Free Fishing Day celebration.
The event runs from 8-11 a.m., and registration starts at 7:30 a.m.
"We hope that those attending will enjoy the fishing experience and become lifelong anglers," said Ivy Santee, aquatic/angler education coordinator at the Nevada Department of Wildlife.
Free Fishing Day allows people to fish on public land without a license. It's celebrated throughout the country, with each state having a different day for it.
In addition to the free fishing, Boulder City's event will feature prizes for children and adults.
"Most of the prizes are fishing gear, such as rods and reels," Santee said.
"Each participant will be given a card on a lanyard with a number. We will draw the numbers at random three times during the morning."
The first 100 kids will also receive a free goody bag.
Santee is expecting 300 to 400 people to attend.
The celebration also will feature fishing assistance, casting lessons, fish art and aquatic species info. There will also be plenty of fish in the lake for kids to catch, she said.
Veterans' Memorial Park is at 1650 Buchanan Blvd.
Contact reporter Celia Shortt Goodyear at cgoodyear@bouldercityreview.com or at 702-586-9401. Follow her on Twitter @csgoodyear.