Negotiations delay Frazier's trial on animal cruelty charges
September 14, 2016 - 1:30 pm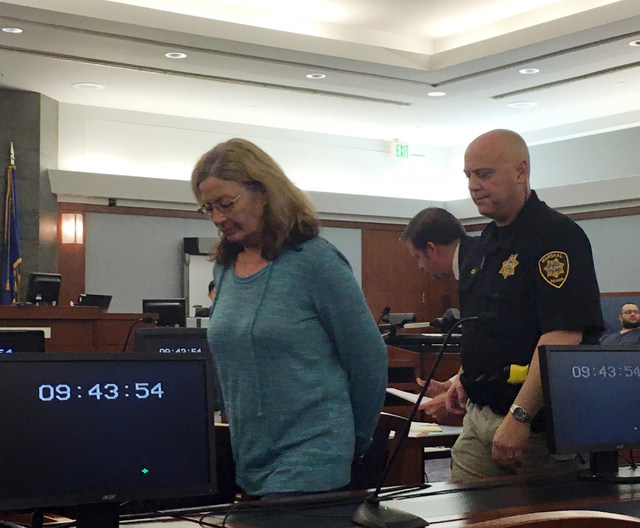 The trial of former Boulder City Animal Control Supervisor Mary Jo Frazier has been postponed.
Originally scheduled for Monday, the new court date is set for March 6, 2017, according to Clark County District Court records.
Possible negotiations are the reason for the trail delay, according to county court records.
Records also show an Oct. 4 court appearance is scheduled for a status check on negotiations between Frazier's lead lawyer, Michael L. Becker, and Clark County District Attorney Steven B. Wolfson.
A statement obtained from Clark County District Court said that a member of Frazier's defense team, Adam Solinger, requested that the original jury trail date of Sept. 12 be postponed so they could find an expert witness and continue negotiations with the district attorney's office. That meeting was held Sept. 6.
Becker and Solinger work for Las Vegas Defense Group; neither man could be reached for comment.
The Clark County District Attorney's office also did not respond to a media request for comment.
Frazier was indicted in March on two felony counts of animal cruelty after a 2015 investigation.
Frazier's case rocked the city earlier this year after it was discovered that former Boulder City Police Chief Bill Conger knew about Frazier killing shelter animals and chose to close the investigation.
Conger plead guilty to a misdemeanor charge of failure to preform duty in April and was forced to pay a fine of $1,000.
Frazier is out on bail and living in Oregon.
Contact reporter Max Lancaster at mlancaster @bouldercityreview.com or at 702-586-9401. Follow him on Twitter @MLancasterBCR.