NDOT cautions drivers about dangers of flooded roads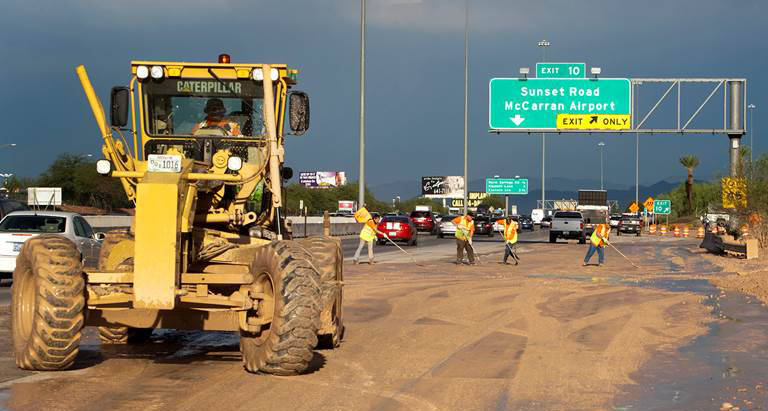 The Nevada Department of Transportation reminds motorists that flash flood season occurs from July to September in Clark County and cautions them: "Don't drown, turn around. Water always wins."
Here are a few helpful things to remember before hitting the roads:
■ One foot of standing water equals 500 pounds of lateral force on your vehicle.
■ Know your limits. It takes only 6 inches of fast-moving floodwater to knock over a grown adult. Just 12 inches of rushing water can carry away a small car, while 2 feet can sweep away most vehicles, including trucks and SUVs.
■ Make sure your car is in good working order, including wipers, brakes, fluids, headlights and tires.
■ Double the braking distance between vehicles during wet road conditions.
■ Pay attention to road barricades. Don't ignore them and drive past.
■ Driving through water can damage your vehicle's electronics.
■ Bring plenty of water and snacks, required medications, a charged cellphone with a car charger, blankets and sturdy shoes in case of an emergency.
■ Manhole covers and other roadway debris can get lifted and moved.
■ Be especially cautious at night. Flood dangers are much more difficult to see in the dark.
■ Don't blindly follow other cars. Do your best to estimate the depth of the water if you must cross it.
■ If you do get stuck in floodwater, it's usually best to wait in the car and call for help rather than try to get out. (Floodwater can be contaminated and carry disease.)
For the latest state highway conditions, visit nvroads.com or call 511 before driving.