Motion filed to dismiss protester's obstruction charge
February 21, 2018 - 3:23 pm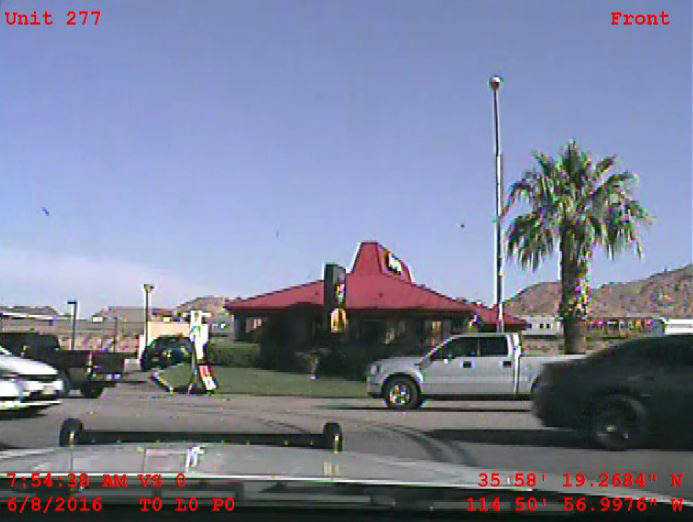 Counsel for a Boulder City resident charged by the city for interfering in a police-sanctioned crosswalk enforcement event has filed a motion to dismiss one of the charges on First Amendment grounds.
On Tuesday, attorney Stephen Stubbs filed a motion to dismiss the obstruction charge against his client, John Hunt, because the allegation of criminal activity "attempts to criminalize the simple act of 'walking back and forth in a crosswalk being used for the enforcement activity.'"
Boulder City Police Sgt. John Glenn arrested Hunt on June 8, 2016, on several charges after he repeatedly walked back and forth in a marked crosswalk to protest a police-sanctioned pedestrian enforcement detail. Those charges included obstructing traffic and resisting arrest.
The city originally dropped the charges against Hunt in late June 2016 but refiled them June 5, 2017.
In his motion, Stubbs said that Hunt's crosswalk protest was symbolic speech protected by the First Amendment and per state law "the obstruction charge cannot apply because the First Amendment applies."
The motion also includes Hunt's statement about the event in which he said he was not happy with his government's actions and decided to exercise his First Amendment right to protest by legally crossing the street in a manner that gave proper notice to drivers.
Additionally, Hunt said only one car was making an attempt to pass him while he was in the crosswalk, and he paused to let the vehicle by.
"As soon as Sgt. Glenn showed interest in talking to me, I immediately stopped crossing the street, stood still on the sidewalk, and waited patiently for him to approach," he said in his statement. "Instead of approaching and having a conversation with me, John Glenn grabbed me."
The motion also includes depositions from two Nevada Highway Patrol officers.
Nevada Highway Patrol Trooper Marcia Pitchford said Hunt was in the crosswalk legally and thought Hunt was one of the operation's decoys. She also said she pulled over a motorist that did not legally yield to him in the crosswalk.
Nevada Highway Patrol Sergeant Raymond Hubbs said Hunt was not violating the law when he stepped into the crosswalk and it "would not be probable cause for an arrest."
Currently, a hearing to address this motion is scheduled for 3:30 p.m. Tuesday, Feb. 27, in Boulder City Municipal Court.
Contact reporter Celia Shortt Goodyear at cgoodyear@bouldercityreview.com or at 702-586-9401. Follow her on Twitter @csgoodyear.