Moderate climate attracts restaurant owner
August 13, 2014 - 1:11 pm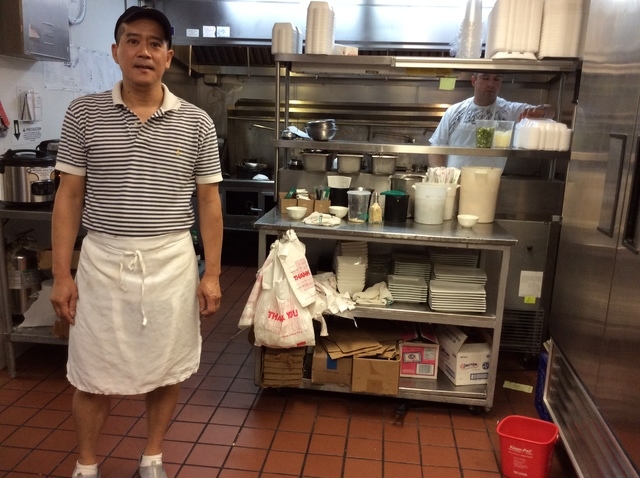 Editor's Note: This article is part of an occasional series showcasing new businesses in town.
Like many Boulder City residents, Victor Lieu moved to the city to get away from cold, snowy winters.
Heat is a crucial element for Lieu, especially when it comes to preparing some of his house specialties at his new restaurant, China Bistro, which offers Asian fusion cuisine.
"It takes high heat," he said about preparing his dishes. "Everything is made fresh to order using only the freshest ingredients of the highest quality."
Before opening, Lieu remodeled the restaurant's kitchen to accommodate his woks.
He said most of his dishes are prepared in a Mandarin or Cantonese style. However, he also has a few Thai dishes, hence his Asian fusion moniker.
"I keep adding new things every few months," he said, noting that it keeps his skills sharp and his customers intrigued.
Among his specialties are walnut shrimp: breaded shrimp served with broccoli and walnuts in a special sauce; Mongolian beef: beef stir-fried with onions and green onions in a spicy sauce; sizzling seafood platter: scallops, shrimp and Chinese vegetables in a house special sauce; and pad Thai: fried rice noodles with chicken, shrimp, bean sprouts and peanuts.
Lieu opened his first restaurant in 1980 in Seattle. He said it was like a fast-food offering typically found at a shopping mall. For the past 24 years, he has called Billings, Mont., home, where he owned and operated Four Seas, a Chinese restaurant similar to what he is doing at China Bistro. He said he decided to make the move after visiting Boulder City and enjoying its more moderate climate. Lieu said he also likes the small-town feel and community camaraderie of Boulder City.
His wife, Daisy, joined him in the move, but his two children remained in Billings, where they are completing their college educations.
China Bistro officially opened in March, but Lieu began remodeling the old restaurant, which also served Chinese cuisine, in November. He said it took him four months to redo the entire kitchen as well as the restrooms and other things that were not up to his standards.
A native of Hong Kong, Lieu moved to the United States in 1976 to study how to run a restaurant. After graduating, he got his first job and quickly learned he preferred cooking to the business side of operations. He began training with the restaurant's chef and learned as he worked each day.
While in Billings, he won several awards for his cuisine and developed a loyal following.
"I saw families with kids who grew up and got married," he said.
Today, he mentors others in the kitchen and brought several cooks from his Billings restaurant with him to Boulder City.
"They have been with me for 10 or more years," he said.
It's a recipe that is working for Lieu.
"I get no complaints from my customers. They are all happy," he said.
In addition to operating the restaurant six days a week, Lieu also does catering. He hopes to offer delivery service in the near future and is just waiting until his customer base is solid and he can find the right staff to keep everything running smoothly.
Hali Bernstein Saylor is editor of the Boulder City Review. She can be reached at hsaylor@bouldercityreview.com or at 702-586-9523. Follow @HalisComment on Twitter.