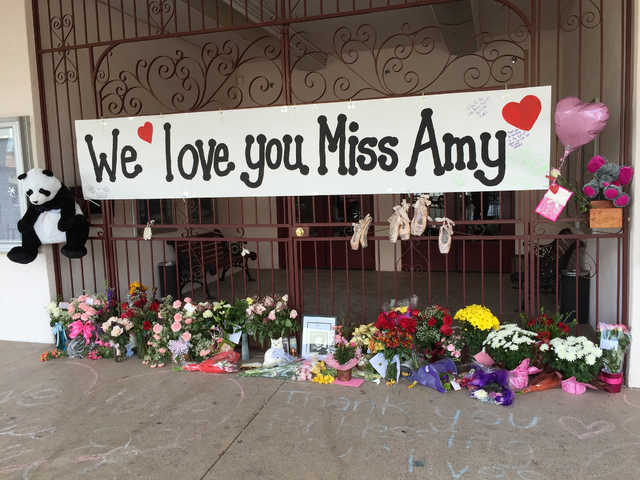 A line of flowers rests upon the wine-red gate in front of the Boulder Theatre just underneath pairs of ballet slippers signed by the little girls who once wore them.
An 8-foot long banner with the words "We love you Miss Amy" in big, bold letters is draped across the front of the gate. It was to pay tribute to longtime Boulder City resident Amy Arnaz, who died Friday after a two-year bout with cancer. She was 63.
Arnaz moved to Boulder City in the late 1970s where she ran Dance Etc. and the Boulder City Ballet Company with her husband, Desi Arnaz Jr. In 1997, they bought Boulder Theatre and helped teach thousands of kids how to hone their dance skills.
City Councilman Cam Walker used to perform in "The Nutcracker," which was held during Christmastime every year inside the theater. His daughter, Chloe, took dance classes from Miss Amy for nearly 20 years.
"No matter if it was a function she was involved with or a charity event throughout the community, she would walk in the room and there was a smile," Walker said of Arnaz. "She lit up the room with love."
Lisa Bargiel, Arnaz's younger sister, said she couldn't remember a time when her sister wasn't dancing. Growing up in Las Vegas, Arnaz was a cheerleader at Valley High School, where she graduated in 1969. Bargiel said her sister always had a smile on her face, and even won a smiling contest in high school.
Bargiel said it was hard not to love her sister. It was the people of Boulder City who gave her life, she added.
"My sister absolutely adored Boulder City and she loved the people," Bargiel said. "The people of Boulder City gave her life a purpose, and she loved every second of teaching those kids."
Three of those kids were the daughters of City Clerk Lorene Krumm, who said it was a challenge just getting her kids into the studio at first because it was always so busy. But once she was finally able to get her daughters into dance classes, Arnaz's personality and passion toward her girls made it all worthwhile, she said.
"She was just always affectionate, full of hugs, happy … just warm and you could just tell she loved those kids. Everybody who encountered her felt special," Krumm said. "It was the way she approached the kids. It was all about having fun and making them feel special. The way she spoke, it was always from a place of love."
Another one of her students is 17-year-old George McLachlan, who began working with Arnaz about 10 years ago. He credited the Arnazes with helping him get his first role in a television pilot when he was 9 years old.
"Miss Amy has been practically like a second mother to me. She constantly nurtured my eager heart and taught me how to run after my dreams," McLachlan said. "I am so grateful to have been able to spend time with a woman who truly believed that I, and anyone she taught, could achieve their dreams."
Justin Keogh first met Arnaz in 2002 when he was living in Henderson. As a fan of live theater, Keogh said he was eager to see a show at the Boulder Theatre, but the show he wanted to see was sold out. A few days later, he received a call saying that he could pick up his ticket at Will Call.
"The place was just busting with people," Keogh recalled. "I walk into the lobby, and I hear a voice say 'Justin.' I turned around and it was Miss Amy smiling at me. I said, 'Wow how did you know I was Justin?' And she said, 'Because you're the only person I don't know here.' "
And as the story went with plenty of parents before him, Keogh put his two daughters through her dance studio. He said she knew everybody on a first-name basis.
"I likened her to a pied piper," Keogh said. "If a little girl was introduced to her studio, she'd never want to leave."
Bargiel said her sister was always full of life, even after being diagnosed with a brain tumor in January 2013. Arnaz was waiting to have knee surgery when she suffered a seizure, Bargiel said. That's when doctors discovered the tumor.
Even after her death, the many people she affected and loved throughout the years have continued to show their love and affection for the woman they will always remember as "Miss Amy." Whether it's with a card, a bouquet of flowers, or a signed ballet slipper tied to the front gate of the Boulder Theatre, the outpouring love for Arnaz was shown by the entirety of Boulder City.
"She was always a lady," Bargiel said. "If anybody deserved a beautiful, wonderful life … it was her."
She is survived by her husband, Desi; daughter Haley Arnaz; sister Bargiel; and brother Tom Bargiel. The family will be holding private services.
Contact reporter Steven Slivka at sslivka@bouldercityreview.com or at 702-586-9401. Follow him on Twitter @StevenSlivka.